Source: © MinervaStudio | Megapixl.com
Summary

Creso Pharma's acquisition target, Halucenex, has appointed True North as the principal investigator for its proposed PTSD clinical trials.
True North has strong connections with the Canadian armed forces and veteran community.
The trial's objective is to assess the efficacy and safety of psilocybin to cure treatment-resistant PTSD.
Preliminary results from the Phase 2 study are anticipated during H2 CY2021.
Creso Pharma Limited (ASX:CPH, FRA:1X8) has disclosed that its target acquisition company, Halucenex Life Sciences, has selected True North Clinical Research as the principal investigator for its planned Phase 2 clinical trial. The Phase 2 clinical trial will evaluate the efficacy of psilocybin to treat treatment-resistant PTSD (Post Traumatic Stress Disorder) in veterans and first responders.
Creso Pharma announced Halucenex Life Sciences' acquisition on 15 March 2021, making it the first ASX-listed psychedelics company.
Halucenex is a life sciences development player focused on R&D and licencing of novel psychedelic molecules for the pharmaceutical as well as nutraceutical markets worldwide.
ALSO READ: Creso Pharma (ASX:CPH) seals a transformative deal to foray into psychedelics space
True North has strong relations with Canadian Armed Forces and will provide clinical oversight into the trial as a lead investigator.
It will also be responsible for the following:
Creso Pharma disclosed that Halucenex selected True North because of its geographically favourable reach for participants. True North has a team of over 30 clinicians with significant experience in offering patient care.
Group CEO, Dr Mark Johnson, has considerable experience working with the Armed Forces, having spent ~20 years as a psychiatrist with numerous military organisations.
Phase 2 clinical trial details
The Phase 2 trial is a single-arm, open-label study to evaluate the safety and efficacy of psilocybin in treatment-resistant PTSD subjects. The objective of the trial is to determine the feasibility of psilocybin for future studies in this indication.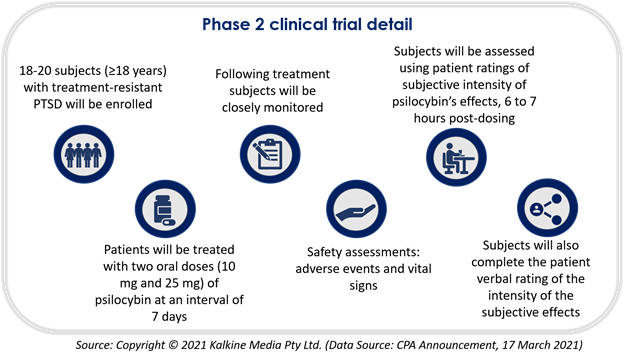 One day after each treatment, on Day 8 and Day 15, subjects will return for efficacy and safety evaluations.
The Company also disclosed that the follow-up visits would be performed at the clinic on Day 22 (End of Treatment) and via telephone visits on Day 36 and Month 3 (~Day 90) and Month 6 (~Day 180, optional) for efficacy and safety assessments.
Patient identification criteria have already commenced, with the trial expected to start in June 2021. The trial is subject to a CTA (Clinical Trial Authorisation) Permit being granted by Health Canada.
Notably, Halucenex anticipates lodging the necessary documentation to obtain CTA Permit by the end of April 2021.
The Company mentioned that initial trial findings are expected within the first new months of study initiation.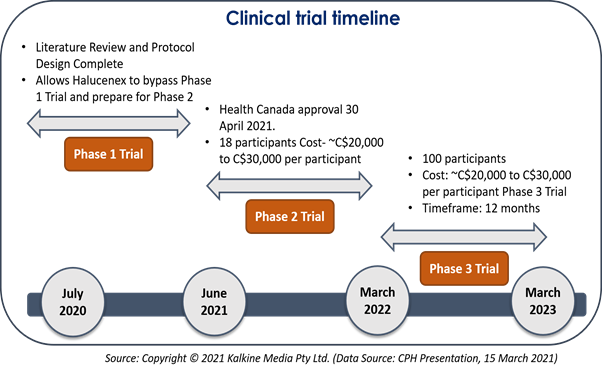 True North in a nutshell
True North is a leader in R&D, engaged in the implementation of industry's best practices and providing the best quality of care during clinical trial initiatives.
The group is armed with highly qualified research staff, and all work undertaken follows stringent regulatory guidelines.
True North also has solid ties to the Canadian armed forces and veteran community, which will be necessary for the clinical trial.
Halucenex Founder and CEO to join Creso Board on acquisition completion
Creso's Board and management team continue to advance several initiatives to make sure the smooth integration of Halucenex into the Creso Pharma Group.
Creso highlighted that Director Dr Miri Halperin Wernli would step down on 17 March and would be replaced by Halucenex Founder and CEO Bill Fleming. Mr Fleming is expected to join Creso Board as a non-executive director following the completion of the deal.
Dr Wernli played a key role in building Creso's highly experienced management team and leaves the business in a robust position. Mr Jack Yu will continue to lead Creso's North American operations while Mr Jorge Wernli, Commercial Director, will drive the Swiss operations.
Jorge Wernli has been responsible for the development as well as commercialisation of Creso's CBD-based nutraceutical products.
Management Commentary
Adam Blumenthal, Non-executive Chairman of Creso Pharma, stated that the appointment of True North is an excellent development for Halucenex. The Company is excited that Halucenex is already making progress with its proposed clinical trial schedule. He added:
Mr Blumenthal also stated that the Company's board and management were continuing the due diligence activities on the acquisition. The deal will lead to new avenues for Creso as the Company transitions to a best-in-class provider of cannabis, cannabinoids, and psychedelic alternative medicines to meet the significant unmet medical need for therapies to improve mental health.
Adding to this, Bill Fleming, Founder & CEO of Halucenex, commented:
True North Founder, Dr Mark Johnston, added:
On 18 March 2021, CPH shares were trading at A$0.205, up 7.894% (at AEDT 11:01 AM).