Summary

Guernsey-domiciled Arcadia Minerals Limited is set to debut on the ASX with its initial public offering seeking to raise up to A$6.4 million.
The IPO funds will be utilised to carry out the next leg of exploration and development efforts across its advanced Tantalum/Lithium, Battery (Ni, Cu, Li) and Precious Metals (Au) projects in Namibia.
Extensive potential news-flow pipeline is anticipated and will include drilling programs at multiple projects.
Raubex Group Limited (JSE:RBX), a global contract mining infrastructure development and materials supply company, is the cornerstone investor (IPO Investment ~A$1.4m).
Arcadia seeks strong support from Australian investors to unlock the full potential of Swanson and other projects.
The listing of a new exploration firm kindles curiosity in the minds of the prospective investors. One such minerals player, which is generating a lot of buzz in the run-up to its initial public offering (IPO) on the ASX is – Arcadia Minerals Limited.
Namibia-focused diversified metals exploration and development company Arcadia Minerals Limited, which is domiciled in Guernsey, has ventured out to Australia to raise capital and kickstart the next leg of growth at Tantalum, gold, Nickel, Lithium and Copper projects. Arcadia owns the advance Swanson Ta/Li project along with a suite of highly prospective gold and battery metals projects in the neighbourhood of established mining operations and significant discoveries.
The minerals projects under Arcadia's banner include-
Swanson Project – Advanced stage tantalum and lithium project with early development potential
Kum-Kum Project – prospective for nickel, copper, and platinum group elements.
Karibib Project – prospective for copper and gold
Bitterwasser Project – prospective for lithium-in-brines and lithium-in-clays.
IPO: Opportunity for Australian Investors
Arcadia seeks to raise over A$5.9 to A$6.4 million via the initial public offering to acquire Chess Depositary Interests (CDIs) over fully paid ordinary shares. Under the IPO, a minimum of 29.5 million and a maximum of 32 million CDIs would be issued at A$0.20 per CDI. The company has already released its prospectus for the IPO. The company is seeking funds to unlock the transformational journey especially at the advanced stage Swanson tantalum project.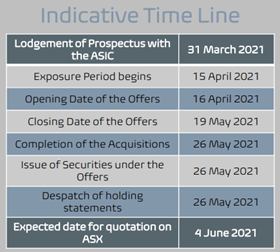 Source: Arcadia Minerals Presentation 17 April 2021
Upon the completion of the IPO, the company plans to ratchet up its exploration efforts at the advanced Swanson Ta/Li project and complete the feasibility study. Further, the company will also pursue advance exploration opportunities at its Kum-Kum, Karibib and Bitterwasser projects to tap the burgeoning renewables market.
Seasoned management to unlock full potential of portfolio projects
The company's systematic growth strategy includes prioritisation and execution of the Swanson project and other projects with regular news-flow anticipated in the upcoming times. The seasoned management and technical team include industry veterans with a strong track record of exploring, developing and operating mining projects.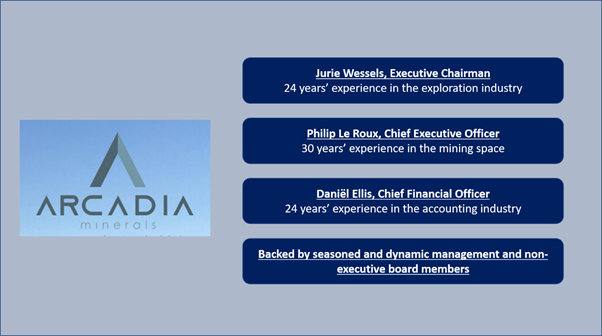 Copyright © 2021 Kalkine Media
Rapid value creation opportunities
Source: Arcadia Minerals Presentation 17 April 2021
Arcadia proposes to earn an 80% stake in the explorer Orange River Pegmatite (Proprietary) Limited, which owns the prospecting licence EPL 5047 in southern Namibia. Tantalum is a transition metal widely used in electronics, process equipment, nuclear reactors, alloys, defence and aircraft and is well placed to witness robust demand.
EPL 5047 is located in a mountainous desert setting with access to roads and is typically characterised by complex geological and structural setting with high prospectivity in the proximity of large shear zones such as the Tantalite Valley Shear Zone and the intrusive mafic-ultramafic body.
The prospecting licence is adjacent to Kazera Global PLC's (AIM Listed) operating tantalite mining operation.
Assay Results of the Swanson Project Source: Arcadia Minerals Presentation 17 April 2021
Arcadia currently focuses on mineralised pegmatites with opencast exploitation potential at the tenement. The Company sees the potential for an early cash generative operation at Swanson. The maiden drilling program drilled over 23 holes, out of which 22 intersected pegmatites with high grade Tantalum mineralisation.
The subsequent developments at Swanson will include –
Continuous drilling program to declare the maiden mineral resources.
JORC compliant definitive feasibility study for tantalum and/or lithium mining operations.
Development of initial infrastructure on the basis of the definitive feasibility study outcomes.
Kum-Kum Project – The Kum-Kum Project includes three prospecting licences – 6940, 7295 and 5047 – in the neighbourhood of the Swanson project, stretching over 787.61 km2. The project includes three underexplored mafic complexes, which hosts discovery-potential for magmatic-hosted Ni-Cu-PGE massive sulphides.
The proposed exploration program would include geophysical surveying of the Tantalite Valley Complex to identify massive sulphide drill targets and for scout drilling.
Karibib Project – The Karibib project comprising exclusive prospecting licence 4663 stretches over an area of 409.86km2 in the immediate vicinity of QKD Namibia Ltd's Navachab Gold Mine and Osino Resources Ltd's Twin Hills gold discovery.
The proposed exploration work will include mapping, geochemical analysis and geophysical surveys to identify and define drill targets at the prospective structural features. This will be followed up by initial Reverse Air Core and/or Reverse Circulation drilling.
Bitterwasser Project – The Bitterwasser Project includes four exclusive prospecting licences held by BME and one exclusive prospecting licence, to be transferred to BME shortly. The project covers a total area of 3,438.94 km2.
Arcadia plans a three-staged exploration program at the project. The exploration work would include analysis and test work of the existing water borehole sources for lithium mineralisation. The surveys would confirm and delineate the scope and extent of the possible saline and/or brine aquifer system, which would be followed by scout drilling to determine the scope and extent of lithium-in-brines mineralisation.
For more details on the company and its prospects please click here.