Highlights

High purity alumina or the HPA is a high demand product, with applications in manufacturing LEDs, semiconductors and lithium-ion batteries.
The demand of HPA is estimated to be around 20,000-25,000 tonnes annually with a CAGR of 29.9%.
Altech Chemicals is an aspiring HPA producer working with a goal to become the world's largest supplier.
The Company has a 4,500tpa HPA processing plant under construction in Malaysia and a 100% owned kaolin deposit at Meckering in Western Australia for alumina feedstock.
What's common between an LED bulb, mobile phone and electric vehicle battery packs? Well, all of these contain High Purity Alumina (HPA) in one form or another. HPA is a form of Al2O3 with a purity level of 99.99%. HPA is used as a raw material in the production of synthetic sapphire, which is a key substrate for the manufacturing of LED lights. HPA also finds application in making scratch-proof glasses, which are actively used in mobile phones, wrist watches and other objects with delicate screens.
Semiconductors chips, which form the backbone of all electronic devices, also use HPA extensively. The semiconductor wafers are made from 99.99% pure alumina. The application of HPA as a protective coating in lithium-ion battery is also being developed and is currently in research stage. Coating of the separator material with HPA has shown excellent results on the safe operation of the battery and has also enhanced its life.
High Purity Alumina (HPA) Market Dynamics
The demand for HPA was estimated at 21,198 tonnes in 2018. The current demand is forecasted in the range of 20,000-25,000 tonnes annually with a CAGR of 29.9% in demand growth. The estimates hold good for 4N category of HPA.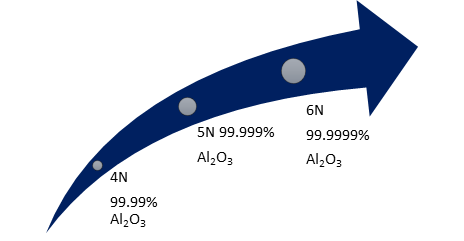 Grades of HPA on the basis of purity of Alumina source: Company website
Currently, China is the largest producer of 4N grade of HPA. Hebei Pengda, one of China's largest HPA producer, operates a HPA facility with an installed capacity of 7,000 tonnes annually. Outside China, major producers of 4N HPA are Sumitomo Chemicals, Sasol, Baikowski and Nippon Light Metal.
Altech Chemicals: The Next big HPA player in the making
ASX-listed Altech Chemicals Limited (ASX:ATC) is an aspiring HPA producer working with a goal to become the world's largest supplier. The Company is building a world-class 4,500tpa capacity of HPA processing facility in Johor, Malaysia. The feedstock for the plant will be sourced from the Company's fully owned kaolin deposit at Meckering in Australia, making ATC a vertically integrated HPA player in the industry.
Image source: Company website
To make a truly world-class processing facility, Altech has appointed SMS Group GmbH, a German engineering contractor. The project would cost around US$280 million to construct on a turnkey basis.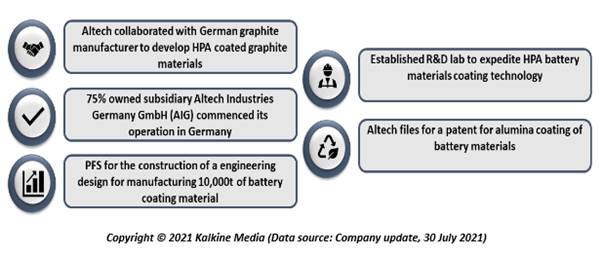 The Company is working aggressively to develop the coating technology using alumina in lithium batteries. The research team of ATC has discovered that alumina-coated anode grade graphite particles reduce the first cycle capacity loss. The technology would enhance the battery performance including energy retention.
Altech Chemicals traded at AU$0.055 a share on 18 August 2021, gaining ~5.7% against the previous close with a market capitalisation of AU$66.89 million.