Australian headquartered pharmaceutical giant, SUDA Pharmaceuticals Ltd (ASX: SUD) is an oro-mucosal drug delivery leader, engaged in the reformulation of existing medications into oral sprays. The company aims to boost the lifestyle and health of the people worldwide by offering novel, innovative, high-grade, oro-mucosal spray pharmaceutical products to support in the treatment of several health conditions while sustaining steady growth and investment value for its shareholders.
SUDA's OroMist® Technology
SUDA is reformulating the existing billion-dollar drugs for oral delivery by using its unique platform technology, OroMist®. The company's proprietary technology has the potential to deliver a wide range of drug classes via gums, tongue, cheeks or floor of the mouth. Also, the technology is compatible with, and patented for, use in either aerosol (propellant-driven) or pump (air-activated) spray systems, and can be delivered in either unit or multi-dose containers contingent on the marketing requirements and medical need for each product.
SUDA's oral sprays have increased the bioavailability of administered medications to up to 95 per cent, relative to pills, tablets or capsules with less than 25% bioavailability.
Why Oro-Mucosal Drug Delivery?
According to SUDA, the oral route is perhaps one of the most preferred and studied one by patients and clinicians among the various routes of drug delivery. Around 70 per cent of the drugs are delivered orally, primarily in capsule or tablet form. However, there are multiple disadvantages connected to solid-oral administration, including:
Hepatic first-pass metabolism.
Acidic and enzymatic degradation within the GI (Gastrointestinal) tract.
Relatively lengthy onset time.
Intensification of erratic absorption patterns.
Requires patients' consciousness.
Needs access to drinking water.
Creates problem in patients with swallowing difficulties.
SUDA's OroMist® technology overcomes these disadvantages by modifying the drug delivery, allowing the drug to be directly absorbed into the blood stream via the oral mucosa. As per the company, the oral cavity is an attractive place for the delivery of drugs, with the oro-mucosal membrane being easily accessible to carers and/or patients. Also, the high vascularisation can stimulate a faster onset of action and can avoid or lower the hepatic and intestinal degradation processes.
Advantages of SUDA's Oro-Mucosal Spray Delivery
SUDA oro-mucosal drug delivery is one of the most efficient ways of administering a drug, that offers the following advantages:
It has been observed in clinical tests that SUDA's oral sprays outperform the tablet form of administered medications in various diseases. Let us take a quick look at the clinical test results of some of these oral sprays below:
Oral Sprays Resulting in Enhanced Bioavailability
17-? Estradiol OroMist® vs Estrace® Tablet for Post-Menopausal HRT
Estradiol OroMist® achieved estradiol blood levels faster than Estrace® tablet, with oral spray delivering 76 times more drug in the blood stream than the tablet. The AUC was ten times higher for Estradiol OroMist® in comparison to the Estrace® tablet in the clinical tests. Also, the Tmax for Estrace® tablet was greater (8.3 hours) than the Tmax for Estradiol OroMist® (42 minutes).
Clemastine Fumarate 2.7mg OroMist® vs Tavist® Tablet for Allergic Conditions
Clemastine Fumarate 2.7mg OroMist® blood levels were three times higher when compared to Tavist® 2.7mg tablet, and therapeutic levels were reached in 5 to 7 minutes with OroMist® vs 25 to 30 minutes for the tablet. The rapid absorption of the drug via OroMist® resulted in a faster onset of action. There were no greater sedating effects observed with the oral spray than the tablet.
Loratadine OroMist® (SUD-011) vs Claritin® Tablet for Allergic Condition
Loratadine OroMist® (SUD-011) 2.5mg and 5mg achieved therapeutic plasma levels earlier and maintained it for a longer time than Claritin® 10mg tablet using less API.
Oral Sprays Resulting in Linear Dose Response
Sildenafil OroMist® (SUD-003) vs Viagra® 25mg Tablet for ED
Sildenafil OroMist® (SUD-003) dose adjusted 10, 20 and 30mg PK curves confirmed that OroMist® provides a linear dose response. SUD-003 is a first-in-class oral spray formulation of Sildenafil used for the treatment of Erectile Dysfunction or ED.
Oral Sprays Resulting in Bioequivalence with Enhanced Properties
Ondansetron OroMist® (SUD-002) vs Zofran® Tablet for CINV/PONV
Ondansetron 8mg OroMist® (SUD-002) was found to be bioequivalent to Zofran® 8mg tablet with the advantage that nauseous and vomiting patients are not required to swallow. SUD-002 is a first-in-class oral spray formulation of Ondansetron used to treat post-operative nausea and vomiting (PONV) and chemotherapy-induced nausea and vomiting (CINV).
ZolpiMistTM OroMist® vs Ambien® Tablet for Insomnia
SUDA's USFDA approved drug, ZolpiMistTM resulted in a faster onset of action in comparison to Ambien® Tablet in clinical tests. Also, ZolpiMistTM demonstrated a significant faster onset of sedation with less API relative to Ambien®.
In the latest scientific report, ZolpiMistTM was reported to deliver more rapid sleep onset (based on efficacy parameters and pharmacokinetics) in comparison to the tablet form of Zolpidem in patients looking for short-term treatment for insomnia. The below figure summarises the latest clinical study results of ZolpiMistTM that recently got published in Pharmacy and Pharmacology journal: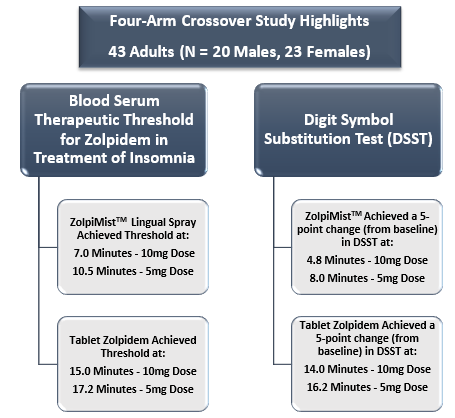 SUDA's unique and proprietary OroMist® technology has the potential result in faster onset, potentially smaller doses and safer delivery for ex-blockbuster drugs. The company's OroMist® technology has enabled it to attain key development goals in a shorter time frame.
On 12th September 2019, SUDA's stock settled the day's trading session at AUD 0.003 on ASX with around 3.56 billion outstanding shares.
---
Disclaimer
This website is a service of Kalkine Media Pty. Ltd. A.C.N. 629 651 672. The website has been prepared for informational purposes only and is not intended to be used as a complete source of information on any particular company. The above article is sponsored but NOT a solicitation or recommendation to buy, sell or hold the stock of the company (or companies) under discussion. We are neither licensed nor qualified to provide investment advice through this platform.