Summary

Emyria has signed a deal with the University of Western Australia (UWA) to develop a novel psychedelics pipeline.
Pharmaxis' anticancer drug PXS-5505 shows positive results in the pre-clinical liver cancer model.
Immutep updated that the first patient in INSIGHT-003 has been enrolled and safely dosed to evaluate triple combination therapy.
Neuren's US partner Acadia has completed the planned enrolment of patients in the LAVENDER Phase 3 trial, and top-line results are expected in Q4 2021.
The benchmark index ASX 200 is up slightly today, gaining 13 points (+0.173%) at 2:46 PM AEST. The healthcare index has also moved north, up 0.3685%, with some of the listed healthcare stocks grabbing market attention on the back of important updates.
This article would walk you through four such healthcare stocks - Emyria Limited (ASX:EMD), Pharmaxis Ltd (ASX:PAA), Immutep Ltd (ASX:IMM) and Neuren Pharmaceuticals Ltd (ASX:NEU).
ALSO READ: ASX 200 opens lower but recovers swiftly

Emyria enters in agreement with UWA to develop novel psychedelics
On 5 August 2021, Emyria announced the signing of an exclusive agreement with the University of Western Australia (UWA) for investigating and expanding a unique library of proprietary, MDMA-like compounds.
The agreement provides Emyria with a unique drug discovery pipeline. The pipeline will help Emyria become a prominent player in developing psychedelic-assisted therapies and treatments for major neurological indications.
Furthermore, the Company aims to screen and expand the existing library to identify families of patentable compounds having the greatest promise as new psychedelic-assisted therapies. Emyria will lead this unexplored research area's global commercial patent strategy, which is already in progress.
Copyright © 2021 Kalkine Media
Through the expansion program, Emyria has the potential to lead the clinical development and commercialisation of various novel, CNS-active compounds for the treatment of patients with major unmet medical needs.
Dr Michael Winlo, Managing Director of Emyria, stated-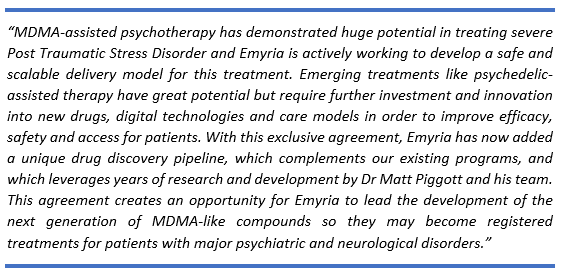 PXS drug demonstrated positive results in the liver cancer model
Clinical-stage drug development firm Pharmaxis Ltd updated the market with the first public presentation of data from a pre-clinical study of PXS-5505 in the liver cancer, cholangiocarcinoma (CCA) at the Americas Hepato-Pancreato-Biliary Association (AHBPA).
The Company disclosed that the combination of PXS-5505 and standard of care demonstrates a novel therapeutic approach for liver cancer.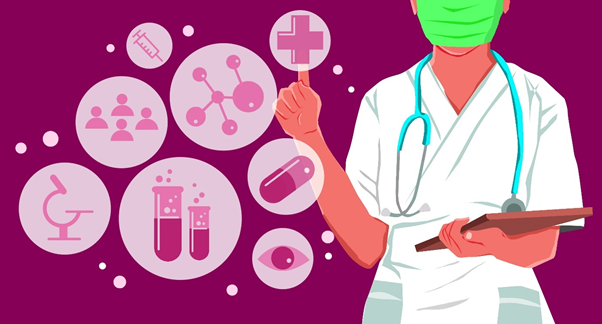 Copyright © 2021 Kalkine Media
The Food and Drug Administration (FDA) had approved the Phase 1c/2a trial MF-101 in myelofibrosis under the Investigational New Drug (IND) scheme. The trial intends to determine the safety and efficacy of PXS-5505 as monotherapy in myelofibrosis patients who are ineligible, intolerant, and unresponsive for therapy with approved JAK inhibitors.
Furthermore, an effective pan-LOX inhibitor for myelofibrosis treatment would open a market conservatively estimated at US$1 billion per annum.
Currently, PXS-5505 is progressing well through a Phase 1c/2 clinical trial seeking evidence of disease modifying effects in bone cancer myelofibrosis as a monotherapy.
Immutep enrols and doses the first patient in INSIGHT-003
Immutep updated that the first patient in the INSIGHT-003 trial had been enrolled and safely dosed. The metastatic non-small cell lung carcinoma (NSCLC) patient was administered pembrolizumab and dual chemotherapy (carboplatin and pemetrexed) combined with eftilagimod alpha (efti or IMP321). Efti is the lead product candidate of Immutep.
INSIGHT-003 assesses a triple combination that comprises efti, anti-PD-1 therapy and an existing authorised standard of care combination of chemotherapy. The trial will continue to enrol up to 20 patients with solid tumours, and the first findings are anticipated in CY22.
Dr Frédéric Triebel, CSO and CMO of Immutep commented-
ALSO READ: Five ASX small-cap biotech stocks for August 2021
Neuren completes enrolment in LAVENDER Phase 3 trial
Neuren Pharmaceuticals announced that its US partner Acadia Pharmaceuticals (Nasdaq:ACAD) has completed enrolment in the LAVENDER Phase 3 trial of trofinetide in Rett syndrome and is on track to disclose top-line findings in Q4 2021.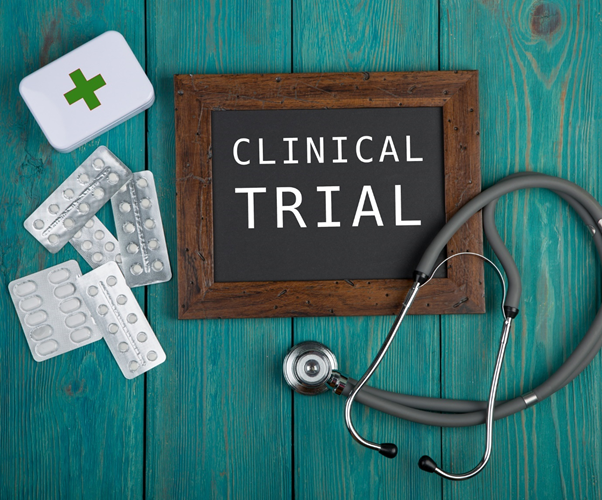 Source: © Nastyazhi Megapixl.com
LAVENDER is a double-blind, randomised, placebo-controlled Phase 3 trial assessing treatment of ~180 patients for ~three months with trofinetide or placebo. At present, there is no approved treatment for Rett syndrome. The trofinetide program has obtained Fast Track, Orphan Drug as well as Rare Pediatric Disease designations from the US FDA.
Jon Pilcher, CEO of Neuren, commented: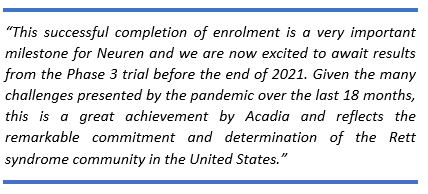 ALSO READ: A glance at the best-performing insurance stocks in 2021