Summary

Sims Limited (ASX:SGM) has acquired assets of the alumunium processor, Alumisource Corporation.
The transaction will increase Sims' North American non-ferrous retail sales volume to 33,000 tonnes.
The company is following a sustainable strategy to preserve the world from waste products and become carbon neutral.
Global metal recycling player, Sims Limited (ASX:SGM) continues to deliver strong returns to its shareholders on the back of robust operational performance during the pandemic.
On 12 February 2021, the recycling player had acquired critical assets from Alumisource Corporation, an aluminium processing service provider. The deal incorporates a fixed payment of US$22.5 million along with other phased payments over the next three to five years.
Despite a marginal drop in sales during the first half of FY2021, the EBIT grew to A$78.5 million.
Sims and Alumisource
Sims is a leading electronics and metal recycling company with its operational facilities spread across more than 15 countries at over 200 locations. The company is also progressing to emerge as a leader in the renewable energy and municipal recycling sectors. The company is providing services for sustainable development by targeting a waste-free world to preserve the planet.
On the other hand, Alumisource Corporation was founded in 2007 to provide material processing, specialised raw materials, and blending solutions to the steel and aluminium industries. Headquartered in Monessen, Pennsylvania, the company also owns two facilities - one at Monessen, PA and other at Richmond, KY - stretched over 300,000 sq. ft and 200,000 sq. ft. respectively.
Source: SGM ASX Update, dated 11 November 2020
Transaction Highlights and Management Views
The transaction will help the company to achieve its milestone towards boosting non-ferrous retail volume in North America. The transaction is expected to crank up the company's North American non-ferrous retail sales volume to 33,000 tonnes compared to 140,000 tonnes in 2019.
The demand for direct charging products is running high among US's leading aluminium customers. Alumisource fulfils the requirement of direct charge by quipping customers with 'in spec' furnace.
Alumisource is also an excellent fit for Sims' purpose to preserve the world. The recycled source provided by Alumisource will also help to reduce carbon footprints. Notably, one ton of aluminium produced from recycled source produces 7.9 tonnes of less carbon than the regular virgin material.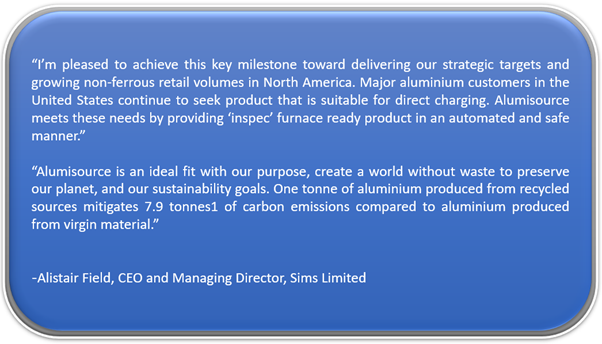 Source: SGM ASX Update, dated 12 February 2021
Sustainability Strategy under lens
The company's sustainability strategy focuses on driving positive impacts on the environment. The initiative was launched in FY20 with three significant pillars to drive the sustainability strategy. Every foundation pillar's objective is in line with the United Nations Sustainable Development Goals and is expected to help the company achieve the 2050 net-zero carbon goals.