Summary

Origin Energy (ASX:ORG) has upgraded gas production guidance for FY21 from 650-680 PJ to 675-705 PJ amidst growing demand and supply outages.
The Company reported gas production of 708 PJ in FY20, 4% higher than the FY19 production.
It is working with Jemena on the Western Sydney Green Gas Project (WSGGP), a green hydrogen production initiative.
Gas producers are expected to play a vital role in the future hydrogen market, as Australia is eyeing to become a global leader in the space, same as it has done in LNG production.
Integrated natural gas company Origin Energy Limited (ASX:ORG) released its 2020 Investor Briefing presentation today, highlighting the APLNG business. The Company is actively investing in green energy, as it has set a target to reach zero emissions by 2050.
Origin Energy is expecting strong demand for natural gas from the Asia-Pacific region. The global demand for natural gas is expected to increase amidst the winter season and LNG supply shortages. Demand from China and Korea is expected to drive the momentum further.
It is to be noted that most of the countries are moving from coal-based generation to natural gas to achieve their low-carbon emission targets.
Read More: Origin Energy (ASX:ORG) Goes Green, Eyes Green Hydrogen Plant In Tasmania
Origin Energy has also upgraded the production guidance of natural gas to 675-705 PJ for FY21 from the earlier estimate of 650-680 PJ.
The Company produced 708 PJ of natural gas in FY20, 4% higher from 679 PJ in FY19. Origin has augmented the production facilities using the artificial intelligence technique to ramp up the production as per the demand hike.
The cost guidance has been reduced to US$25-29/boe for FY21. Origin has also set a target to reduce 10-20% in unit costs over FY22-24 from the current levels.
Operational Overview
One drilling rig in FY20 as COVID-19 impacted the H1 2020 demand and production.
Lesser exploration activities in FY20.
Workover operations and fracturing each down by 11%
Reduced horizontal drilling by 15%
The Kyalla 117 well drilled and fractured successfully on the Beetaloo project.
Targeting FEED study on multiple 100MW-scale hydrogen projects.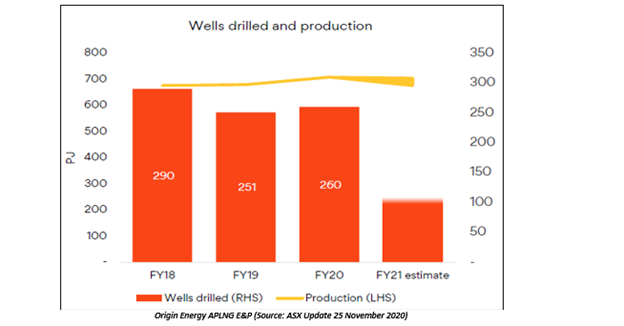 Origin's five value levers that led to strong financial and operational performance are:
Reducing well drilling and operating costs
Lowering field operational costs
Improving the well reliability
Optimising hydrocarbon production
Extending production plateau to expand the life of a well
Future Growth Drivers for APLNG
Below is the list of few growth drivers for APLNG:
Lower carbon emission target will be achieved by a transition from coal to natural gas.
Natural gas will be used as feedstock for hydrogen generation.
High heat intensity-dependent industry will still depend on natural gas.
Demand in the fertiliser and petrochemical industries expected to boost the demand for natural gas.
ORG traded at A$5.325 at 2:00 PM AEDT on 26 November 2020 with a market cap of A$9.24 billion.