Summary

Chimeric Therapeutics commenced trading on the ASX today following the successful completion of its IPO.
The drug development company raised almost A$35 million from Institutional as well as sophisticated investors.
The Company would utilise the funding for CLTX-CAR T Phase 1 clinical trial and development of oncology-focused novel cell therapies drug pipeline.
A drug development player focused on novel CAR T cell therapies Chimeric Therapeutics Limited (ASX:CHM) today commences trading on the ASX after completing an Initial Public Offering (IPO). On 18 January 2021, CHM stock began trading on the ASX, closing a whopping 47.5% higher at A$0.295, compared to its issue price.
Chimeric raised almost A$35 million from investors through the IPO
Chimeric Therapeutics raised almost A$35 million from investors on completion of an IPO. Institutional, as well as sophisticated investors, had shown strong interest in the IPO priced at A$20 per share.
The offer was heavily oversubscribed with the impressive support, leading the Company's market capitalisation to A$66.1 million on the listing.
The Company stated that the IPO received tremendous support from investors within Australia and from overseas.
Chimeric Therapeutics stated that the Company would use funds from the IPO for:
The Phase 1 clinical study of the CLTX-CAR T at the City of Hope (COH) Cancer Centre.
Developing an oncology-focused drug pipeline of novel cell therapies.
The investment in personnel, admin/corporate and working capital, including the license fees to COH.
CLTX-CAR T technology Phase 1 clinical trial underway
The Company disclosed that Phase 1 clinical study of the CLTX-CAR T technology is in progress. The first patient being dosed for the study in late 2020. Moreover, almost 18 patients are anticipated to be part of the open-label clinical trial.
Chimeric Therapeutics also disclosed that it anticipates the study to complete within 18-24 months and the first data is projected in the second half of 2021.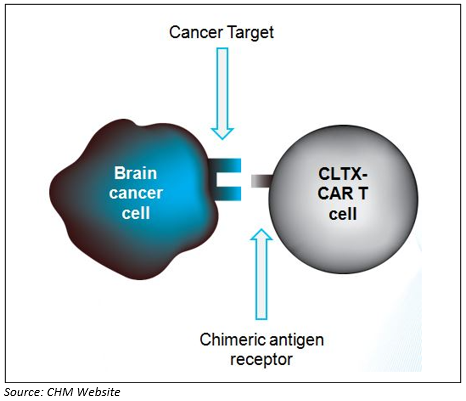 Paul Hopper, Executive Chairman of Chimeric, commented:

Mr Hopper also added that the IPO allows Chimeric to develop its CLTX-CAR T therapy as well as expand its reach to patients having an unmet medical need. Moreover, this therapy is also for the treatment of GBM, including some other solid tumours.
Chimeric Therapeutics in a Nutshell
Chimeric Therapeutics is engaged in the development of pioneering CAR T cell therapies to treat solid tumours. The Company is developing therapies on the basis of the scientific research performed by prominent CAR T specialists at the COH. The CLTX-CAR T technology of Chimeric Therapeutics incorporates CLTX (chlorotoxin) as an innovative CAR tumour detection domain.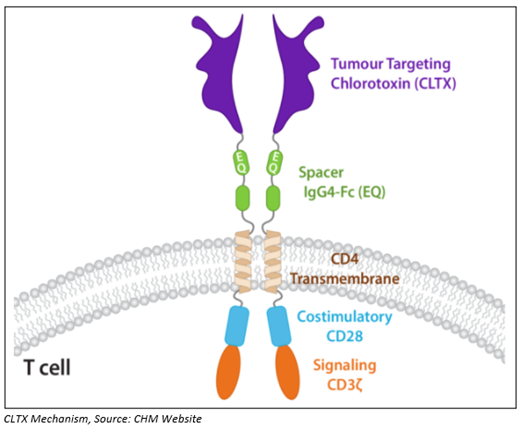 The Company is Chaired by Australian biotech entrepreneur Paul Hopper, the Executive Chairman & founder of Imugene Ltd (ASX:IMU). Formerly, he was the Chairman of Viralytics (ASX:VLA). He has been a Chairman, Director or CEO of over 14 companies in Australia and the US.