Summary

Bingo shares resisted any large downside after a short-seller released a report questioning the firm's operational and governance practices.
The company is yet to comment on the report by Snow Cap Research. A consortium is also undertaking due diligence in a takeover offer for Bingo.
Bingo Industries (ASX:BIN) essentially has a price tag of $3.50 per share, which implies an enterprise value of $2.6 billion. Late last month, private equity outfit CPE Capital and Macquarie Infrastructure and Real Assets (MIRA) submitted an indicative non-binding proposal.
Snow Cap Research has published research, primarily questioning recycling rates. It appears a reasonably new firm among short-sellers/activists. BIN shares are down nearly 2%, indicating that outcome lacks market conviction or maybe publicity.
Source: BIN Presentation, 17 November 2020
Bingo is also reviewing the proposal, presented by the consortium. Under a cash offer of $3.50, Bingo shareholders may have the opportunity to exit. It will also include an alternative proposal with cash and unlisted shares as consideration.
In addition to necessary approvals, the alternative proposal is subject to acceptance of majority shareholders, Chief Executive Daniel Tartak and Director Ian Malouf. An Independent Board Committee is assessing the proposal.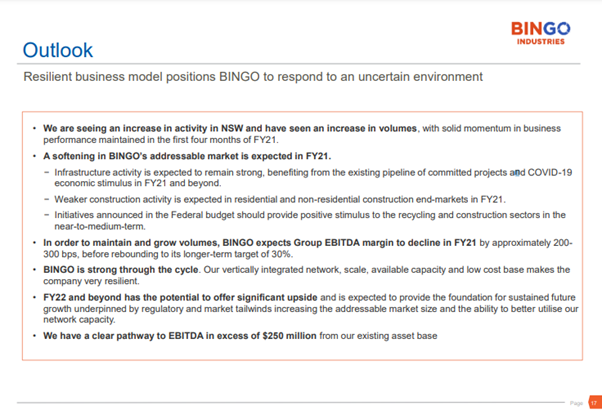 Source: BIN Presentation, 17 November 2020
Snow Cap has also timed the report quite well as the consortium is undertaking due diligence at Bingo Industries. However, the offer remains highly unconditional and requires term acceptance, and shareholder and majority shareholder approvals.
The research outfit points that Bingo has industry-leading EBITDA margins. It has raised questions on recycling rates, revenue recognition, high-capex spending, and more.
BIN shares exchanged hands at $3.1, down by 2.52% at the time of writing.