Highlights

The ASX 200 traded marginally lower by the afternoon, paring opening gains.
Seven of the 11 sectors were trading in red, while consumer staples declined the most.
Codan, A2 Milk Company, Champion Steel, were among top losers on the ASX pack.
Woolworths Group shares fell despite a rise in first-quarter sales.
Reliance Worldwide, Netwealth, Uniti Group topped the gainers' chart.
Australian shares reversed opening gains to edge lower by the afternoon as higher-than-expected inflation numbers left investors jittery. The rise in inflation may mount pressure on the Reserve Bank to reconsider its decision to hold interest rates steady until 2024. The sharp selling in consumer staples stocks, such as Woolworths, A2 Milk, also dragged the market lower. The correction in commodity prices also weighed on mining and gold companies.
By the afternoon trade, the ASX 200 index was down by just 3.60 points to 7,439.80. The benchmark index opened higher today, tracking overnight gains in US stocks, but soon pared gain.
ASX slips in red on inflation woes; Codan, A2 Milk lead fall
On Wall Street, all the three major benchmarks closed higher on Tuesday as investors cheered corporate earnings which lifted market sentiment amid persistent concerns about rising inflation and slowing economic growth. The S&P 500 and Dow Jones Industrial Average hit a record high on the latest round of earnings by United Parcel Service Inc. and General Electric Co. The S&P ended 0.18% higher, while the Dow Jones Industrial Average rose 0.04%. The NASDAQ Composite Index settled 0.06% higher.
Back home, on the sectoral front, seven of the 11 sectoral indices were trading lower, led by consumer staples and utilities space. The consumer staples sector declined the most, falling 1.85% by lunchtime. It was followed by a 1.1% loss in the utilities sector and a 0.9% drop in material space. Among others, consumer discretionary, A-REIT, energy and industrials sectors also witnessed selling pressure.
Bucking the trend, the telecom services sector was the best performing sector with a 0.8% gain, followed by health care, which gained 0.5%. The financial sector also traded higher with marginal gains.
Top gainers and losers
Image Description: Top gainer and losers Source: ASX Website (as of 27 October 2021, 1:30 PM AEDT)
The top gainer on the ASX pack was plumbing parts business Reliance Worldwide (ASX: RWC), which rose 4.2% by afternoon trade. Some of the other notable gainers were telecom services company Uniti Group (ASX:UWL), diversified financial group Netwealth (ASX:NWL), healthcare equipment manufacturer Sonic Healthcare (ASX:SHL), and software business Computershare (ASX:CPU).
On the flip side, dairy business The A2 Milk Company (ASX:A2M) topped the losers' chart with an 11.4% loss. Some of the other top laggards were technology solutions company Codan (ASX: CDA), iron ore miner Champion Iron (ASX:CIA), gold producer Regis Resources (ASX: RRL), and energy firm AGL Energy (ASX: AGL).
Shares in news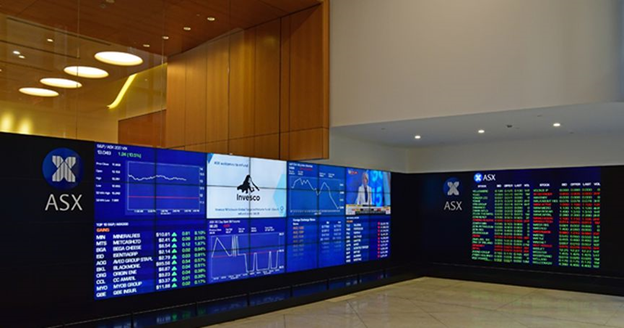 Image source: © Stbernardstudio | Megapixl.com
Shares of supermarket giant Woolworths Group (ASX: WOL) dropped over 3% after it released its first-quarter sales report. For the first quarter ended 3 October 2021, sales rose 7.8% to AU$16 billion, compared to the same period last year.
Aussie fintech company Humm Group's (ASX: HUM) shares traded flat. The buy now, pay later (BNPL) company has informed its shareholders that it would commence the dividend payment in the first half of the financial year 2022, with a payout ratio of 30-40%.
Codan (ASX: CDA), which develops technology solutions for mining companies, saw its shares dropping nearly 12% after it bagged a contract. The company's subsidiary, DTC Communications Inc (DTC), has won a multi-year contract to supply software-defined mesh radios to a publicly listed global technology corporation.
Shares of Gold Road Resources (ASX: GOR) fell 1.5% after it released its September quarter business report. The company produced 59,371 ounces of gold at its Gruyere joint venture operations, up from 53,132 ounces in the June quarter.
Shares of dairy nutritional company A2 Milk Company (ASX: A2M) plunged nearly 11% as investors gave thumbs down to its plan to expand business in China.