Highlights

New assets are entering the cryptoverse regardless of the ongoing subdued phase
DIMO is said to be an open source platform that generates data for vehicle owners
DIMO token is native to this platform, and it will be used in governance and staking
Over the past couple of weeks, Bitcoin has hovered near US$30,000 level. CoinMarketCap data suggests that the total market cap of cryptoassets has also taken a hit. As compared to US$2.2 trillion at the beginning of this year, it has dropped below US$1.3 trillion, as of writing.
Even in the midst of a dull phase in the wider cryptoverse, new tokens are being launched. One of the most popular launches of 2022 was ApeCoin (APE) crypto. In mid-March, APE debuted at nearly US$8 and then doubled to over US$16 over the next one day. This launch could have served as a motivation for new projects to launch their native tokens.
One token that might launch in the near future is DIMO crypto. Let's know more about it.
What is DIMO?
DIMO claims to be a player in the mobility sector, with decentralised underpinnings. The project says it can connect owners with the data generated by their vehicles. It is being said that DIMO platform can help save money.
An open-source platform, DIMO also supports app developers. DIMO says that data can be accessed by developers to build their own services. The platform also claims to bring transparency to the Internet of Things (IoT) space.
DIMO ecosystem can have multiple decentralised apps (DApps), including a wallet service. The project is also talking about decentralised elements like smart contracts and distributed storage. DIMO indicates a phased launch of its ecosystem, with entry into wearables and smart home devices after 2025.
Also read: Top 5 costliest NFTs ever sold
DIMO crypto
DIMO serves as a native token for the DIMO ecosystem. It is an Ethereum blockchain-based crypto. The project claims that the entire stash of one billion tokens is presently held by the core team.
The purpose of native token is to reward owners that connect their vehicles using DIMO. The token, it is stated, can also be used to decentralise the platform's governance. DIMO token would allow its holders to vote on governance proposals.
Is DIMO crypto safe?
DIMO token has yet to list on major crypto tracking websites and exchanges. Also, the ecosystem is yet to demonstrate its utility in the mobility sector. It is not yet clear how it collects data and helps vehicle owners. DIMO token is set to enter a space where thousands of cryptoassets already exist. Only time will tell how this new token would perform.
For instance, ApeCoin token rallied soon after launch, but it could not sustain the momentum in the long-term.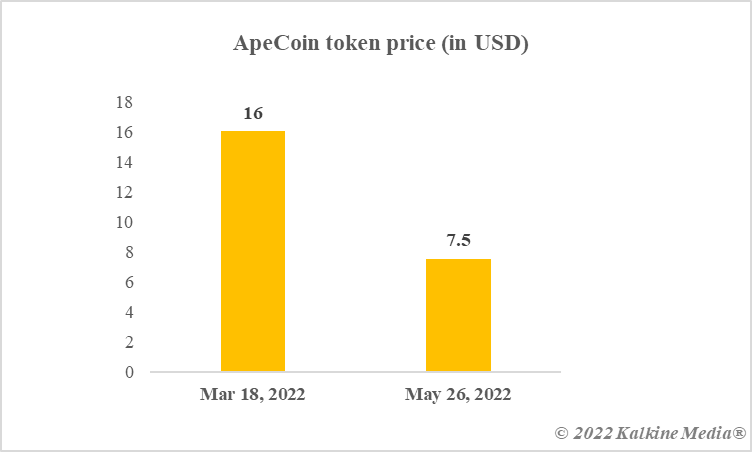 Data provided by CoinMarketCap.com
Bottom line
Though the crypto market is passing through a rough phase, new tokens continue to be launched. DIMO is a project that claims to connect owners with their vehicles' data. It also has a native DIMO token, which has yet to prove its potential.
Also read: BTC and S&P 500 Index correlation over past 5 years
Risk Disclosure: Trading in cryptocurrencies involves high risks including the risk of losing some, or all, of your investment amount, and may not be suitable for all investors. Prices of cryptocurrencies are extremely volatile and may be affected by external factors such as financial, regulatory, or political events. The laws that apply to crypto products (and how a particular crypto product is regulated) may change. Before deciding to trade in financial instrument or cryptocurrencies you should be fully informed of the risks and costs associated with trading in the financial markets, carefully consider your investment objectives, level of experience, and risk appetite, and seek professional advice where needed. Kalkine Media cannot and does not represent or guarantee that any of the information/data available here is accurate, reliable, current, complete or appropriate for your needs. Kalkine Media will not accept liability for any loss or damage as a result of your trading or your reliance on the information shared on this website.