Since lockdown and social distancing measures are on a full swing across the world, online businesses are experiencing a higher level of customer activity. Although some countries are lifting lockdown measures, the chances of a staged return to normalcy are higher since a few nations have followed similar approach.
As households are staying at homes and avoiding going out, the demand is increasing for online retailers that are operating amid COVID-19.
Over the past month, RBL has delivered a price return of +41.18%, and KGN has delivered a price return of +44.28%.
Redbubble Limited (ASX:RBL)
Founded in 2006, Redbubble is an online business operated two online marketplaces that are powered by independent artists. It provides products like apparel, bags, wall art, stationery, etc.
Recently, the Company released the 3Q and Financial YTD update for the period ended 31 March 2020. In YTD FY2020, the marketplace revenue was $246 million, up by 25%, gross profit of $91 million was up by 28% with gross profit margin reflecting an improvement of 0.9 pp to 37.2%.
Likewise, GPAPA of $63 million was up 26%. At the end of March 2020, its closing balance was $31.9 million. In 3Q, the marketplace revenue growth was 20% due to stronger than expected start to the quarter and consumer behaviour due to COVID-19.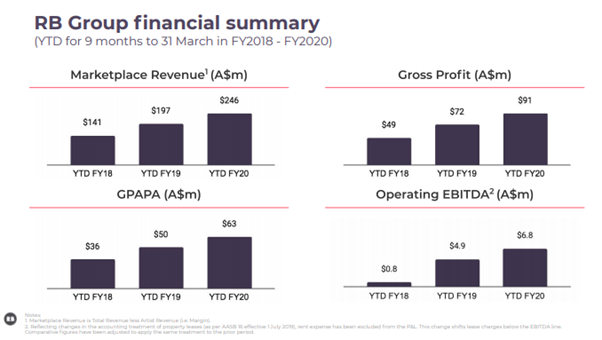 Source: RBL Announcement
It was said that April has witnessed increased online activity and resilient sales growth. As a result of the sales trend, the Company has moved to a 4-day week for its employees.
Previously announced cost control measures remain in place until 30 June 2020, and it was noted that the external environment remains volatile and uncertain. As a result of uncertainty due to COVID-19, the group has not provided any forward guidance.
Management remains confident on the financial position of the business with balance sheet strength to meet business needs. And, there are ways with the management to weather the changes in macro-economic conditions.
It was noted that the business model had depicted resilience amid the pandemic, benefiting consumer's move towards online shopping. RBL's price points enable it to provide customers with attractive value, while supply chain and operations remain robust.
Work from home has been efficiently managed by the employees of the business, including cross-learning from TeePublic in search engine optimisation, artist recruitment and account management.
RBL said that both marketplaces are responding effectively to the opportunities, and paid marketing, learning is also being shared across the group to improve marketing efficiency.
Management remains focused on the short term execution to deliver on the long term growth. With lockdown and isolation measures are in place across the world, they expect business to benefit from the consumers' reliance on online platforms.
As macro-economic conditions continue to change, it would impact business performance. The Group is committed to honour pre-COVID business initiatives, cross-learning between the group to benefit from the changing circumstances.
On 29 April 2020, RBL was trading at $0.785, down by 6.548% (at AEST 1:42 PM).
Kogan.com Ltd (ASX:KGN)
Kogan.com is an online Australian marketplace. It operates a portfolio of retail, mobile, internet, insurance, pet insurance, health and more. KGN operates out of Melbourne, Australia.
Earlier this month, the Company provided April business update. It recorded the highest growth in the active customers in March (post-IPO). During the March quarter, KGN recorded strong gross sales and gross profit.
The business successfully navigated through the disruption bought by COVID-19, ensuring high standards of service to its customers.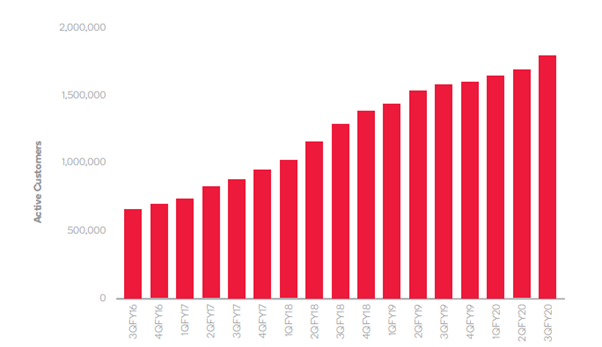 Source: KGN Announcement
Kogan.com CEO, Ruslan Kogan, stated that he was extremely proud of the team efforts to manage service delivery amid this environment and portfolio of businesses that have been created over the years, making Kogan.com strong and fundamentally sound.
He said Kogan.com was one of the first companies in Australia that embraced 'work from home'. Since its inception, the business has built world-leading supply chains, which includes contract manufacturers in China, traders across global markets, partners in ANZ and sellers from around the world.
KGN supply chain capabilities have allowed weathering the shock of COVID-19 pandemic while continuing to serve the customers with fast delivery of essential items.
Its cloud-based systems underpin the highest level of productivity when working remotely, and the company has one of the brightest minds in the e-commerce space of Australia.
Business Update
In 3QFY20, the active customers of the company increased by over 13% to 1.8 million (y-o-y) by March-end, with 62k active customers in March or the largest monthly increase since the IPO.
Gross sales of the business improve by 30%, revenue grew by over 6% and gross profit grew by over 23%. These results were achieved after strong results in March.
It was said that pipeline for new sellers on the marketplace continue to be strong. A larger number of sellers were in an integration phase and enquiries from potential sellers are huge. KGN continues to invest in the marketplace to automate the onboarding of sellers.
The Company also incurred overall higher operating costs, which increased by over 37% as spending on marketing activities intensified to capture active customers.
At the end of March 2020, inventories stood at $79.3 million, which included $63.8 million in the warehouse and $15.5 million in transit. It was carrying a cash of $47.8 million, payables of $44 million, and debt facility was drawn to $26 million.
Its exclusive brand segment supply chain was disrupted after the Chinese New Year. The Company worked with its suppliers and logistics partners and onboarded new sellers to the marketplace. With the supply of exclusive segment restarted at the start of March, the orders of the exclusive brands have been largely delivered on time.
One Kogan Travel supplier became insolvent, and KGN ensured that the travel customers were credited with the full value of purchase. Insurance business has suspended sales of landlord insurance and travel insurance in the wake of COVID-19.
KGN also conducted proceedings, bought by ACCC, through video conference, and the court has reserved judgement. The proceeding is related to promotion by the Company in June 2018.
On 29 April 2020, KGN was trading at $7.72, up by 0.39% (at AEST 1:53 PM).