Joel Embiid scored 35 points as the Philadelphia 76ers cruised past the winless Portland Trail Blazers 126-98.
James Harden, who has been in dispute with the 76ers, watched on from the bench as the reigning MVP Embiid added 15 rebounds.
Tyrese Maxey also posted a double-double as he finished with 26 points and 10 rebounds.
The Golden State Warriors fielded Draymond Green for the first time this season as Steph Curry saw off a Houston Rockets comeback.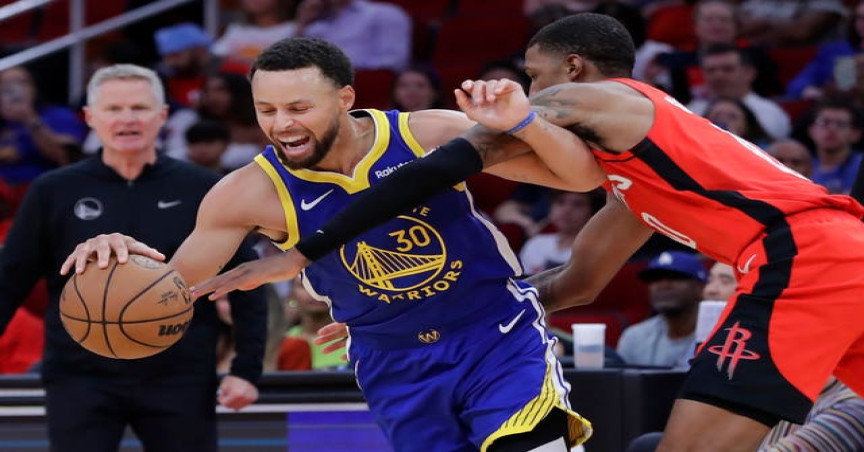 Golden State Warriors guard Stephen Curry (30) tries to drive past Houston Rockets forward Jabari Smith Jr (Michael Wyke/AP)
The Warriors, up by 16 at one point, trailed by two in the fourth quarter before Curry hit four three-pointers inside two minutes to ease them away to a 106-95 win.
Kawhi Leonard scored 21 points with Paul George and Russell Westbrook each adding 19 as the Los Angeles Clippers cruised to a 123-83 win over the San Antonio Spurs.
The Spurs committed 25 turnovers, five of them from star rookie Victor Wembanyama in his first game outside San Antonio.
The closest game of the night was in Sacramento where the Kings beat the Lakers 132-127 in overtime.
Denver Nuggets centre Nikola Jokic, left, prepares to pass the ball away from Oklahoma City Thunder forward Jalen Williams (8) and guard Shai Gilgeous-Alexander (2) (Nate Billings/AP)
The NBA champion Denver Nuggets made it three wins to start the season as Nikola Jokic scored 28 points in a routine 128-95 win over the Oklahoma City Thunder.
Jokic added 14 rebounds with Michael Porter Jr chipping in with 20 points.
Trae Young grabbed 20 points as eight Atlanta Hawks players reached double divs to beat the Milwaukee Bucks 127-110 for their first win of the season.
Damian Lillard, who scored 39 points in his Bucks debut on Thursday, was held to just six as Giannis Antetokounmpo led Milwaukee with 26 points.