Highlights

Australia is home to several metals companies.
There are several companies which deal in tin as well.
During FY22, Metals X delivered 144% growth in revenue from continuing activities.
Australia is home to several metal companies. Tin is one of them. This metal is soft, non-toxic, extremely malleable, and resistant to rust and fatigue metal. It is one of those metals used and traded by humans for over 5000 years. As a result of tin's low melting point and ease of alloying, human beings were able to combine it with copper to create bronze, ushering in the Bronze Age.
Tin is used to coat steel sheets in the production of tinplate, which makes up about 16% of the world's tin consumption. Tinplate is used to make cans that hold food, beverages, oils, paints, chemicals, and disinfectants. Tin is also used to make plate glass, superconducting magnets (such as those made of niobium-tin), dyes, antiseptics, perfumes, cast iron, fire retardants, pewter, and tinsel, among other things. Tin oxide is also used as a white ceramic glaze.
Tin is still found in today's bronze, which is also used in metal alloys, coatings for steel cans, and solders to connect metals and pipes. Tin is used most frequently in solder, which accounts for roughly half of global use today. Solders are used for several tasks in the automotive industry, plumbing and sheet metal professions, and cans.
With this backdrop, we at Kalkine Media® will discuss some of the ASX-listed companies specialising in Tin business.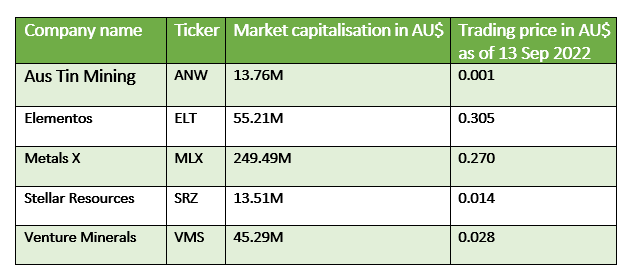 Aus Tin Mining (ASX:ANW)
Aus Tin is an exploration company based on multi-commodity. Its portfolio includes assets at different stages, such as pre-construction, feasibility, and exploration.
Activities highlights of Aus Tin for the June quarter
Completed divestment of the Taronga Tin Project to a London Stock Exchange listed company First Tin plc
Accomplished a placement of 1,050 million shares. It raised AU$987,000 after expenses of the issue
The company's immediate focus is the Ashford Coking Coal Project, which owns 40%. Aus Tin will advance the project's development during the remainder of 2022 and afterwards
Aus Tin has started a geological review of data from previous work of the Kildanga / Mt. Cobalt Project
Elementos (ASX:ELT)
Elementos is advancing project development to fulfil the forecasted deficit of tin in the market. The company is focused on initiating tin production by 2025. It targets to achieve a higher amount of production through its different projects.
Last month, the company established the intersections of near-surface tin mineralisation at its Oropesa Tin Project, Spain. These intersections are considerably broader than the earlier modelled by its 2021 Mineral ResourceEstimate.
Highlights of June quarter for Elementos
Oropesa Tin Project – Submission of key Regulatory Documentation to substantially advance the project's approvals.
Provided contract to Geociencia y Exploraciones Maritimas S.L. Geociencia will finalise the design of Oropesa's Tailings Dam & Waste Dump Design.
Completed four-hole drilling program at Cleveland Tin Project. A substantial amount of tin-copper and tungsten mineralisation assay results were obtained from the first hole.
Metals X (ASX: MLX)

During FY22, Metals X delivered 144% growth in revenue from continuing activities. Similarly, its net profit also grew by 111%. Other major activities of the company during the year are as follows:
Investment in a joint venture company. The company runs a tin mine in Australia.
Holding investments in companies exploring and developing base metals projects in Australia.
Stellar Resources (ASX:SRZ)
Stellar's flagship project is the Heemskirk Tin Project on the West Coast of Tasmania. It is Australia's highest-grade undeveloped tin resource and globally, the second highest. The project completed a scoping study in 2019 and confirmed attractive economics. It is well placed to benefit from the burgeoning tin market.
In August, the company made an announcement regarding a placement and share purchase plan. The placement was to raise AU$1,888,425, and the SPP was to raise AU$500,000. The company plans to utilise the raised capital to fund the exploration and development of the company's portfolio.
Earlier in August, the company secured three Tasmanian Government grants worth AU$ 133,750. The grants are regarding the following exploration projects.
South Severn Hole ZS152
North Scamander tin-base metals project (EL19/2020)
Pinnacles tin-base metals project (EL19/2020)
Venture Minerals (ASX:VMS)
Venture Minerals, an ASX-listed firm, is engaged in discovering and developing world-class mineral deposits.
Following the recent finding of two new Nickel-Copper-PGE targets, Chalice Mining (ASX: CHN) decided to pledge to the second stage of the JV. It needed a further AU$2.5 million of investment over the following two years to make a 19% more interest (for a total of 70%) in the Southwest Project of Venture.
June quarter highlights of Venture Minerals
The company is conducting metallurgical testing to optimise an economic, gravity-focused, processing flowsheet
It has started non-process infrastructure studies.
Secured environmental permission for the underground mine progressing from the EPA