Summary

Suncorp Group has reported changes to its operating model and announced a number of appointments to its business verticals.
AMP Limited has closed the sale of life insurance business to Resolution Life for $3 billion.
Rio Tinto has also made new appointments to its Group Executive Committee.
Three major Australian companies have announced updates related to management shake-up and sale of a business. These companies include Suncorp Group, AMP Limited and Rio Tinto Limited.
Let's discuss these updates in detail.
Suncorp Group Limited (ASX:SUN)
Suncorp Group has reported a business update and a new operating model. The group has made good process on its priorities highlighted during the full-year result release last year. This fast-paced transformation is justified by the catastrophic year that included bushfires, natural disasters, and health and economic impacts of COVID-19, according to Suncorp Group CEO Steve Johnston.
Mr Johnston added that the transformation undertaken by the group places the business appropriately to deal with increasing costs concerning the natural hazards and the global pandemic. Suncorp was well-placed prior to the COVID-19 crisis, backed by a strong balance sheet, and the group has further strengthened its funding, liquidity, and capital buffers.
Key operating model changes:
Insurance (Australia) will be headed by two executives with different responsibilities.
Combination of Group functions and Insurance (Australia) functions.
Better accountability within the businesses of Banking & Wealth and Suncorp New Zealand.
Aligning Group Strategy and Technology to fast-track capabilities and opportunities around the digital and automation space.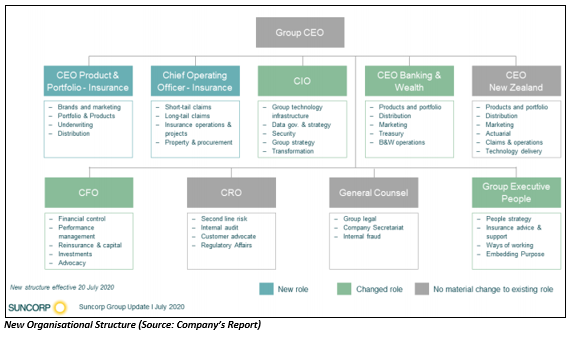 Insurance (Australia) & Suncorp New Zealand
Chief Executive Officer Product & Portfolio, a new role in Insurance (Australia), would be responsible for strategy, brand, product and pricing, digital channels, contact centres, distribution, partnerships, innovation and marketing. Lisa Harrison, who is Chief Customer & Digital Officer, has been appointed to the role. She is associated with the group for over 15 years.
Suncorp New Zealand boss, Paul Smeaton has been appointed as Insurance Chief Operating Officer. He would be responsible for claims management and operations. He has been with the group for 26 years. Current CEO of the Insurance business, Gary Dransfield will be leaving the group.
Suncorp New Zealand CFO, Jimmy Higgins has been appointed to lead the NZ business in an acting capacity, while the internal and external search is ongoing.
Banking & Wealth
Suncorp has appointed Clive van Horen as the CEO of Banking & Wealth. He will arrive from Commonwealth Bank, where he worked for 10 years and held senior roles in business and retail banking.
He would be responsible for customer strategy, finance, marketing, digital function, and banking and wealth operations. Several functions would be transitioned from centralised operations. Management intends to improve competitiveness in the segment through greater digital capability, faster decision making and expense management.
People Experience
The group intends to reinstate the functions handled by People Experience, which include a broad number of functions. It would undertake reshuffling of teams in the People Experience function to emphasise on the people strategy. Suncorp's Chief People Experience Officer, Amanda Revis, would leave the group.
Finance & Reinsurance
Jeremy Robson, Chief Financial Officer of the group, would undertake additional responsibilities, including Actuarial and Reinsurance; these were part of the insurance business earlier. Collectively, the finance and reinsurance function would present a more strategic and innovative approach in areas like capital, climate risk and modelling.
Technology and Strategy
The group's new Chief Information Officer, Adam Bennet, has joined. He would be responsible for technology infrastructure and delivery, data and automation, and digital platforms. He would also work with product and distribution teams for digital enhancement.
Reinsurance Program
The group has finalised catastrophe reinsurance program for FY21. The FY20 upper limit on the main catastrophic program across ANZ for major events is $6.5 billion, which is lower than last year due to reduced commercial insurance exposure in Australia and increased building coverage in NZ.
Due to a lower level of P&L volatility cover against FY20, natural hazard allowance for FY21 is expected to increase by $90-$130 million against $820 million in FY20. More updates would be provided during the FY20 result release in August 2020.
On 1 July 2020, SUN last traded at $8.850, down by 4.117% from the previous close.
Good Read: Casting an eye on Insurance Industry
AMP Limited (ASX:AMP)
AMP has reported completion of the sale of life insurance business to Resolution Life. The consideration price for the sale is $3 billion, including $2.5 billion in cash and $500 million of equity interest in Resolution Life Australia.
Net proceeds from the sale are expected to increase the company's capital in excess of target surplus by around $1.1 billion. AMP stated that the proceeds in excess of capital requirement would be used to fund the new strategy.
AMP will make a decision on residual proceeds, and above target surplus could be returned to shareholders, subject to any material change in business and economic conditions. Sale of the AMP Life business would significantly aid the company in its strategic transformation to become a simpler, client-led and growth-oriented organisation.
The sale process included transfer of around $55 billion of client funds through successor fund transfers. It enables the company to emphasise on simplification of its wealth management platforms and products.
AMP will continue to provide technology and administrative service to AMP Life for a two-year period, in addition to its residual 20% holding in Resolution Life Australia, which is a new Australian-domiciled, Resolution Life-controlled holding company that is now the owner of AMP Life. All customers' terms and agreements remain unchanged after the sale.
On 1 July 2020, AMP last traded at $1.885, up by 1.617% from the previous close.
Rio Tinto Limited (ASX:RIO)
Rio Tinto has announced a new role to its executive committee, expected to complement the transition for Rio's commitment to strategy, technology and climate change. Peter Toth would assume the role of Group executive, Strategy and Development.
Mr Toth would be responsible for leading the company's efforts in climate change, closure and portfolio. He would work with product group and commercial teams. In addition to this role, he would be responsible for Exploration and Ventures.
Stephen McIntosh has decided to retire from the company after 30 years with Rio Tinto. He was the Group executive of Growth & Innovation and Health, Safety & Environment.
Mark Davies would assume the role of Group executive, Safety, Technical and Projects. He would emphasise on Rio's commitment to health, safety and environment. Mr Davies would also drive the Group's efforts in technology and project delivery to complement operational excellence in the future.
Both Mr Toth and Mr Davies will join the Rio Tinto executive committee on 1 October 2020.
On 1 July 2020, RIO last traded at $97.150, down by 0.827% from the previous close.
Do Read: ASX-Listed Iron Ore Giants Taking a Beat While Iron Ore Stands Tall; What's Changed?