If we see the chart of S&P/ASX 200 Information Technology (Sector), in the last six months, the index was seen taking an upward movement. However, the index value started declining from 29 May 2019. Today, S&P/ASX 200 Information Technology (Sector) index (on 4 June 2019) is down by 2.46%.
Let's have a look the three IT stocks as follows:
GBST Holdings Limited:
GBST Holdings Limited (ASX: GBT), is a specialist financial technology company from the Information Technology sector which provides administration as well as transaction processing software for retail wealth management organizations along with global and regional investment banks.
Today on 4 June 2019, the company announced that its Operating EBITDA before Strategic R&D for the year to June 30, 2019, will be around A$20 million, above the previous guidance. It reflects the greater certainty of the company around client take-up along with its ongoing focus on delivering transformation.
The company also announced that it had signed a 10-year contract for delivering a major back-office transformation programme for Canada Life UK. Canada Life is a subsidiary company of Great-West Lifeco Inc, and it provides insurance and wealth management products and services.
With this Canada Life agreement, the company expects revenue of A$50 million over the upcoming 10 years.
Canada Life has opted for Composer platform in order to deliver a modern back-office wealth solution so that it can replace its existing administration systems that will consolidate onto the GBST Composer platform to help in the launch of new propositions as well as products for the UK market.
Mr DeDominicis, the CEO of GBST Holdings Limited, commented on the agreement and stated that the Canada Life contract is proof of the progress being made on its software and the E-VOLVE programme. The new product which the company is developing for annuities and bonds will help the company in significantly increasing its market opportunities. Further, the E-VOLVE programme is on a strong delivery pace, reflecting the low-risk approach to delivery for the clients of GBST.
The stock, since its inception, has given an outstanding return of 250%. The stock has yielded a YTD return of 64.52%. If we see the 1H FY2019, the total revenue of the company increased by 3% to $43.879 million. The company made a profit of A$3.693 million, which was up by 48% as compared to its previous corresponding period. The balance sheet of the company appears healthy. There was an increase in net asset base, driven by a growth in the total asset. The total shareholders' equity for the period was A$72.261. By the end of 1H FY2019, the company had net cash and cash equivalent of A$9.597 million.
By the end of the trading session on 4 June 2019, the shares of GBT closed at A$2.470, down by 3.137%. The fall in the share price could be probably due to the fall in the index value. However, it is just a phase and based on today's announcement along with its strong global presence, and the stock is expected to perform well in the future.
Further, in the 1H FY2019 result announcement, the company highlighted that it had commenced three new major projects. As these projects ramp up, the company expects to generate increased services revenue, followed by recurring licence revenue. For the full year, the company is expected an increase in the revenue growth between 5% to 7%. Out of the total revenue generated by the company in full year, 70% of the revenue is expected from License and 30% from service revenue.
At present, GBST Holdings Limited holds a market cap of A$173.18 million and approx. 67.91 million outstanding shares.
ServTech Global Holdings Ltd
ServTech Global Holdings Ltd (ASX: SVT) is another company from the IT sector which helps in increasing business Profitability by eliminating the time and cost burden of administrative tasks as well as back-office functions by developing and using customized technology.
On 4 June 2019, the company's fully owned subsidiary Vection Italy S.r.l. has signed a distribution agreement with the Leading European ERP Specialist Four Bytes Group in order to distribute its VR Software as a Service (SaaS) platform, FrameS, gaining access to nearly 2.7k potential clients.
Through this contract, the company would be able to unlock various new industry sectors, as well as clientele across Europe. FrameS is a real-time SaaS platform solution which helps companies to visualize their designs and creations which includes product development, marketing and communication, learning & development as well as risk management.
This agreement is also linked to international SaaS subscription strategy of the company, which is set to launch in upcoming months.
On the other hand, initially, Four Bytes (newly established partnership) will be targeting its existing clients with annual turnover above ~€400 million.
With this distribution agreement, it can be expected that SVT's Subsidiary Vection would significantly accelerate its in-market presence with no upfront capital cost expenditure. The agreement would help in unlocking the extensive list of Enterprise and SME clients.
The shares of SVT have generated a decent YTD return of 63.64%. By the end of the trading session on 4 June 2019, the shares of SVT closed at A$0.016, down by 11.11% as compared to its previous closing price. SVT holds a market cap of A$11.25 million and approx. 11.25 million outstanding shares.
NEXTDC Limited
NEXTDC Limited (ASX: NXT) is a company from the IT sector, leading as the independent data centre operator in the Australian region. NXT as a tech entity enables the transformation of business via innovative data center outsourced solutions, services related to connectivity and so forth.
This is another IT stock which has given a positive YTD return of 9.38%. In the 1H FY2019 report, the company's revenue was up by 17%, from $77.5 million in 1H FY2018 to $90.8 million in 1H FY2019. The underlying EBITDA was up by 26% to $42.2 million. The company incurred a statutory net loss of $3.1 million. The company issued a further $300 million in unsecured notes. By the end of 1H FY2019 period, the total liquidity which comprised of cash and undrawn senior debt facilities was worth $644 million.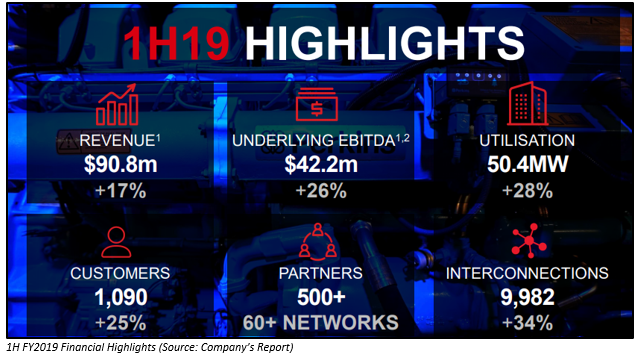 The development activities of the company in the 1H FY2019 includes:
Opening of S2 for early customer access with further ongoing investment.
Opening of P2 microsite as well as connectivity hub in order to enable early access to the Indigo subsea cable system along with other telecommunications and cloud infrastructure providers in the West Australian market.
Completion of B2 expansion of the second data hall.
M2 capacity expansion of the third and fourth data halls was started and was supposed to complete in the second half of FY2019.
During this period, the company also made certain acquisitions, which included as follows:
a) The takeover of the Asia Pacific Data Centre Group which includes underlying data centre properties P1, M1 and S1, with an underlying valuation of $261 million.
b) Acquisition of underlying B1 data centre property for $24 million.
Based on the company's 1H FY2019 performance and acquisitions as mentioned above, its utilization levels along with expected new customer contracts in 2H19, the company expects its revenue to be in the range of $180 million to $184 million. The Underlying EBITDA would remain unchanged, and capex will be between $430 million to $470 million.
Recently, on 17 May 2019, the company announced that it had received commitment letters and agreed to a syndicate allocation to refinance its existing A$300 million senior debt facilities.
By the end of the trading session on 4 June 2019, the shares of NXT closed at A$6.590, down by 0.902% as compared to its previous closing price. NXT holds a market cap of A$2.29 billion and ~ 344.52 million outstanding shares.
Comparative Stock performance (Source: ASX)
---
Disclaimer
This website is a service of Kalkine Media Pty. Ltd. A.C.N. 629 651 672. The website has been prepared for informational purposes only and is not intended to be used as a complete source of information on any particular company. Kalkine Media does not in any way endorse or recommend individuals, products or services that may be discussed on this site. Our publications are NOT a solicitation or recommendation to buy, sell or hold. We are neither licensed nor qualified to provide investment advice.