With the highly infectious nature of the coronavirus, families are struggling to say goodbye to their loved ones in the hospital. Globally, there have been 3,679,499 confirmed cases of COVID-19, including 254,199 deaths, as reported by WHO.
Due to more and more individuals experiencing a close bereavement related to COVID-19, a wave of grief would intensify in the upcoming months. The players who are into providing funeral services are often considered in an unpleasant light, but the service and products funeral industry offer is a necessity. It seems like, the funeral stocks do not have any major impact due to recessionary fears, and thus the funeral industry proves to be beneficial for giving stable and steady returns to the investors.
Representatives of the funeral industry can be classified under three main groups- cemetery owners and operators, funeral homes, and the group involve in the production of burial and memorial products. Moreover, the funeral industry is a matured industry and revenue in this industry is determined by the rate of mortality and circumstances in the broader economy.
Performance of funeral companies is an interest area for many as they are best suited in terms of stability and consistent income growth, as we all know that death is one of the major certainties, so these companies have a constant flow of business, in spite of the level of seasonal fluctuations going around.
In the backdrop, let us discuss two ASX-listed funeral stocks and their outlook– PFP and IVC.
Propel Funeral Partners' Share Price Soared by ~14%
ASX-listed death service provider Propel Funeral Partners Limited (ASX:PFP) is the 2nd largest contributor in offering funeral services across Australia and New Zealand. The group has its operations in 129 locations, including 31 cremation facilities and nine cemeteries.
On 8 May 2020, the Company provided a trading update on ASX with its Financial performance to 31 March 2020 and impact of COVID-19.
Highlights on cash flow front- The Company revealed that its financial results for the previous nine months were materially higher than the prior corresponding period (PCP). The quick summary of financials during the nine months ended 31 March 2020-
The total funeral volumes during the period were materially higher than the PCP;
Average Revenue Per Funeral growth on fiscal year 2019 was within the target range of 2-4%;
Revenue and operating EBITDA growth over the PCP was significant, revenue increased by 22.1% and operating EBITDA increased by 41.9% as compared to PCP.
Moreover, the Company disclosed that it would continue its acquisition led growth strategy, with nearly $69 million of available funding capacity and it had nearly $49 million of cash at the bank as at 30 April 2020 with no near term debt maturities.
Outlook for FY20
In terms of the outlook for the remaining half of the fiscal year 2020 and beyond, the company anticipates benefitting from the growing and ageing population in both countries and is in a comfortable zone with the recently expanded funding facilities. Moreover, Propel has completed few acquisitions prior to and since the start of the fiscal year 2020 with other potential future acquisitions in a fragmented industry. The company will definitely benefit from these acquisitions.
Propel disclosed that it would release its FY20 Full Year results in late August 2020.
Stock Information
On 8 May 2020, the shares of PFP soared by 14.552% to close the day's trading at $3.070 with a market cap of nearly $264.61 million. The stock has almost 98.74 million outstanding shares trading on ASX. The 52-weeks high and low price of PFP stock was reported to be $3.800 and $2.150, respectively.
InvoCare Limited Reported Robust FY19 Outcomes
Sydney-headquartered, ASX-listed company InvoCare Limited (ASX:IVC) is a leading provider of funeral services across Australia, Singapore and New Zealand. InvoCare manages nearly 290 funeral locations and 16 cemeteries & crematoria with approximately 1.8k employees.
On 6 April 2020, the Company updated the market with its annual report for the full financial year 2019-
InvoCare revealed that the Company witnessed a strong pick up in operational EBITDA with a growth of 21.4%, which is led by an upsurge in the number of deaths and a robust performance from renovated locations. With the profit of the latest acquisitions, the company delivered an additional EBITDA of $4.3 million on a year on year basis.
The operating EBITDA margin of InvoCare stood at 29.2%, increased by 430 bps as compared to the financial year 2018. The strong growth in the financial year 2019 was primarily driven by the positive influence of investment in the Protect & Grow strategy.
Moreover, the Company disclosed its pillars of growth, and those are- death rate (↑2.9%), Market share, Average funeral case, operating margin and Project & Grow.
InvoCare also highlighted that it has completed the renovation of 106 locations during the financial year 2019.
ASLO READ: InvoCare and Electro Optic Taps Capital Market To Boost Liquidity
The summary of financial highlights for FY19-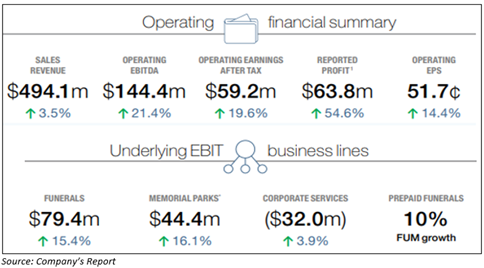 Addition to this, InvoCare disclosed that many of schemes are underway as it foresees introduction of further initiatives to address a responsible production as well as consumption targets, especially in relation to reviewing the supply chains and environmental regions of responsibility.
Outlook 2020 and beyond-
The Company estimate impact on operating EBITDA of AASB 15 unwind is anticipated to be approximately $14 million in FY2020 assuming current customer repayment schedules. Moreover, InvoCare disclosed that the current estimates for FY2021 and FY2022 are nearly $12.5 million and $11 million, respectively.
The focus beyond 2020 will then be on investing in "Growth" activities to provide sustainable development over the medium to longer term. Growth activities to be considered include: Enhance traditional locations, establish new locations, acquisitions, continue to rollout pet cremation business and to explore multicultural funerals, green funerals.
In addition, Protect & Grow provides the base for more innovative growth strategies. A key part of preparing for growth beyond Protect & Grow has been the recent renewal of the Board of Directors.
Stock Information
Shares of IVC rose by 4.693% to close the trading at $10.930 on 8 May 2020, with a market cap of nearly $1.42 billion. IVC stock has nearly 136.42 million outstanding shares trading on ASX. The 52-weeks high and low price of IVC stock was reported to be $16.770 and $9.070, respectively.