What is an All-Weather Fund?
All Weather funds have gained popularity owing to its potential to perform reasonably well during ups and downs in the market and economic conditions. In other words, these funds are not typically affected by the criticality and dynamic nature of business and markets.
All Weather Funds naturally have extremely flexible investment strategies that lets them expand across asset classes and make use of substitute techniques, such as macro hedging or sector rotation for the purpose of efficiently managing the erratic market changes.
What are the strategies used by All Weather Funds?
From the above discussed meaning of All Weather Funds, it can be inferred that these funds use specific investing strategies to enhance substantial and stable investment returns. Let us understand few of these strategies better-
One of the most common strategies used to attain gains in any sort of market environment is the long/short strategy. The All Weather Funds bear the autonomy to take both long and short positions which allows them to purchase investments that they perceive to have an advantage whereas they sell short securities that are anticipated to depreciate. All Weather Funds have the flexibility to undertake aggressive long positions when the market is trending up and undertake aggressive short positions when the market is trending down.
Long/short is the investing strategy that takes long positions in stocks that are most likely to appreciate in value and short positions in stocks that are most likely to decline in value. This tends to minimise the market exposure and is mostly profitable on a net basis. The strategy is most famous in hedge funds.
Another alternative method that makes use of long/short positions is the market neutral strategy. The All Weather market neutral strategy generate benefits gains by undertaking targeted pairs trade positions.
This strategy undertakes long and short positions, though one has to understand the difference viz-a-viz long/short funds. Market neutral strategy make use of arbitrage strategies that benefit from matching long positions with short positions (paired trading positions). These funds are most likely to make use of a statistical correlation approach or a qualitative approach. The goal is to be "market neutral" and focus on equities because of the offered transactional prospects. Market neutral strategies generate profits that are primarily based on price movements of the stocks involved.
Sector Rotation Strategy:
The Sector Rotation Strategy has gained investors' attention as they facilitate capital appreciation across all types of markets and conditions. It is a flexible investment strategy which considers sectors with higher growth potential or that has shown good prior performance in certain types of markets. Few sectors that offer the highest potential returns in expanding economies are Inflation trades, technology, and other innovative sectors.
This strategy involves utilizing the gains from a particular investment sector and diverting them to another sectoral space.
Another flexible strategy that amalgamates the theories of both long/short investing and sector rotation is the Macro hedging strategy. Macro hedging strategies are made in market driven sectors and simultaneously use long and short trade activities to benefit from any specific market catalyst.
A macro-hedge is basically an investment method which is used to shun down the risk (systemic) arising from the asset bunch. These strategies typically involve the use of derivatives which allows the portfolio manager to take short positions on much wider market catalysts that can have an adverse effect on the performance of the portfolio or an underlying asset.
The Bridgewater All Weather Fund
About Bridgewater Associates
Bridgewater Associates was founded in 1975 and is an American investment management firm founded by Ray Dalio. The firm caters to institutional clients like central banks, pension funds, endowments, foundations and foreign governments.
Bridgewater All Weather Fund
Developed by Ray Dalio, the founder of Bridgewater Associates, the Bridgewater All Weather strategy has probably been the most popular All Weather strategies.
Bridgewater All Weather Fund portfolio manages approximately $150 billion and is one of the largest hedge fund firms across the globe. Launched in 1996, it gained momentum when it sustained and performed well during the financial crisis of 2008.
The strategy was developed post scrutinizing the market changes investment returns during the phase of economic/political disturbance from Richard Nixon's political term. The strategy offered the option to gain from each part of security price movements during that period in the market.
According to market experts, Ray Dalio had tested his portfolio against few of history's highest market fluctuations to ensure that his method for risk reduction could sustain the test of time and maintain returns as well.
The strategy comprises of the below:
5% Gold.
5% Commodities.
15% Intermediate-Term Bonds.
40% Long-Term Bonds.
30% Stocks.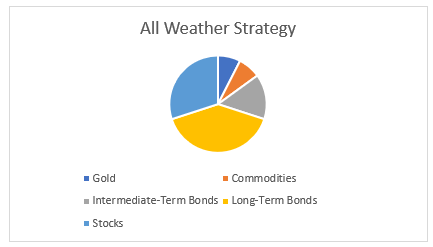 The portfolio was created based on two of the four basic economic situations:
Rising growth.
Falling growth.
Rising inflation.
Falling inflation
The Risk Parity Strategy
The portfolio of All-Weather Fund managed by Bridgewater uses the "risk parity" strategy with the expectation that it would make money for investors if the bonds or shares tend to sell off, though this would not take place simultaneously. This strategy is amongst the most popular investments options and huge banks like the Wall street ones and Bridgewater make use of it to hedge market chaos.
On the flip side, according to market managers familiar with this concept, the portfolio does not perform when both the stock and bond prices flip. The risk parity funds tend to make use of a great deal of leverage on the fixed income side and this in turn bears potential to magnify losses.
Risk parity has benefited from three decades of declining interest rates
All Weather Fund @12% Performance
Looking into the statistics of the All Weather Fund according to market experts, the All Weather @ 12% fund lost 4.61% in 2013. In 2014, it returned ~8.6%, but had a flip down year in 2015, where it lost ~8%. The performance got better in 2016 with a return of 11.61%, and even in 2017 where it took a leap to 13.09%. 2018 was disappointing again as the fund had lost 0.80% until October 29. All Weather @ 12% had a total return of ~446% and a compound annual return of ~8%.
Another User
Last year, Wealthfront Inc. had launched the Risk Parity Strategy. Its engineers and PhDs had developed an approach which was software based to imitate Bridgewater's strategy of risk parity strategy, while keeping lowest possible costs to the investor. The aim was to offer clients with more steady returns in times of economic uncertainty.
The Wealthfront Risk Parity Fund is managed by WFAS LLC, a wholly owned subsidiary of Wealthfront Inc and the principal distributor for the Fund.
---
Disclaimer
This website is a service of Kalkine Media Pty. Ltd. A.C.N. 629 651 672. The website has been prepared for informational purposes only and is not intended to be used as a complete source of information on any particular company. Kalkine Media does not in any way endorse or recommend individuals, products or services that may be discussed on this site. Our publications are NOT a solicitation or recommendation to buy, sell or hold. We are neither licensed nor qualified to provide investment advice.