Highlights:

Amazon (Nasdaq: AMZN) and Spotify (NYSE: SPOT) capture a major share of the podcast market with investments.
AMZN and SPOT earn millions in advertising revenue from their podcast business.
Shares of both Amazon and Spotify were rising on Tuesday.
The podcast industry, along with other genres of content production, grew manifold during the pandemic. Audiences of podcasts soared by leaps and bounds during the lockdown, helping the companies earn millions.
Amazon.com Inc. (Nasdaq: AMZN) and Spotify (NYSE: SPOT) are two top companies that reaped the benefits of a growing market, precipitated by the Covid-lockdowns.
A survey conducted by PwC revealed that the number of podcast listeners surged 40% to 384 million between 2019 and 2021. The revenue from advertising also grew more than double to US$1.5 billion during the same period.
Data shows that the number of podcasts peaked faster on Spotify Technology SA's eponymous service from 450,000 in 2019 to 2.9 million at the end of 2021.
Also Read: Why Spotify Technology (NYSE: SPOT) stock slumped after strong earnings?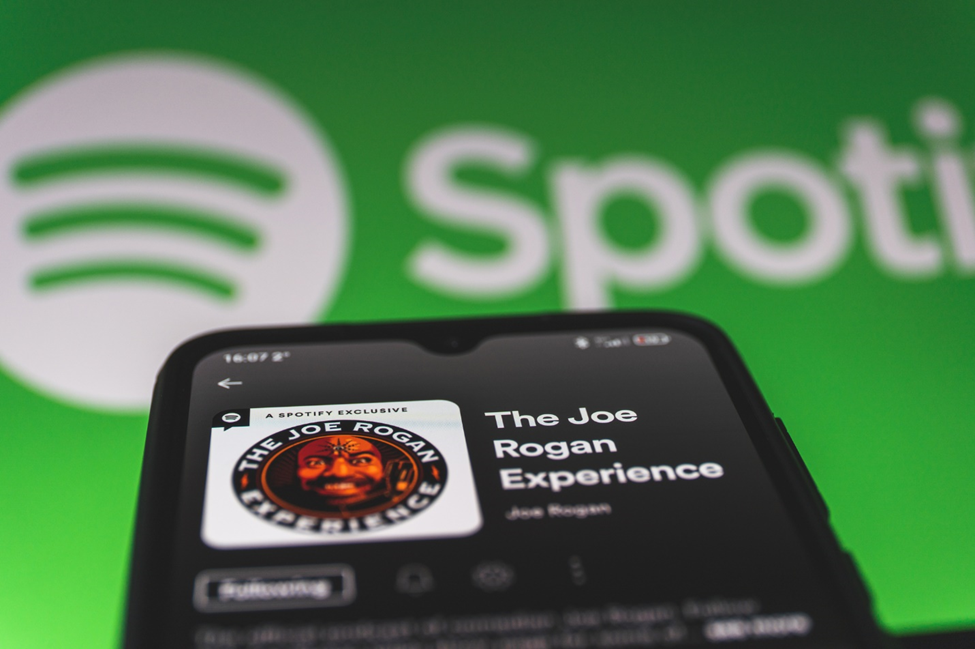 © Rokas91 | Megapixl.com
Also Read: Spotify (SPOT) expects to touch revenue of US$100 billion in a decade
Amazon, Spotify's podcast dominance unmatched
Although there are several companies in the fray, very few can measure up to Amazon or Spotify's strength and growth. Advertising money goes only to a select few, although the space is dotted with millions of podcasters who make little to no money.
Spotify has invested more than US$1 billion on podcasts, taking over companies like Ringer and Gimlet Media. It had roped in top celebrities like Kim Kardashian and Joe Rogan. These big celebrity names help Spotify avoid paying huge royalty fees to record labels for using their music.
Even as the audience grows for podcasts, there is no additional cost. Podcasts have two revenue streams- subscriptions and advertising.
The biggest advantage for companies like Amazon and Spotify is that they can showcase their own productions the way they want, sharing them with a larger audience. Whereas petty podcasters are at the mercy of the social media platforms. Social media platforms like Meta (previously Facebook) require premium services to showcase the content to a larger audience.
Bottom line:
Shares of Spotify are trading at US$100.325 at 11:54 am ET on June 14, 2022, which is 1.74% higher than their previous closing. While Amazon shares are trading at US$103.88 at 11:58 AM ET on June 14, 2022, up 0.20% from their last closing.