Summary
Healthcare businesses are often considered as organizations that are engaged in curing ailments, but they also include REITs and specialists.
Pfizer is a household name and the company reported revenues worth US$ 18.3 billion during Q1 2023.
Danaher's revenues during Q1 2023 were US$ 7.16 billion and offers a quarterly dividend of US$ 0.27.
Healthcare businesses are often associated with curing and treating ailments. However, this segment also includes businesses that go beyond providing healthcare services. For instance, real estate investment trusts are also a part of the healthcare sector as they own buildings and establishments that are utilized as hospitals.
This sector also includes specialists and operators that are involved in curing ailments. Thus, the healthcare sector comprises of various types of businesses that belong to different sectors. This makes them some of the largest businesses across the globe.
You must have seen some of these healthcare stocks offering dividends and cover against recession. The biggest strength of these healthcare stocks was visible during the pandemic when the vaccine-manufacturing stocks had a stable run despite the global economy being in recession.
ALSO READ: Did you know about these blue-chip stocks?
On that note, these are some healthcare stocks that investors can examine during the month of May.
Pfizer Inc. (NYSE: PFE)
Pfizer has become a household name thanks to the launch of its COVID-19 vaccine that was available across the globe. Pfizer has also been a big name in the healthcare industry long before this vaccine was launched.
The company recently released its results for Q1 2023, showcasing revenues of US$ 18.3 billion during the quarter. The reported net income during the period was US$ 5.543 billion, while the reported diluted Earnings per share was US$ 0.97 during Q1 2023.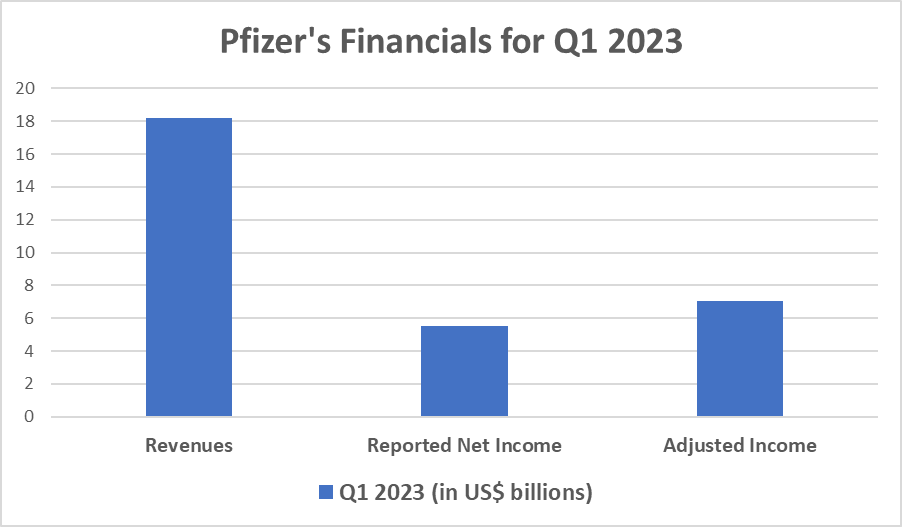 © 2023 Krish Capital Pty. Ltd.
The company also has plans to fight the battle against cancer, for which the company expects to reach a breakthrough in medicines.
ALSO READ: Two e-commerce stocks to watch out for in May
Danaher Corp. (NYSE: DHR)
The company transformed into a pharmaceutical giant after first being into the real estate business. Danaher's primary operations include manufacturing scientific instruments and consumables. The company comprises of over 20 operating organizations, which include growing and innovative businesses.
During the March 2023 Quarter, Danaher reported US$ 7.16 billion worth of total revenue. Meanwhile, the EBITDA during the quarter stood at US$ 2.3 billion. Additionally, the operating cash flow was US$1.94 billion during Q1 2023.
© 2023 Krish Capital Pty. Ltd.
Danaher pays a quarterly dividend of US$ 0.27 and closed at US$ 242.47 on May 7, 2023.