Highlights

FDA has granted rare-pediatric-disease (RPD) designation to Longeveron's cellular therapy Lomecel-B.


Longeveron is currently evaluating Lomecel-B in a Phase 2 trial.


All the infants enrolled in its Lomecel-B Phase 1 trial were alive and haven't required a transplant in 2-3.5 years.
The Longeveron Inc. (NASDAQ: LGVN) stock rose by over 138% on Thursday after announcing that US Food and Drug Administration (FDA) granted the rare-pediatric disease (RPD) designation to its cellular therapy Lomecel-B.

The Lomecel-B therapy is used to treat Hypoplastic Left Heart Syndrome (HLHS), a rare and life-threatening congenital heart disorder in infants.

The LGVN shares were priced at US$ 6.97 at 10:24 at ET on Nov 18, up 138.70% from its previous close.
The Miami, Florida-based company is currently evaluating Lomecel-B in a Phase 2 trial.
According to the company, Lomecel-B is an investigational allogeneic, bone marrow-derived medicinal signaling cell (MSC) product. Its cellular therapies are used for treating ageing-related and life-threatening disorders.
Also Read: Dicerna-Novo Nordisk deal revealed: DRNA stock pops 78% in premarket
Longeveron's co-founder and Chief Science Officer, Joshua M. Hare, said that they are pleased with FDA acknowledging the essential need for a "safe and effective treatment" for infants born with rare and severe congenital heart disease. He added that they are optimistic about the clinical data of their Phase 1 study and expect a positive outcome from the Phase 2 trial.
Also Read: KC Holdco IPO: KLC stock to debut in NYSE today, what we know so far
"Lomecel-B represents a unique cell therapy approach that could potentially be administered at the same time as surgery in these critically impacted infants," said Hare.
Meanwhile, the rare-pediatric-disease designation by FDA covers all diseases with severe and life-threatening symptoms that affect less than 200,000 people in the US under the age of 18.
In addition, the regulatory agency also awards priority-review vouchers to healthcare firms after the approval of the designation drugs. The healthcare companies may use the vouchers for acquiring priority reviews of their other drugs or sell them to other firms.
Also Read: Sweetgreen IPO: SG all set to debut in NYSE Thursday: What to expect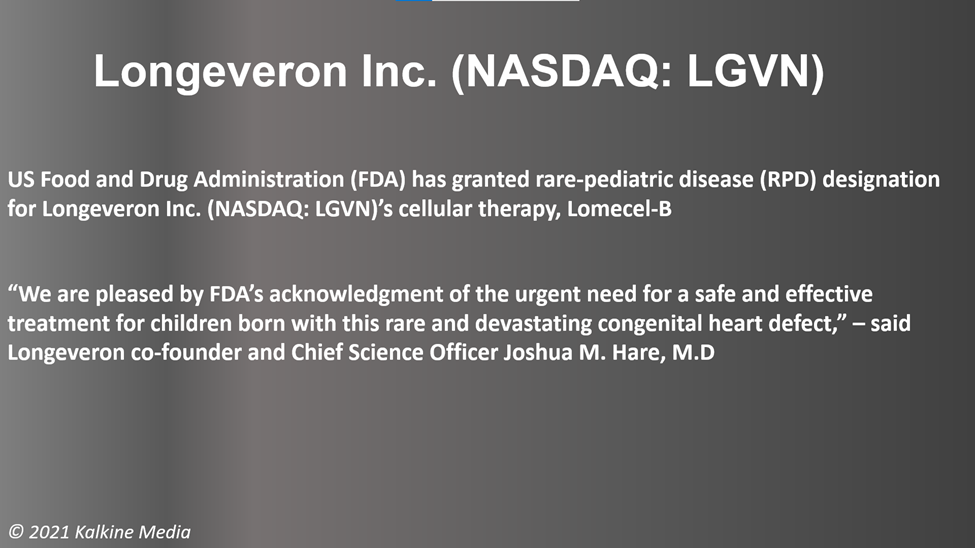 Also Read: Sono, Rivian & Canoo: Which firms are leading the EV market race?
According to Longeveron's statement, 1,000 babies are born every year in the US with HLHS, underdeveloped left ventricle, which weakens or affects the heart's ability to pump blood.
Stock details and financial highlights:

The Miami-based biotechnology firm has a market cap of US$151 million. Its 52-week highest and lowest stock prices were US$12.48 and US$2.84, respectively. The stock value of LGVN tumbled 60.59% YTD.
The revenue was US$0.2 million in Q3, FY21, compared to US$1.8 million in the same quarter of the previous year. It reported a net loss of US$4.9 million, or a loss of US$0.25 per share, against a loss of US$0.9 million or a loss of US$0.06 per share in Q3, FY20.
Also Read: Braze IPO: BRZE stock jumps 36% in market debut. How to buy it?
Bottomline
The company said that all infants enrolled in the Phase 1 trial of Lomecel-B are alive and didn't require a heart transplant in 2 to 3.5 years after surgery. In addition, other health factors of the babies, like weight gain or growth pattern, were similar to normal healthy infants.