Highlights

Several law firms are probing claims on behalf of Gaotu Techedu Inc. (NYSE: GOTU) investors concerning whether Goldman Sachs and Morgan Stanley have committed securities fraud.


GOTU's net revenue surged 35.3% YoY in Q2, FY21.


The stock value of GOTU declined over 94% YTD.
Gaotu Techedu Inc. (NYSE: GOTU) stock jumped more than 15% in premarket trading on Nov 8 after a sharp decline as investors firmed up plans for a lawsuit against Goldman Sachs Group Inc. and Morgan Stanley over an alleged security fraud.
The Beijing-based education technology company caught investors' attention on Monday after one of the law firms asked Gaotu investors to name a lead plaintiff in a federal class-action lawsuit against the banks before the deadline expires on Dec 20, 2021.
Gaotu Techedu offers online after-school tutoring services for K-12 students and professional courses for its pupils.
Law firms like Pomerantz LLP are investigating claims of Gaotu investors whether Goldman Sachs and Morgan Stanley have done securities fraud or any unlawful business activities after they sold Gaotu shares based on "material non-public information".
Gaotu investors alleged that the banks sold the shares after learning secretly about Archegos Capital Management's failure to liquidate its stake in the Chinese company.
According to various media reports, in March 2021, the lenders learned that Archegos failed or is likely to fail in meeting a margin call that requires it to wholly liquidate its position in Gaotu.
Hence, to avoid losses, amounting to billions of dollars of investments in Gaotu, the banks sold their securities before the market became aware of the Arcehgos' issue.
However, after the information was made public, the GOTU stock price fell sharply.
Also Read: Datadog (DDOG) & UiPath (PATH) rally after quarterly reports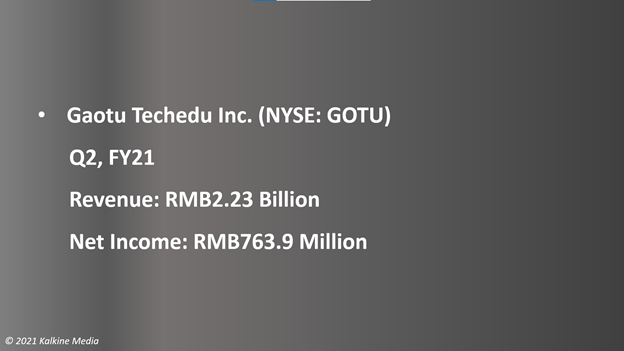 Also Read: Airbnb (ABNB) Q3 income up 280%, Square (SQ) misses estimates
Gaotu financials and stock performance
The shares of GOTU traded at US$3.31 at 9:08 am ET on Monday, up 15.73% from their previous close. Its stock price plunged 94.13% YTD. GOTU's 52-week highest and lowest prices were US$149.05 and US$2.25, respectively. Its EPS is US$-2.36. The market cap of the Beijing-based firm is US$733.31 million, and its forward P/E one year is -1.67.
The company's net revenue surged 35.3% YoY to RMB2.23 billion in Q2, FY21, while its non-GAAP net loss came in at RMB763.9 million, against an income of RMB72.7 million in the year-ago quarter.
Also Read: UBER's gross bookings reach ATH in Q3 2021, Cloudflare revenue up 51%
Bottomline

Investors who suffered losses during the class period between March 22 and 29, 2021, now hope to get compensation through a contingency fee arrangement without having to pay any out-of-pocket fees. They can directly contact the law firms for payment.