US stocks slid on Tuesday, November 30, recording one of their worst performances in recent days as concerns over the new Covid-19 variant Omicron weighed on investors' minds.
The S&P 500 was down 1.90% to 4,567.00. The Dow Jones declined 1.86% to 34,483.72. The NASDAQ Composite fell 1.55% to 15,537.69, and the small-cap Russell 2000 fell 1.79% to 2,201.93.
Markets took cues from the falling global oil prices and Moderna CEO Stephane Bancelon's comments on Tuesday that the existing vaccines may be less effective against the new variant.
Traders pulled back from stocks after Fed chair Jerome Powell said that inflation might rise further, and it should not be considered transitory. He proposed wrapping up the tapering process earlier than expected. The central bank is likely to go for a rate hike after the process culminates.
Meanwhile, the supply chain woes were expected to continue with the emergence of Omicron, which might also force a fresh round of travel restrictions in the coming days.
Omicron Fears drag Global Markets | ASX to Open Lower | Top Global News
Utilities and consumer staple stocks were the top movers on the S&P 500 index on Tuesday. Communication, basic materials, and energy segments were the bottom movers. All the eleven stock segments of the index closed in the red.
Healthcare major Moderna, Inc. (MRNA) stock fell 4.06%, while Cumberland Pharmaceuticals Inc. (CPIX) stock gained 96% after FDA approved its pain-relief injection trials.
American Airlines Group Inc. (AAL) stock declined 1.79%, and Delta Air Lines, Inc. (DAL) stock fell 0.59%. Transportation stock, Expedia Group, Inc. (EXPE), declined 2.92% at 3:10 pm ET.
In the utility sector, NextEra Energy (NEE) declined 1.26%, Duke Energy Corporation (DUK) fell 2.08%, and Entergy Corporation (ETR) decreased 3.10%. Dominion Energy Inc. (D) and First Energy Corp (FE) fell 2.79% and 2.66%, respectively.
In the communication services sector, Alphabet Inc. (GOOGL) fell 2.17%, Meta Platforms Inc. (FB) slid 3.43%, and Netflix Inc. (NFLX) was down 2.79%. Discovery Inc. (DISCA) and Twitter Inc. (TWTR) declined 5.61% and 4.47%, respectively.
However, the global cryptocurrency market was up 1.95%, with Bitcoin trading at US$57,332.77 down 1.06%, at 3:10 pm ET.
Also Read: Top metal and mining stocks to explore in 2022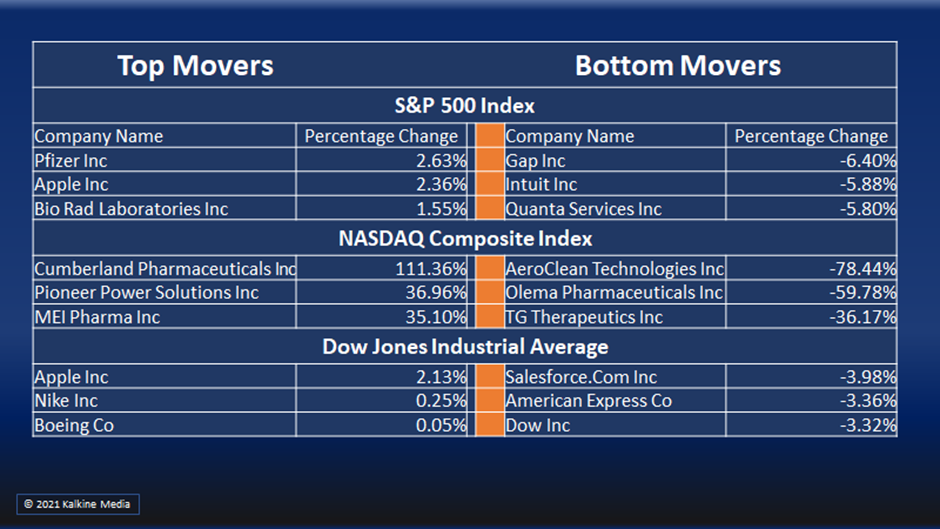 Also Read: HCA Healthcare, Inc. (HCA) stock price, YTD gain – among top performers


Also Read: First Wave BioPharma (FWBI) stock soars over 36% on upbeat trial data
Futures & Commodities
Gold futures declined 0.63% to US$1,774.00 per ounce. Silver futures decreased by 0.14% to US$22.820 per ounce, while copper fell 0.83% to US$4.3048.
Brent oil futures decreased by 4.70% to US$69.78 per barrel and WTI crude futures were down 4.73% to US$66.64.
Bond Market
The 30-year Treasury bond yields decreased 4.80% to 1.790, while the 10-year bond yields were down 5.87% to 1.439.
US Dollar Futures Index decreased by 0.51% to US$95.843.