Benchmark US indices closed higher for the second consecutive day on Thursday, September 23, lifted by positive sentiments from Fed's economic outlook.
The S&P 500 was up 1.21% to 4,448.98. The Dow Jones rose 1.48% to 34,764.82. The NASDAQ Composite rose 1.04% to 15,052.24, and the small-cap Russell 2000 was up 1.82% to 2,259.04.
Traders ignored the weak unemployment data released by the Labor Department on Thursday, which showed new jobless benefits claims rose by 16,000 to 351,000 in the week ended Sep 18.
Economists consider the rise in benefits claims to be because of Hurricane Ida and forest fires and not due to flawed policy action. On Wednesday, the Fed said that it might start withdrawing stimulus support from November. The statement raised confidence in the economic recovery.
Financial stocks were among the top movers on S&P 500 Thursday, while energy and real estate stocks declined. Stocks of BlackBerry Limited (BB) rose 12.08% a day after reporting quarterly results. Its revenue rose to US$175 million in Q2, FY21, from US$174 million in the year-ago quarter.
Accenture plc (ACN) stock jumped 2.63% after reporting its fourth-quarter results. Its net income was up US$1.43 billion from US$1.30 billion in the same quarter of the previous year.
Global Market Action to watch out before ASX opens
Salesforce.com, Inc. (CRM) stock rallied 7.38% after it raised the full-year revenue guidance. It expects its FY 2022 revenue to be US$26.35 billion, up from its earlier forecast of US$26.3 billion.
In the energy sector, Exxon Mobil Corporation (XOM) rose 3.58%, Chevron Corporation (CVX) gained 2.51%, and ConocoPhillips (COP) gained 2.45%. Kinder Morgan, Inc. (KMI) and EOG Resources, Inc. (EOG) advanced 2.51% and 2.76%, respectively.
In the consumer discretionary sector, Nike, Inc. (NKE) increased by 1.26%, Starbucks Corporation (SBUX) gained 1.25%, and General Motors Company (GM) rose 2.24%. Ross Stores, Inc. (ROST) and Hilton Worldwide Holdings Inc. (HLT) ticked up 1.62% and 4.30%, respectively.
In financial stocks, Berkshire Hathaway Inc. (BRK-B) rose 1.65%, JPMorgan Chase & Co. (JPM) jumped 3.35%, and Bank of America Corporation (BAC) rose 3.79%. Wells Fargo & Company (WFC) and Morgan Stanley (MS) jumped 1.58% and 2.86%, respectively.
Also Read: Top five communication stocks that rode the Q2 rebound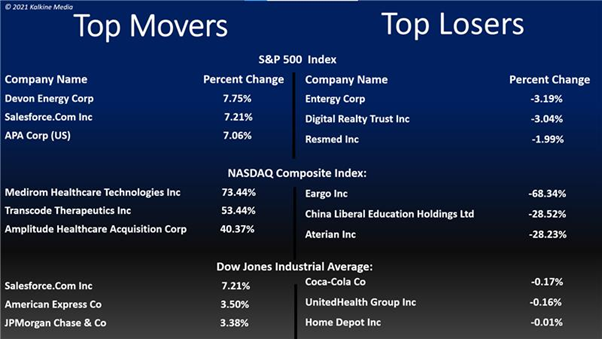 Also Read: ONTX stock dives 16%, DVAX stock in green after clinical data
Also Read: Crypto exchanges Binance vs Kraken: Where would you like to trade?
Futures & Commodities
Gold futures were down 2.05% to US$1,742.40 per ounce. Silver decreased by 1.71% to US$22.515 per ounce, while copper fell 0.48% to US$4.2317.
Brent oil futures increased by 1.38% to US$77.24 per barrel and WTI crude was up 1.37% to US$73.22.
Bond Market
The 30-year Treasury bond yields was up 5.04% to 1.941, while the 10-year bond yields rose 7.71% to 1.434.
US Dollar Futures Index decreased by 0.39% to US$93.100.