The Nasdaq Composite and the S&P 500 Index edged higher on Thursday, August 12, as tech stocks saw notable gains, while the Dow Jones closed flat after the economy-sensitive stocks pulled back.
The S&P 500 was up 0.30% to 4,460.83. The Dow Jones rose 0.04% to 35,499.85. The NASDAQ Composite gained 0.35% to 14,816.26, and the small-cap Russell 2000 was down 0.28% to 2,244.07.
The US Producer Price Index (PPI) rose 1% in July after seeing a similar rise in the previous month, the Labor Department's latest data showed on Thursday.
PPI surged 7.8% in the 12 months ended July, the highest annual jump since 2010. However, the figures indicate inflation could remain high due to the continued supply and demand mismatch.
Investors kept away from the economy-sensitive stocks after the PPI data. On Wednesday, these stocks saw significant gains.
Healthcare and technology stocks were the top movers on the S&P 500 Thursday. Six of the 11 index segments stayed in the negative territory. Energy and industrial stocks were the laggards.
Morning Market Scan: Must Know Cues before ASX opens
Investors were eagerly waiting for Airbnb, DoorDash, Walt Disney's quarterly results, which were expected to come after the closing bell.
Shares of Micron Technology Inc. (MU) plunged 6.38% after analysts reduced their price target. Meanwhile, Coupang Inc. (CPNG) stocks dropped 6.96% after reporting its Q2 earnings, which showed net losses of US$518.6 million. The revenue surged 71% to US$18 billion YoY.
Chinese internet company Baidu Inc (BIDU) also reported its Q2 earnings on Thursday. Its earnings per share came in at US$15.41 on revenue of US$31.35 billion, beating analysts' expectations. However, the stock fell 3.46% in intraday trading.
Shares of Palantir Technologies Inc. (PLTR) surged 11.32% after reporting its second-quarter earnings. The data analytics firm's revenue jumped 49% YoY to US$376 million.
Its adjusted earnings per share came in at US$0.04. In addition, the company raised its revenue forecast for the current quarter to US$385 million from the previous forecast.
Also Read: Are these five industrial stocks redefining the American dream?
In healthcare stocks, Johnson & Johnson (JNJ) increased by 0.81%, Pfizer Inc. (PFE) rose 2.12%, and Novo Nordisk A/S (NVO) surged 1.20%. AbbVie Inc. (ABBV) and AstraZeneca PLC (AZN) advanced 1.62% and 2.25%, respectively.
In technology stocks, Apple Inc. (AAPL) gained 1.96%, Microsoft Corporation (MSFT) surged 0.95%, and NVIDIA Corporation (NVDA) rose 1.37%. Adobe Inc. (ADBE) and Salesforce.com Inc. (CRM) advanced 1.31% and 1.99%.
In the material sector, BHP Group (BHP) declined 1.31%, Rio Tinto Group (RIO) fell by 1.28%, and Freeport-McMoran Inc. (FCX) dropped 0.92%. In addition, Southern Copper Corporation (SCCO) and Newmont Corporation (NEM) ticked down 1.11% and 1.49%, respectively.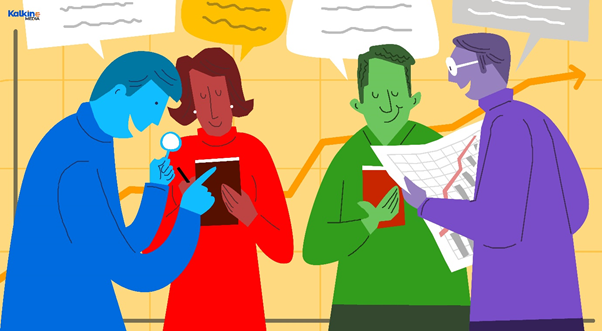 Copyright ©Kalkine Media 2021
Also Read: Why are Palantir (PLTR), Joby Aviation (JOBY) stocks stealing attention?
Top Gainers
Top performers on S&P 500 included Organon & Co (11.93%), Cooper Companies Inc (7.82%), Gartner Inc (2.92%), Salesforce.Com Inc (2.52%). On NASDAQ, top performers were Powerbridge Technologies Co Ltd (65.35%), IEC Electronics Corp (46.69%), ExOne Co (45.14%), Knowbe4 Inc (25.92%). On Dow Jones, Salesforce.Com Inc (2.52%), Apple Inc (2.08%), Merck & Co Inc (1.10%), Microsoft Corp (1.00%) were the leaders.
Top Losers
Top laggards on S&P 500 included Western Digital Corp (-6.50%), Micron Technology Inc (-6.37%), Applied Materials Inc (-4.15%), KLA Corp (-4.13%). On NASDAQ, MedAvail Holdings Inc (-52.60%), Lifestance Health Group Inc (-46.46%), Gohealth Inc (-42.80%), Trean Insurance Group Inc (-32.52%). On Dow Jones, American Express Co (-1.26%), Visa Inc (-1.26%), Intel Corp (-1.11%), Home Depot Inc (-0.88%) were the laggards.
Volume Movers
Top volume movers were Apple Inc (16.33M), Micron Technology Inc (14.84M), Bank of America Corp (9.50M), Ford Motor Co (8.40M), Advanced Micro Devices Inc (7.74M), Moderna Inc (6.75M), Powerbridge Technologies Co Ltd (20.63M), Clover Health Investments Corp (15.41M), Opendoor Technologies Inc (10.28M), ContextLogic Inc (9.48M), Zynga Inc (8.82M).
Also Read: Top mid-cap pharma stocks powering the NASDAQ Biotech Index
Futures & Commodities
Gold futures were up 0.05% to US$1,754.10 per ounce. Silver decreased by 1.47% to US$23.142 per ounce, while copper dropped by 0.10% to US$4.3630.
Brent oil futures decreased by 0.03% to US$71.17 per barrel and WTI crude was down 0.48% to US$68.92.
Bond Market
The 30-year Treasury bond yields was down 0.06% to 2.003, while the 10-year bond yields rose 0.13% to 1.361.
US Dollar Futures Index increased by 0.10% to US$93.010.