Highlights:

Hanover Bancorp, Inc. filed for its IPO with the US Securities and Exchange Commission
The company plans to list its common stock on the Nasdaq exchange under the ticker symbol HNVR
The company had US$1.46 billion in total assets as of December 2021
The community commercial bank, Hanover Bancorp, Inc., has planned to go public through its listing in the US market, according to its filing with the SEC on February 23.
However, the news came when various companies were either postponing or cancelling their IPOs due to various uncertainties in the market and the increasing geopolitical turmoils.
Also Read: From SAND to AXS: Top 3 metaverse cryptos to explore
When is Hanover Bancorp going public?
The company has filed a registration statement on Form S-1 with the US Securities and Exchange Commission (SEC) on February 23 for its initial public offering of its common stocks. However, the price range or the number of shares the company intends to offer in its IPO is not yet determined.
After satisfying all the listing requirements and completing the offering, the company anticipates listing its common stock on the Nasdaq Global Select Market (NASDAQ) under the ticker symbol "HNVR".
It is important to note that the date of the IPO would only be revealed after the company receives final approval and until then, retails investors cannot buy the common shares.
Also Read: Retail stocks to watch: HD, DLTR among top five in the spotlight
Meanwhile, the company's registration statement related to its offering has only been filed with the SEC and has not yet become effective. The securities may not be available for trading or offering before the registration statement becomes effective.
The completion of the offering depends on the market conditions, and no details or timing has been announced yet by the SEC and the company. So, the potential investors might have to wait until the regulators approve the listing plan.
The book-running managers for the IPO are Stephens Inc. and Piper Sandler & Co.
Also Read: Shein IPO: Is the Chinese retail firm debuting in the US market?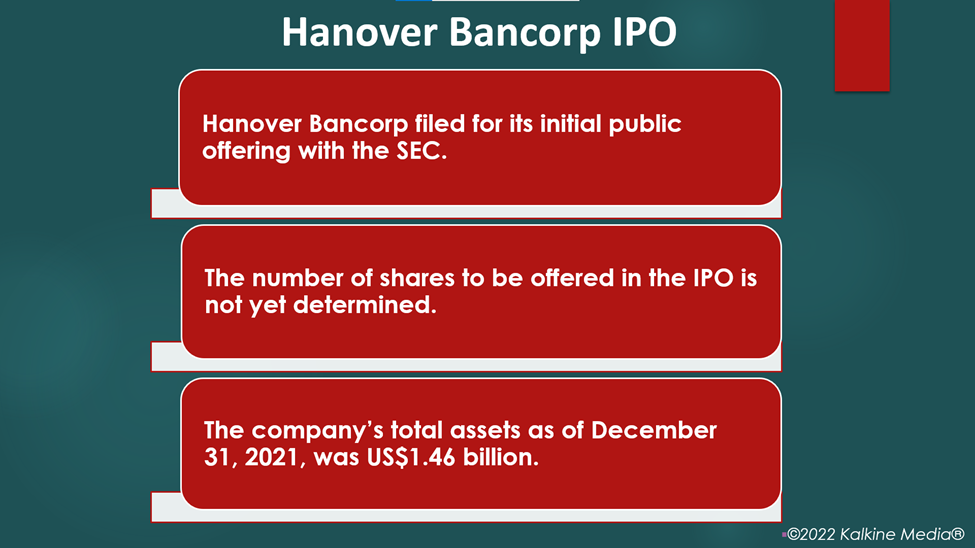 Bottom line:
According to the company's filing, it intends to use the gross proceeds from the proposed offering to its subsidiary, Hanover Community Bank. It aims to strengthen its regulatory capital for supporting organic and future potential strategic growth.
Also Read: Travelport IPO: Is the travel-booking firm going public this year?
The Hanover Bank was established in 2009 and is based in Mineola, New York. Its management is led by its Chairman and CEO, Michael P. Puorro, and President Brian K. Finneran.
As of December 31, 2021, the company had seven operating branches with US$129 million in total stockholders' equity. In addition, it had US$1.18 billion in deposits and US$1.46 billion in total assets.
Also Read: Will Argo AI IPO happen in 2022?