Summary

On 14 October 2020, the share prices of Kainos Group climbed up to close at 1338.
The IT service provider's stock performance was boosted as it reported a strong trading performance for the period from 1 April to 14 October.
The company registered high customer demand, mainly driven by a structural shift of digital adoption.
Kainos said that its full-year earnings results ending 31 March 2021 would be ahead of expectations.
The share prices of Kainos Group Plc (LON: KNOS) on 14 October rose nearly 31 per cent at 1338 as the company reported a strong trading performance that boosted its stock performance. Besides, Kainos said that it expected that its full-year earnings results ending 31 March 2021 would be ahead of expectations.
The technology firm issued a trading update for the period from 1 April to 14 October. During the period, the customer demand remained high, resulting in a strong trading performance.
The demand was mainly driven by a structural shift of digital adoption, throughout the period. Kainos, therefore, expected that its results for the full year would be substantially ahead of the presently agreed revenue and notably ahead of the adjusted profit estimates.
In reference to the company's update during September, its customers for Digital Services continued to focus on their digital transformation programmes. Some of the key clients included the National Health Service (NHS) and other major public sector corporations. Being a trusted partner of the UK government, Kainos continued to support these crucial and other long-term programmes.
The Workday Practice at Kainos continued to be benefitted from its global scale and an ability to obtain additional consulting contracts across all its geographical locations. Besides, the IT service provider's Smart, a well-known and proficient Workday automated testing platform, kept supporting more than 200 international clients. Smart also helped to drive new client acquisitions, especially within the US market.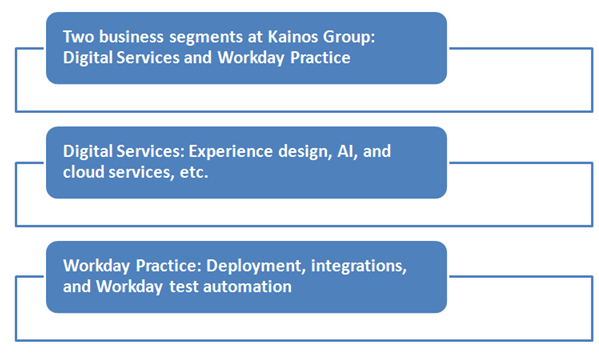 Also read: Quick Insights on Two FTSE Listed Technology Stocks - Softcat PLC & Kainos Group PLC
Also read: Rise in UK Tech Exports: Will the Rally in Tech Stocks continue?
The encouraging results from trading during the period received advantages from numerous one-off efficiencies. These competencies included increased utilisation and reductions in recruitment, training, and travel expenses. Kainos felt that as the majority of these efficiencies are non-recurring in nature, they would further decrease in coming trading periods.
During the pandemic period, the employees of Kainos acted in an outstanding manner to support the customers. The company noted that their customers had swiftly adapted their organisations for functioning within these changed settings. Kainos said that it remained enormously grateful for the flexibility, motivation, and hard work shown by its staff members.
As an outlook for the future, Kainos remained confident regarding its position for the FY21. The financial year would remain highlighted by a robust pipeline and a noteworthy contracted backlog. The company's optimism on future outlook came despite being attentive of the potential medium-term impacts. The impacts could arise due to further lockdown related measures.
Kainos has informed that it would release its earnings results for the six months ending 30 September on 16 November.
Stock performance
Kainos Group operates across two business segments that comprises Digital Services and Workday Practice. In its Digital Services, the technology company provides complete lifecycle development and tailored Digital Services for customers in the public sector, healthcare, and commercial domains. Some of the offerings are solutions regarding experience design, artificial intelligence (AI), and cloud services.
Being a partner of Workday Inc. from the US, Kainos provides services related to deployment, integration, and Workday test automation. The company launches, tests, and safeguards the various systems from Workday. Kainos is a constituent of the FTSE 250 index.
On 15 October at 09.05 AM, the company's stock (LON: KNOS) was trading at £1,298.00 down 2.99 per cent from its previous day's close of £1,338.00. The 52-week low high range was recorded as 482.00 and 1,338.00. With a market capitalisation of £1,636.79 million, the stock provided a positive return on price, which was plus 70.23per cent on a year-to-date (YTD) basis. The total volume of shares traded at the time of reporting was recorded at 111,340.