Summary

UK based supermarket major Tesco ended its 3 year purchasing alliance with France's Carrefour, which has been operational since 2018 and is set to end on 31 December
The two companies had entered into the agreement to boost their supplier relationships, mutually benefit from increased buying power and offer greater own-label product options to customers
UK-based supermarket giant Tesco PLC (LON: TSCO) announced today in a joint statement with France based supermarket chain Carrefour that it will not be extending its purchasing alliance with the French supermarket chain. The agreement between the two has been in effect since 2018 and was originally agreed for a three-year period.
The alliance is set to formally end by 31 December. The purchasing alliance between the two supermarket giants was aimed at lowering the prices by combining the buying power of the two companies and increase the options of their in-house brand products for customers. It also aimed to strengthen the relationships with their suppliers.
Tesco and Carrefour's joint statement also mentioned the two companies would work independently and focus on their own opportunities going forward.
There have been doubts that the partnership ended due to the rising cost of food imports caused by Brexit, however, a Tesco representative reportedly denied it as a reason for the ending of the agreement.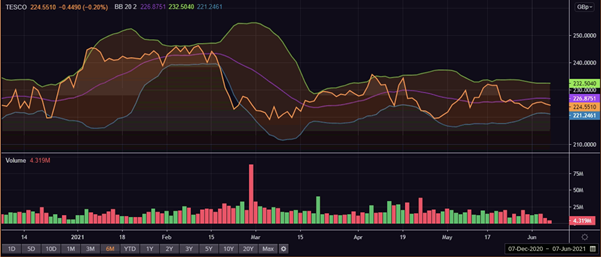 (Image Source: Refinitiv)
Tesco's shares were trading slightly down by 0.04 per cent at GBX 224.90 on Monday at 10:40 AM GMT+1. Comparatively, the broader index FTSE 100, which TSCO is a part of, was trading at 7,087.52, up by 0.26 per cent at the same time.
Also Read: Tesco Shares Not Much Impacted by Adverse ECJ Ruling
Here we take a look at two other FTSE listed supermarkets which were trending today:
J Sainsbury Plc (LON: SBRY)
FTSE 100 listed, and one of the biggest supermarket chains in the UK, announced today it opened two new Neighbourhood Hub branches in the Whitstable in Kent and Penwortham locations based in London. It also plans to open 13 more such stores across the UK over the next three years.
The Neighbourhood Hub outlets are a new larger convenience store format by the supermarket giant and are of an area between 5,000 sq ft and 7,000 sq ft. They also offer a wide range of products compared to the Sainsbury's Local outlets.
(Image Source: Refinitiv)
SBRY's shares were trading down by 0.45 per cent at GBX 264.20 on 7 June at 11:05 AM GMT+1. Comparatively, the personal Goods, drugs and grocery store sector index was trading at 37,247.76, up by 0.85 per cent at the same time. It's market cap stood at £5. 943 billion.
Morrison (WM) Supermarkets Plc (LON: MRW)
FTSE 250 listed supermarket chain Morrisons was trending today after restaurant company Wagamama planned to expand its new cook at home meal kits in supermarkets like Waitrose today and also expanding to Morrisons and other supermarkets in the next few weeks. Wagamama is owned by the Restaurant Group (LON: RTN).
(Image Source: Refinitiv)
MRW's shares were trading up by 0.03 per cent at GBX 176.95 on 7 June at 11:20 AM GMT+1. Comparatively, the FTSE 250 index, which it is a constituent of, was trading at 22,927.08, up by 0.41 per cent at the same time. It's market cap stood at £4.262 billion.
Also Read: What factors led FTSE listed WM Morrison Supermarkets to report a surge in fuel sales?