Highlights:

The UK government has asked retailers to pass on the 5p fuel duty cut to customers.
Fuel prices have been retailing at record highs in recent months.
The cost-of-living crisis is hitting millions of UK households hard. The inflation rate climbed to 9% in April, the highest since 1982, as food and energy prices have soared. Petrol and diesel are retailing at all-time high rates following Russia's invasion of Ukraine and subsequent sanctions on Russia, which led to disruptions in supply. On Monday, the diesel price in the UK reached a record high of £1.80 a litre, while the petrol price has remained at £1.66 a litre on average since the beginning of May.
However, concerns have been raised over the consumers not getting the benefit of the government's 5p fuel duty cut announced in March. On Tuesday, the government told the retailers to pass on the benefit to consumers. In a letter to the industry, business secretary Kwasi Kwarteng said it is 'unacceptable' that different locations, even in the same retail chain, have different prices. He further stressed that the retailers are expected to do everything possible to ensure that people are getting 'a fair deal' across the country.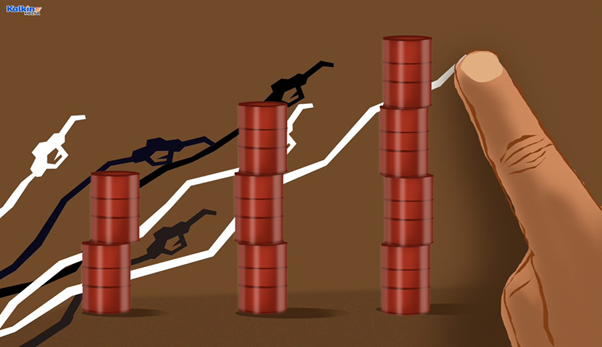 ©2022 Kalkine Media®
Margins not enough, say retailers
On the other hand, retailers have claimed that comparing wholesale prices with the pump prices gives an incomplete picture. As per a BBC report quoting the Petrol Retailers Association, additional expenses like storage and delivery cost, along with the volatility of product prices, often make the retailers' margins insufficient to cover their operating costs.
The report also quoted motoring group RAC saying that retailers are now getting an average profit of 2p per litre more than they did before the 5p fuel duty cut was announced.
Amid the development, let's take a look at some oil stocks and analyse their investment prospects.
Shell Plc (LON: SHEL)
Shell is a major oil and gas producer with operations in more than 70 countries. Recently, the company announced that it would sell its 411 petrol stations and the Torzhok lubricants blending plant in Russia as part of its exit from the country. Earlier this month, Shell reported its highest-ever quarterly earnings since 2008 for the quarter to March 2022.
The FTSE 100-listed company's share value has increased by 67.08% over the past one year, and the year-to-date (YTD) returns stand at 46.90%. The shares were trading at GBX 2,383.13, up 1.39% at 11:11 am GMT+1 on 18 May 2022, with a market capitalisation of £175,718.34 million.
BP Plc (LON: BP.)
BP is another multinational oil and gas giant headquartered in London. It recently announced a share buyback programme in which it will repurchase ordinary shares worth around US$2.5 billion.
BP holds a market cap of £81,850.55 million at present, and its stock price has climbed by 35.61% over the past one year. The YTD return currently stands close to 30%. Shares of the company were trading at GBX 427.75, up 1.54% at 11:23 am GMT+1 as of 18 May 2022.
Harbour Energy Plc (LON: HBR)
Harbour Energy is the UK's largest independent oil and gas company and is listed on the FTSE 250 index. In its trading update for the first quarter to 31 March 2022, the company announced a reduction in net debt to US$1.7 billion from US$2.3 billion at the end of the previous quarter.
Harbour Energy's shares were trading at GBX 470.90, up 2.06% at 11:38 am GMT+1 on 18 May 2022.
Note: The above content constitutes a very preliminary observation or view based on market trends and is of limited scope without any in-depth fundamental valuation or technical analysis. Any interest in stocks or sectors should be thoroughly evaluated taking into consideration the associated risks.