Summary

The share price of Nikola surged almost 10 per cent on NASDAQ after President of GM said that there still remained potential in partnership with the electric and hydrogen truck startup.
GM said that a partnership with Nikola provided it avenues to bring the fuel cell technology to commercial trucks.
The fuel cell technology has been developed by GM and Honda Motor of Japan.
The discussion between Nikola and GM to finalise the terms of the deal has been continuing.
The shares of Nikola Corporation jumped on NASDAQ (NKLA) approximately 10 per cent on 21 October to $22.24 after an executive from General Motors gave a statement that the Detroit-based automobile company still saw potential in a partnership with the startup that designs and manufactures electric and hydrogen trucks.
During a session with analysts, GM President Mark Reuss said that the automaker is still trying to reach a deal with Nikola. Reuss said that the deal offered a substantially big opportunity for GM to bring the fuel cell technology to market in Class 7 and 8 commercial trucks.
Besides, Reuss told in a media interview that he was excited with the new deal with Nikola. It is to be noted that the fuel cell technology was developed by GM and Honda Motor Co Ltd.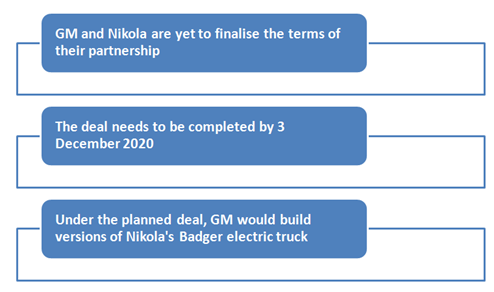 It is to be noted that GM and Nikola are yet to finalise the required terms of their partnership. Earlier, the agreement was set to close by the end of September. However, the negotiations got extended. The next deadline has been set for 3 December.
Nikola Corporation was established in 2015 and is headquartered at Phoenix, Arizona. Nikola designs and manufactures zero-emission battery-electric and hydrogen-electric vehicles, vehicle components, electric vehicle drivetrains, hydrogen station infrastructure, and energy storage systems.
Also read: Elon Musk Tweets Tesla to Release 'Full Self-Driving' Beta On 20 October
Also read: How is EV battle going; Is Volkswagen catching up with Tesla (NASDAQ:TSLA)?
Also read: General Motors Resurrects Hummer As a 350 Miles EV Avatar, Goes Head-on with Tesla's Cybertruck
Under the new partnership, GM would build versions of Nikola's Badger electric truck, considered to be a potential competitor to Tesla's Cybertruck and provide fuel cells to Nikola's heavy-duty trucks. In return, GM would get $2 billion in Nikola stock. Though company sources have said that GM is negotiating for a larger stake in Nikola.
GM and Nikola are trying to reach an agreement under which Nikola would pay GM to build its Badger electric pickup. Earlier GM and Nikola had charted out a deal that would provide GM emissions credits from the sale of the Nikola Badger. Nikola would additionally make a payment of $750 million to fund the tooling for production. These credits could potentially facilitate GM to keep selling its gasoline-burning pickup trucks and sport utility vehicles. Both of these are considered to be highly profitable for the automaker.
Earlier this month, Nikola CEO Mark Russell said that the company had a base plan to move ahead without GM, if the deal was finalised as per their terms and conditions. Russel said that the lack of agreement with GM could compel Nikola to stop thinking about an initiative to build its Badger electric truck.
Sources said that GM is expecting that it would be able to sell these two vehicles without any regulatory penalties. The agreement announced last month included plans for GM to secure around 11 per cent stake in Nikola, which is worth $2 billion at that time.
Charges of fraud
Just after the deal was announced another development worried the investors. A Hindenburg Research claimed that Nikola was involved in a fraudulent deal. The report claimed that Nikola's founder and then Executive Chairman Trevor Milton had presented false claims about the electric truck manufacturer's proprietary technology. A Securities and Exchange Commission (SEC) investigation launched into the claims. Nikola though have denied the allegations.
Stock performance
On 21 October Nikola's shares on the London Stock Exchange (LON: 0A3R) closed at $22.73 up from its previous day's close of $20.20. From 16 October to 21 October, the stock has presented a rise of nearly 6 per cent on the LSE.
Similarly, at the NASDAQ, the company stock (NKLA) rose from $19.55 on 16 October to a high of $22.72 on 22 October.
High yielding dividend stocks may be a good bet amid lower Government Bond yield regime.
With yields on UK government bonds are at a record low, stocks with higher dividend yield (%) will be back in investor's attention.
Dividend stocks usually do not get into a free fall and outperform most of the time.
Dividend stocks are easy to get cash flow from your stock investments without liquidating anything. Further, you can use dividends to buy additional units of stock. And, if you reinvest dividends, you can significantly increase your long-term return from your investments because of the power of compounding.
Click here to find out Top quality high yielding dividend stocks for 2020.
CLICK HERE FOR YOUR FREE REPORT!