Summary

UK real estate sector is expected to have a boom after property site Zoopla forecasts the housing market will touch £461 billion in 2021.
Real estate major Hammerson was trending higher for the second day in a row, boosted by positive sentiment in the sector and after reporting major holdings.
The UK housing market has been witnessing a boom in the sector despite the ongoing pandemic. There has been an uptick in many stocks from the segment after real estate site Zoopla published a reported forecasting the total value of the market could touch £461 billion in 2021, rising by a whopping 46 per cent from 2020.
In this article, we take a deeper dive into the performance of two real estate stocks, which are constituents of FTSE 250:
Hammerson PLC (LON: HMSO)
Hammerson is a UK based property development and investment giant. The company disclosed the shareholdings of investment firm Morgan Stanley in HMSO a day ago, stating that Morgan Stanley's current holdings include 4.369371 per cent voting rights attached to shares and 3.522203 per cent of voting rights available through financial instruments.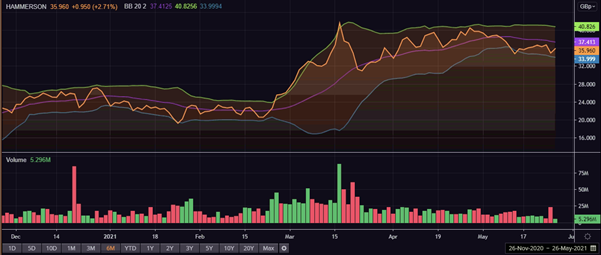 (Image Source: Refinitiv)
HMSO's shares were trading up by 5.08 per cent at GBX 38.88, while the FTSE 250 broader market index stood at 22,667.62, up by 0.12 per cent on 27 May at 13:34 HRS GMT+1.
HMSO's market cap stood at £1.555 billion, while its five-year average dividend yield was at 5.8 per cent.
Also Read: Hammerson Plc Surges on Reporting a Positive Update amid the Covid-19 Outbreak
Shaftesbury PLC (LON: SHB)
Another FTSE 250 real estate investment company Shaftesbury announced its H1 2021 results recently.
The company reported commercial and residential transactions of £14.0 million compared to £15.0 million in H1 2020, and a loss after tax of £338.5 million in H1 2021 compared to a loss of £287.6 million in the year ago period. The loss was wider due to £342.6 million of revaluation deficits.
However, SHB expects it is in a recovery phase as its vacancy rates are improving. SHB also announced an interim dividend of 2.4 pence per share, while it had not disbursed an interim dividend in H1 2020.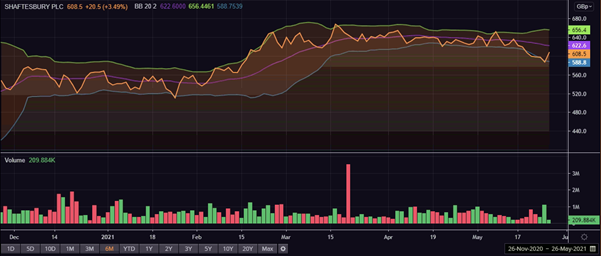 (Image Source: Refinitiv)
SHB's shares were trading at GBX 615.00, up by 0.80 per cent, while the Real Estate Services Index stood at 2,641.83, up by 0.06 per cent on 27 May at 13:39 HRS GMT+1.
SHB's market cap stood at £2.35 billion while its five-year average dividend yield was at 1.4 per cent.
Also Read: FTSE 250 listed Shaftesbury seeking for summer revival after reporting a wider first-half loss