Highlights

Avon's shares dropped sharply by 43 per cent after a failed body armour testing led it to reduce the revenue estimates for FY 2022 and beyond.
Security firm Westminster Group on Friday said its capital reduction has become effective.
The defence sector has been strongly playing its part in the government's proclamation of a 'Global Britain' through the development of new and innovative technologies. The UK defence sector is the second largest global defence exporter in the world, after the US, on a rolling 10-year basis as of 2020.
The country accounted for about 6 per cent of the market share in the global defence export in 2020, according to recently released government statistical data.
The sector had won over £7.9 billion worth of defence orders in the last year, compared to £11 billion in 2019, primarily due to the volatile nature of the defence export business.
Let us take a look at 2 FTSE listed stocks in the defence sector and their investment prospects:
Avon Protection PLC (LON: AVON)
Avon Protection is a UK based company focused on the engineering and manufacturing of respiratory protection equipment for personnel in the defence sector.
The company stated on Friday that its revenue contribution in FY 2022 and beyond from its body armour plates are expected to decline significantly due to a first article testing failure.
The group had earlier estimated its body armour revenue to be around US$ 40 million in FY 2022.
The group also stated it would delay the announcement of its FY 2021 results which was earlier scheduled for 23 November. The delay is in order to review its assets' carrying value in its body armour business and to audit its balance sheet.
(Image source: Refinitiv)
Avon's shares were trading at GBX 1,071.00, sharply down by 43.84 per cent on Friday at 12:00 PM BST.
Meanwhile, the FTSE All-Share index, which it is a part of, was at 4,200.63, down by 0.28 per cent. The stock was the highest faller in the FTSE All-Share index, following the update.
The company's market cap stands at £591.61 million as of 12 November.
Westminster Group Plc (LON: WSG)
Westminster Group is a global security firm with a focus on the defence, fire and safety sectors.
The group said on Friday that its reduction of capital became effective. The capital reduction process aims to remove its accumulated losses on its P&L and create distributable reserves to improve the company's dividend-paying capability, amongst other factors.
The total issued share capital stood at 330.5 million ordinary shares with a face value of £0.001 per share, following the capital reduction.
The group's revenues for the six-month period ended 30 June were up by 16 per cent to £3.5 million, compared to £3.0 million in H2 2020.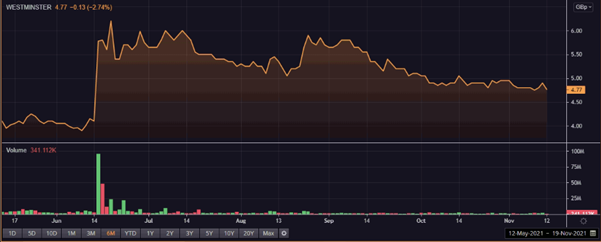 (Image source: Refinitiv)
Westminster's shares were trading at GBX 4.80, down by 2.04 per cent on Friday at 12:13 PM BST. Meanwhile, the FTSE AIM All-Share index, which it is a part of, was at 1,248.58, up by 0.10 per cent.
The company's market cap stands at £16.20 million as of 12 November. Its year to date return was at 14.83 per cent as of Friday.