Source: Freedomz, Shutterstock
Summary

Industrial stocks have doubled the investors' money in the past one year by delivering prolific returns.
Industrial stocks usually do well when an economy is under expansion or recovery mode.
Industrial stocks are often overlooked by investors. However, smart investors know that these stocks are the bloodlines of the economy. Industrial businesses have a very strong correlation with a nation's economy.
With Covid-19 mass inoculation programmes underway, the economies have already embarked upon their path to recovery. Thus, this is an ideal situation for these companies to flourish and contribute to the nation's growth.
Also read: A Year of Recovery: Top 10 Gold Stocks on LSE
In this article, we shall put our lens through 5 Industrial stocks listed on the LSE.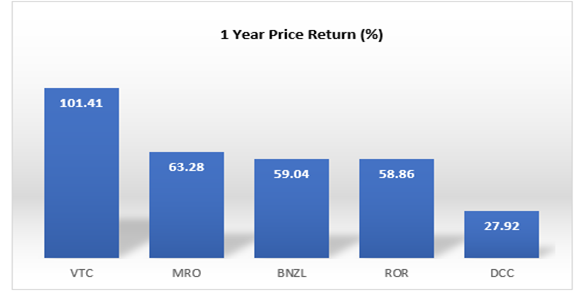 (Data Source: LSE) Copyright © 2021 Kalkine Media Pty Ltd.
The Vitec Group Plc
UK-based content creation and editing tools developer The Vitec Group (LON: VTC) witnessed a strong recovery during the second half of 2020 after seeing a disastrous first half due to pandemic. Notably, the onslaught of the pandemic scripted shutting down of TV productions, postponing of sporting events, affecting several professional photographers.
However, due to the structural market changes that have occurred over the last 12 months, Vitec is starting to benefit as more video content is being created, consumed, and shared in contemporary times.
The company witnessed revenue growth of 70 per cent in JOBY smart phonography accessories. The recurring revenue of the company doubled in 2020; streaming products recorded 50 per cent revenue growth during the period. Solid cash conversion rates lead to a reduction in net debt for the company. The company has resumed dividend payments; has announced a final dividend per share of 4.5 pence for 2020. The company has a solid order book that shall help the company deliver solid results in 2021. VTC shares delivered triple digit returns of 101.41 per cent in the past one year.
Melrose Industries Plc
UK based industrial company, Melrose Industries Plc (LON: MRO) manages a portfolio of manufacturing businesses. The Company witnessed good business in GKN Aerospace along with growth in its Defence portfolio. Meanwhile, during the second half of 2020, the sales and margins recovered sharply in Automotive and Powder Metallurgy segments. The company's sales during Q4 2020 were higher in contrast to the previous year. In the Nortek Air Management, the Company was trading strongly with 2020 sales, which increased by 5 per cent YoY, driven by growth in margins.
During the second half of 2020, the Company achieved revenue growth that was far ahead of management expectations. The Company witnessed strong cash generation, with a reduction in net debt of more than £400 million and adjusted free cash generation, which rose by 6 per cent in 2020 in contrast to the previous year. The Board has proposed a final dividend per share of 0.75 pence, supported by the excellent cash generation achieved in 2020. As on whole, the Company appears to be well-positioned for good recovery and solid performance in the future. MRO shares delivered stellar returns of 63.28 per cent in the past one year.
Bunzl Plc
Consumable products supplier Bunzl Plc (LON: BNZL) recorded a growth of 21 per cent in its adjusted operating profit to £778.4 million at a constant exchange rate basis during the year 2020. Also, the company has a strong cash conversion ratio of 103 per cent. Driven by solid performance, the company declared a dividend of 54.1 pence for the fiscal year 2020. Bunzl has underpinned its future growth on its recent acquisitions and has earmarked £445 million for acquisition spend. In recent years, Bunzl has delivered robust organic growth and has distributed over £1.6 billion in dividends to shareholders. BNZL shares delivered stellar returns of 59.04 per cent in past one year.
Rotork Plc
UK-based actuator manufacturer and flow control company Rotork Plc (LON: ROR) recently unveiled electric actuation technology that will be deployed on several water treatment plants in New Zealand.
The company's electric actuation technology provides its clients with an intuitive user interface (HMI), data logging, and sensors that help in noise reduction and provide additional diagnostics via HMI. Despite the unprecedented times, Rotork managed to deliver a resilient performance. The company exceeded the consensus expectations as it recorded a growth of 100 basis points year-on-year in its Adjusted operating margin, which stood at 23.6 per cent in 2020. The company declared a dividend of 6.3 pence per share in 2020, which was up by 1.6 per cent from the previous year. ROR shares delivered solid returns of 58.86 per cent in the past one year.
DCC Plc
Irish company DCC (LON: DCC) provides support to retail, healthcare, and oil & gas. DCC Healthcare acquired Worner, a leading supplier of medical science products to the primary care sector. Earlier in January, DCC completed the acquisition of United Propane Gas and increased its existence in the US LPG market.
DCC's operating profit for the third quarter of 2021 was sharply ahead of the last year despite the uncertainty and disruption caused by the global pandemic. The Healthcare division produced an exceptional performance during the third quarter of 2021 as it experienced strong demand for nutritional products and gained from the acquisitions of Amerilab Technologies and Ion Labs in the US. DCC reflects a diverse, resilient, and agile business model which delivers excellent cash flow performance. It has conducted several acquisitions during the past year, which holds substantial growth prospects. DCC shares delivered solid returns of 27.92 per cent in the past one year.