Summary

Pfizer predicts US$ 26 billion from sales of Covid-19 vaccine in 2021
Proposed bonus hike for AstraZeneca's CEO to be opposed by investors
Over 1.18 billion Covid-19 vaccine doses have been administered across the globe as of 3 May, recent data from Our World in Data project has stated. While vaccination programmes are at different stages in different countries, let us take a look at two prominent vaccine stocks, Pfizer Inc and AstraZeneca Plc., that made news today.
Profit estimates up for Pfizer
Pfizer has raised its profits projections for this year, with almost 25 per cent of its total sales coming from coronavirus vaccines. The drugmaker's latest estimates revenue earnings from the vaccine to be around US$26 billion for this year. In the company's earlier estimates made in February, this value was projected lower at US$15 billion. The latest estimates are calculated based on the value of orders received by the company till mid-April. The projections might need to be revised up further as the pharma major is likely to sign more supply contracts in the near future.
Must Read: Are the Vaccines Working? When will Covid-19 end?
The Pfizer- BioNTech's BNT162b2 shot is available at a price of US$39 in the US and at a slightly lower value of US$30 in the European Union. The jab was the first to be approved by government health regulators. The company's stock (LON:0Q1N) closed at a value of US$39.95 at the NYSE on 4 May.
Also Read: How effective is the Pfizer-BioNtech vaccine against the South African coronavirus strain?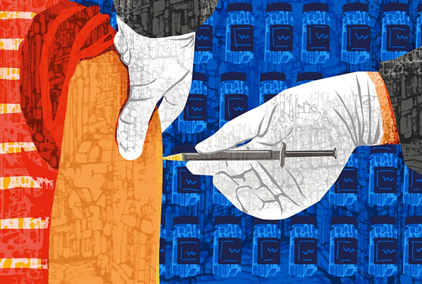 Copyright © 2021 Kalkine Media Pty Ltd.
AstraZeneca boss's bonus hike under investor radar
The leading drugmaker is facing rising opposition from its shareholders over a proposed big hike in bonus for its CEO Pascal Soriot. The firm has planned to hike the maximum share bonus he can receive from 550 per cent to 650 per cent of his basic pay.
The company's annual meet is scheduled next week. Advisory groups such as institutional shareholder services have suggested that the shareholders should vote against the CEO bonus hike.
After turning around the pharma company's drug portfolio, Soriot was paid over £15 million in the the last two financial years. A company spokesperson clarified that the executive remuneration is linked to delivering the company's strategy effectively along with driving investor returns.
AstraZeneca Plc, which developed a coronavirus vaccine jointly with Oxford University, has a different state of financials. The drug company had promised to supply the shots on a not-for-profit basis. It priced two doses of the shots in the range of US$4.3-US$10 across the world. Last week, the company reported that it lost money on vaccine during Q1 2021. Its revenues worth US$224 million for the quarter had been offset by development costs.
The company's (LON: AZN) share price was seen at GBX 7,652.00 on 5 May at 8.20 AM, up 0.30 per cent from its previous day's close.
A Good Read: Pressure to waive off vaccine IP rights increases as COVID-19 cases continue to rise