Aviva Plc (AV) is a British insurance group, headquartered in London, United Kingdom, which provides a wide array of insurance and savings products along with the asset management business. The group offers a wide range of savings and insurance products - including life, general and health insurance – and provides services related to the asset management as well. The company divided its operations into four reportable segments being General insurance and health, Long-term business, Fund management and Other. The group also separates its activities based on geography: United Kingdom; Canada; France; Poland; Italy, Ireland, Spain and Other; Asia; and Aviva Investors.
Aviva Plc recently announced that Mr Tom Stoddard will step down from its designation of CFO (Chief Financial Officer) on 30th June 2019. To support the proper transition, he will remain with the company till 31st December 2019. Jason Windsor the current CFO of Aviva UK Insurance will replace him as an interim CFO on 1st July 2019. Mr Windsor had wide experience as Chief Capital and Investments Officer and joined Aviva in the year 2010.
Financial Highlights – Financial Year 2018 (£, million)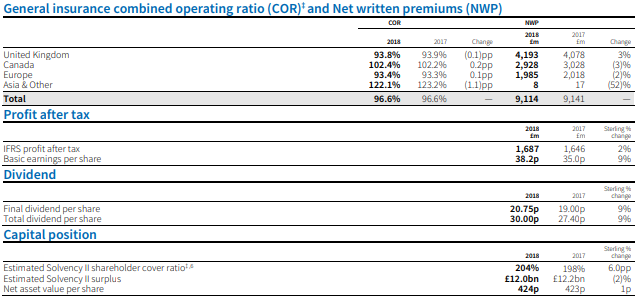 (Source: Annual Report, Company Website)
In the financial year ending 31st December 2018, the group's underlying operating profit surged by 2% to £3,116 million against £3,068 million in FY 2017, reflecting bulk purchase annuities and ongoing growth of long-term savings in the UK. The company's expansion activities in the core markets together with releases of long-term provisions in its annuity portfolio benefited the financial performance in the current period.
The group reported operating earnings per share of 58.4p, against 54.8p in 2017, reflecting an increase of 3.6p. The combined operating ratio (COR), which represents the underlying performance of the group, remained flat over the year at 96.6 per cent.
The group's profit after tax based on IFRS was £1,687 million in FY18, against £1,646 million in FY17. Basic EPS grew to 38.2p from 35p in FY 2017. The company increased its total dividend per share by 9% to 30.0p from 27.4p, while the net asset value per share (NAV) remained flat over the year at 424 pence.
Aviva Plc Share Price Performance

Daily Chart as at June-06-19, before the market close (Source: Thomson Reuters)
On 6th June 2019, at the time of writing (before the market close, GMT 01:12 PM GMT), Aviva Plc shares were trading at GBX 416.00, up by 1.32 per cent against the last day closing price. Stock's 52 weeks High and Low is GBX 519.00/GBX 361.80. At the time of writing, the share was trading 19.84 per cent lower than the 52w High and 14.98 per cent higher than the 52w low.
Stock's average traded volume for 5 days was 10,107,684.20; 30 days – 7,539,310.40 and 90 days – 8,193,518.86. The average traded volume for 5 days was up by 34.07 per cent as compared to the 30 days average traded volume. The company's stock beta was 1.01, reflecting the same directional movement of the stock as compared to the benchmark index. The outstanding market capitalisation was around £16.15 billion, with a dividend yield of 7.28 per cent.
With Bank of England reducing the interest rates to a historic low level, the spotlight is back on diverse investment opportunities.
Amidst this, are you getting worried about these falling interest rates and wondering where to put your money?
Well! Team Kalkine has a solution for you. You still can earn a relatively stable income by putting money in the dividend-paying stocks.
We think it is the perfect time when you should start accumulating selective dividend stocks to beat the low-interest rates, while we provide a tailored offering in view of valuable stock opportunities and any dividend cut backs to be considered amid scenarios including a prolonged market meltdown.


CLICK HERE FOR YOUR FREE REPORT!