Highlights

Reabold commenced well-testing operations at its West Newton B1Z and A-2 wells during H2 of 2021.
The Company acquired an additional 13.12% in Corallian, bringing the total interest to 49.99%.
The gross 2C recoverable resources of the Victory Gas Discovery were estimated at 179bcf.
At the end of December 2021, the Company held a cash balance of £4.9 million with zero debt.
Reabold announced two deals in May 2022, highlighting the execution of its strategy by way of monetising its investment.
Reabold Resources PLC (LON:RBD) achieved significant milestones during the last financial year, as highlighted by its recently released annual report for the 12-month period ended 31 December 2021.
Now, in 2022, the Company is on track with developments panning out in relation to its current focus on advancing its investment portfolio, especially concerning the Victory and West Newton projects.
The dramatic geopolitical events coupled with strong global economic growth during 2021 and the subsequent period proved significant for energy prices. Encouraged by the upbeat trends, the Company expects to continue the legacy of exciting progress in the period ahead.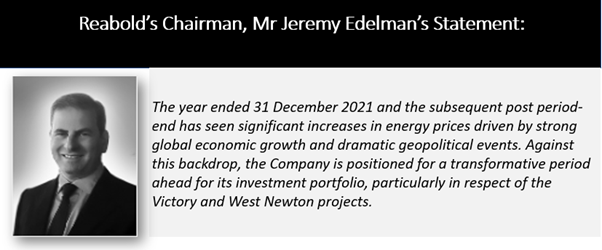 Related read: A snapshot of Reabold's (LON:RBD) UK offshore asset portfolio after latest acquisition
With this backdrop, let us take a detailed look at Reabold's major strides paving the way for future developments.
FDP submission for Victory gas field
Last year, Reabold ticked off a key milestone with the submission of the Victory's Field Development Plan (FDP) design. Notably, the Company holds an indirect interest of 49.99% in the Victory gas field, which sits within shallow waters near the existing underwater infrastructure, enabling a cost-effective tie-back solution. It is fully evaluated and does not require additional pre-development drilling.
The recoverable 2C resources of the Victory gas field are estimated at around 179 bcf of dry gas. Also, the development is expected to be relatively straightforward whilst providing a meaningful gas resource to the UK energy supply.
Corallian Energy receives acquisition offer
Reabold commenced a strategic review of its investee company Corallian Energy during the fourth quarter of 2021. As a result of this exercise, Corallian received a non-binding, conditional offer from a credible party for the acquisition of its entire issued share capital.
The development was another major milestone for the Company, demonstrating the execution of its strategy by way of monetising its investment.
Reabold signed a conditional SPA to acquire Corallian's working interest in all the non-Victory licences for a cash consideration of £250,000.
Related read: Reabold's (LSE:RBD) subsidiary Corallian receives acquisition offer
Image source: Annual Report
Related read: Reabold (LON: RBD) bolsters its management by appointing a new Chief Financial Officer
Major headways across West Newton
Early in 2022, the Company announced initial results from the analysis of the West Newton Extended Well Test ("EWT") programme carried out in the second half of 2021.
An independent study by RPS Group indicated the potential for initial production rates of 35.6 mmcf/d (5,900 boe/d) from an optimised horizontally drilled well situated in the gas zone, based on the data from the West Newton A2 well.
The study also indicated potential initial production rates of 1,000 bbls/d from a horizontally drilled well situated in the oil zone, based on well data from West Newton A2.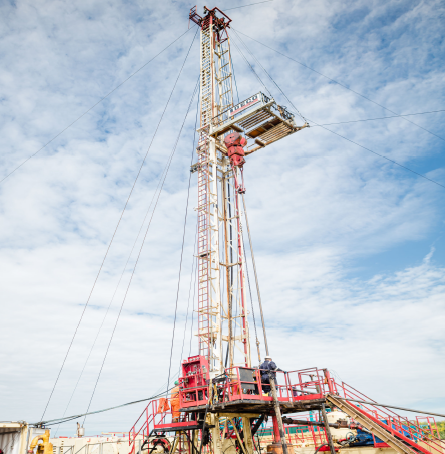 Testing operation at West Newton B-1Z (Image source: Annual Report)
During mid-March 2022, the Company secured a green signal for planning applications for drilling and production at Rathlin's West Newton A site. Moreover, a time extension to allow for further exploratory drilling at the West Newton B site was granted. These permits pave the way for the next stage of work across West Newton as the partnership continues to move the project forward for development.
Readbold gains 42% in Daybreak
Another important deal was recently completed with US-based OTC trade oil & gas company Daybreak Oil and Gas Inc.
Daybreak is acquiring Reabold's US subsidiary Reabold California LLC. Under the terms of the share exchange agreement, Reabold California will become a wholly owned subsidiary of Daybreak and in return will issue 160,964,489 shares of Daybreak to Gaelic Resources Limited, a fully owned subsidiary of Reabold.
Latest development: Reabold (LSE:RBD) all set up to become major shareholder in California-based E&P company
Strong financial position
In January 2021, the Company raised £7.5 million through an equity capital raising program. Reabold remains well funded, with a cash balance of £4.9 million at the end of 31 December 2021. The company has zero debt.