London and European markets jumped for a consecutive second day and the FTSE-100 was quoting at 6,251.03 up by 0.13 per cent slightly higher than the previous day close (as on 17th June 2020, before the market close at 2:20 PM GMT+1). Some of the compelling events which were trending in today's trading session:
The optimism of economic recovery as lock-down and businesses resumes operations underpinned the market.
Given the increased US crude oil inventory data, the Brent was down by 1.17 per cent and was trading at USD 40.48 per barrel (at the time of writing).
The US retail sales were up by 17.7 per cent in May.
As the stores across High Streets re-opened, we will discuss two retail stocks - Pendragon PLC (LON: PDG) and Card Factory PLC (LON: CARD). On 17th June 2020 (before the market close at 2:20 PM GMT+1), PDG stock remained flat, and CARD stock was up by 3.95 per cent from their previous day close. Let us walk through their financial and operational performance.
Pendragon PLC – Untapping the government schemes to preserve cash
Pendragon PLC (LON: PDG) is a leading automotive retailer, which runs various brands. It is also engaged in Software and Leasing business. In the automotive retail sector, the Company operates in used cars, new cars and after-sales segments.
Trading Update - Q1 FY2020 as released on 21st May 2020 (for the period from the 1 January 2020 to 31 March 2020)
The Company's performance was upbeat during January and February in tandem with the strong performance witnessed in H2 FY19. However, the business was severely affected by the nationwide lock-down and closure of retail stores from 23rd March 2020. The Group's underlying profit before tax was impacted by approximately GBP 10 million due to the slowness in trading. The UK Franchised Motor was the most affected.
The measures on costs and reduce used stock levels in H2 FY19 supported the business performance in Q1 FY20.
Despite the negative impact of the pandemic, the Group's underlying loss before tax was narrowed to GBP 2.3 million in Q1 FY20 as compared to GBP 2.8 million in Q1 FY19.
Franchised UK Motor Division reported an underlying profit of GBP 4.4 million as the sales volume declined during the quarter.
The like-for-like revenue for New sales declined by 19.1 per cent in Q1 FY20 against the market decline of 31 per cent as measured by the Society of Motor Manufacturers and Traders.
In Q1 FY20, the combined profit of the software brand-Pinewood, Leasing and US Motor division dipped by GBP 1.8 million compared to the same period last year due to the disposals of the US dealerships during H2 FY19.
As on 21st May 2020, the Company opened its 125 service centres of total 145 service centres. The service centres are currently operating at reduced capacity. In line with the government orders, all the retail stores were temporarily closed on 23rd March 2020.
The Company continued its telephone operation and facilitated the online home- delivery feature on the Car Store website. It was able to take a total of 3,610 customer orders and completed home delivery of 1,187 requests.
As on 20th May 2020, the Group had a net debt of GBP 100.5 million and has a loan facility of GBP 235.0 million.
The Company has put effort to utilize government schemes and has taken proactive measures such as business rate holidays and VAT deferrals. It applied the UK government's furlough scheme on approximately 80 per cent of the Group's strength.
The management took a voluntary pay cut of 20 per cent on the basic salary.
Financial Results FY19 (in GBP million) – as stated on 20th March 2020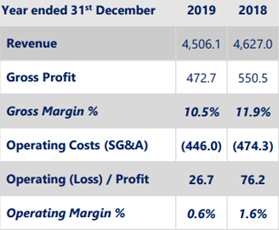 (Source: Company website)
Sale and Leaseback of property at Porsche centre Stockport as released on 29th May 2020
Pendragon signed a Sale and Leaseback agreement with Al Mana Group of Companies for its motor vehicle dealership store in Stockport. As part of the deal, the Company received cash of GBP 10.5 million and rights to use the property for 15 years lease. The lease carries an annual rent of GBP 665,000 per annum. As on the end of December 2019, the property had a gross asset value of GBP 9.8 million.
Event update – as on 20th April 2020
The Group appointed Dietmar Exler as an independent non-executive director. He will also be responsible for the Company's Nomination Committee, Remuneration Committee and Audit Committee.
Share Price Performance
Daily Chart as of June 17th, 2020, before the market close (Source: Refinitiv, Thomson Reuters
The share price of Pendragon PLC was GBX 10.93 per share and was down by 0.60 per cent (before the market close at 11.02 AM GMT+1). The shares touched 52 weeks High and Low of GBX 19.20 per share and GBX 4.02 per share, respectively. The Company had a market capitalization of GBP 153.66 million.
Business Outlook
Pendragon will continue to nurture its digital car sales space for the customers who want to purchase cars online. It has currently halted all the capital expenditure, and the future investments will be reviewed once business resumes to normal.
Card Factory PLC - Prudent cash management during the uncertain economic backdrop
Card Factory PLC (LON: CARD) – The Company is a retailer of greeting cards, dressings and gifts. It has two operating segments, Card Factory and Getting Personal. It runs a total of 1,022 stores in the UK and the Republic of Ireland.
Annual Result for year ended 31st January 2020 – as reported on 02nd June 2020
The Company reports its revenue under three categories Card factory stores, Online and Retail partnerships.
The Card factory stores reported revenue of GBP 429 million, which was up by 3.3 per cent year on year. The online business reported revenue of GBP 19.4 million, which was down by 4.9 per cent when compared to the same period last year.
The underlying profit before tax was GBP 67.2 million and declined by 11.8 per cent year on year. The decline was primarily due to the non-recurring operational cost and higher cost due to an increase in the National Living Wage.
The Group had a net debt of GBP 289 million at year-end, and it negotiated the covenant terms with its banking partners. In May 2020, it secured the funding from the Bank of England under the Covid Corporate Financing Facility. After the revised covenant terms, the Company can withdraw full revolving credit facility of GBP 200 million, which is due to mature in October 2023.
The board decided the withdrawal of final dividend payout for FY20 and intended not to pay any dividend in FY21. The Company paid an interim dividend of 2.9 pence in FY20.
In FY20 it added net 50 new stores.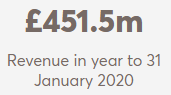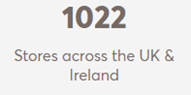 Divisional Online Sales Analysis
(Source: Company website)
Operational Update – as reported on 6th May 2020
The Company is getting excellent traction online as its sales on Cardfactory.co.uk web site, and Gettingpersonal.co.uk grew by 302 per cent and 68 per cent on a like-for-like basis, respectively, since 23rd March 2020. It also supplied cards to its retail partners Aldi and The Reject Shop.
The Company had put over 90 per cent of its workforce on furlough.
It has put non-essential capital expenditure, replacement of parts at its manufacturing facilities and investment in projects on hold.
The Company is negotiating its rental agreements with the landlords and has deferred the payment of VAT and National Insurance contribution.
It will open only seven new stores in FY21.
Share Price Performance
Daily Chart as of June 17th, 2020, before the market close (Source: Refinitiv, Thomson Reuters
The share price was trading at GBX 49.28 per share and was up by 2.67 per cent (before the market close at 10:57 AM GMT+1). The Card Factory share had its 52 weeks High and Low of GBX 179.39 per share and GBX 22.00 per share. The market capitalization of the Company was GBP 163.94 million.
Business Outlook
The Company abstained from providing financial guidance for FY21. It established some vital partnership with retail partners in the UK and abroad. It also believes that with a shift in the consumer demand, the subdued demand for Christmas card giving is likely to be offset by the market in new and non-standard occasions.
With Bank of England reducing the interest rates to a historic low level, the spotlight is back on diverse investment opportunities.
Amidst this, are you getting worried about these falling interest rates and wondering where to put your money?
Well! Team Kalkine has a solution for you. You still can earn a relatively stable income by putting money in the dividend-paying stocks.
We think it is the perfect time when you should start accumulating selective dividend stocks to beat the low-interest rates, while we provide a tailored offering in view of valuable stock opportunities and any dividend cut backs to be considered amid scenarios including a prolonged market meltdown.


CLICK HERE FOR YOUR FREE REPORT!
---
Disclaimer
The website https://kalkinemedia.com/uk is a service of Kalkine Media Ltd, Company Number 12643132. The article has been prepared for informational purposes only and is not intended to be used as a complete source of information on any particular company. Kalkine Media does not in any way endorse or recommend individuals, products or services that may be discussed on this site. Our publications are NOT a solicitation or recommendation to buy, sell or hold the stock of the company (or companies) or engage in any investment activity under discussion. We are neither licensed nor qualified to provide investment advice through this platform.