UK Market News: The UK stock market started on a weak note on Monday but quickly reversed the losses and held the gains. The lead index FTSE 100 was 0.20% higher as of 1:55 pm GMT+1, while the mid-cap focused FTSE 250 was 0.23% up at the same time. Among the top gainers on the FTSE 100 were lenders Standard Chartered and NatWest, as well as Airtel Africa. At the same time, Ocado Group and multinational miner Endeavour Mining were among the major losers.
SThree Plc (LON: STEM): Shares of the British recruitment firm rallied over 3% to hit GBX 400.00 after announcing its H1 results. The company posted strong growth in profit amid the rising demand in hiring. Its net fees climbed 25% on a year-on-year basis, while the operating profit rose to £44.6 million.
Premier Foods Plc (LON: PFD): Shares of the FTSE 250-listed food manufacturer climbed over 3% after it announced the acquisition of the Indian and South East Asian meal kits and accompaniments brand The Spice Tailor for a consideration of £43.8 million. The company said its new investment would generate a revenue of £17.3 million in FY22-23.
Vesuvius Plc (LON: VSVS): The British engineered ceramics firm's stock surged over 8% after it reported a stronger-than-expected trading update for May and June. The company now expects its trading profit (EBITA) for H1 2022 to reach £127.4 million.
US Markets: The US market is likely to open higher on Monday, as indicated by future indices. S&P 500 future was up by 7.39 points or 0.19% at 3,969.02, while the Dow Jones 30 futures was up by 0.27% or 86.76 points at 31,986.05. The technology-heavy index Nasdaq Composite future was up by 0.02% at 12,398.58 (At the time of writing – 9:32 am ET).
US Market News:
The stock of e-Commerce platform provider Squarespace (SQSP) nosedived by over 14% in the premarket trading session after it posted a weaker-than-expected full-year guidance. The company said that currency headwinds have impacted its revenues.
The stock of miner Newmont (NEM) slipped 3.3% in the premarket trading session after its second-quarter earnings failed to hit the market expectations. The drop in gold prices impacted the company's profits, which slid by close to 41% over the past year.
European Indices Performance (at the time of writing):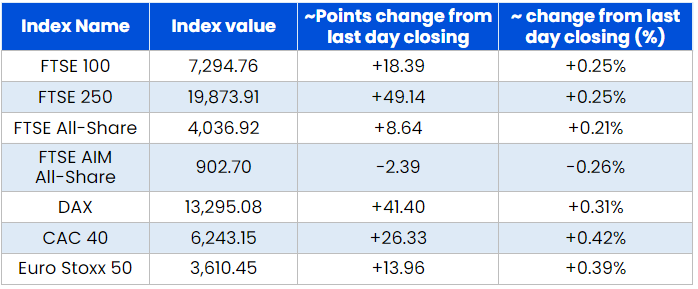 FTSE 100 Index One Year Performance (as on 22 July 2022)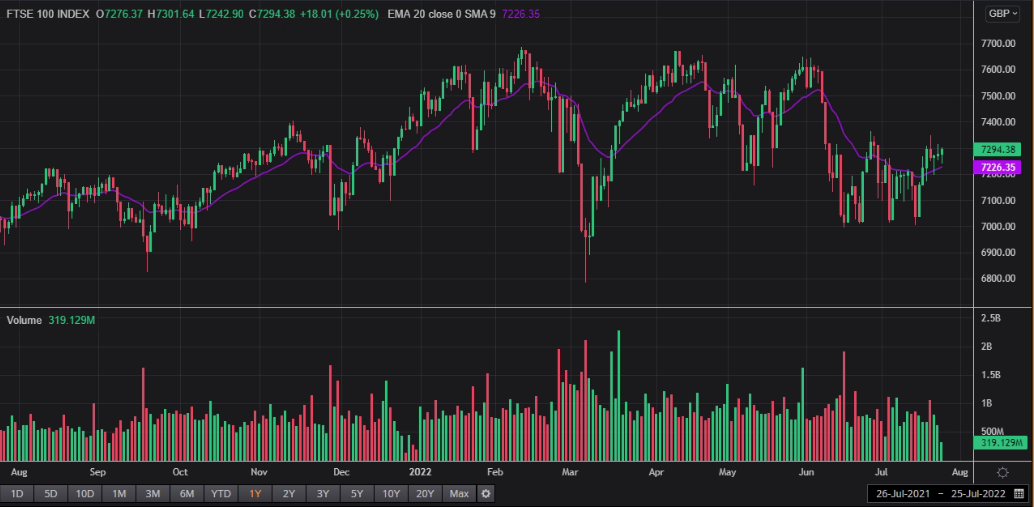 (Source: Refinitiv)
Top 3 Volume Stocks in FTSE 100*: Lloyds Banking Group plc (LLOY), Centrica plc (CNA), Glencore (GLEN).
Top 3 Sectors traded in green*: Basic Materials (1.75%), Financials (0.74%) and Healthcare (0.29%).
Top 3 Sectors traded in red*: Real Estate (-1.09%), Industrials (-0.77%), Utilities (-0.51%).
London Stock Exchange: Stocks Performance (at the time of writing)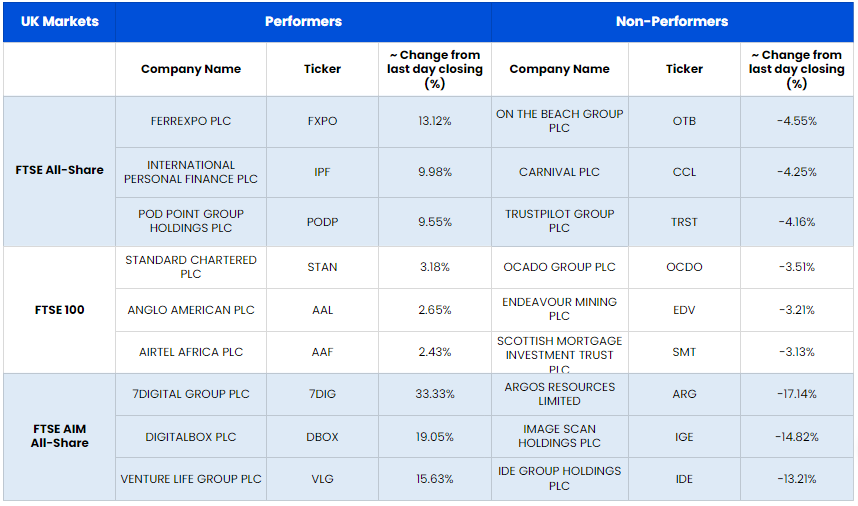 Crude Oil Future Prices*: Brent future crude oil (future) price and WTI crude oil (future) price were hovering at $99.87/barrel and $96.19/barrel, respectively.
Gold Price*: Gold price was quoting at US$ 1,722.35 per ounce, down by 0.29% against the prior day closing.
Currency Rates*: GBP to USD: 1.2071; EUR to USD: 1.0243.
Bond Yields*: US 10-Year Treasury yield: 2.831%; UK 10-Year Government Bond yield: 1.979%.
*At the time of writing