UK Market: The UK stock market traded flat on Wednesday as investors awaited the US inflation data. In the afternoon, the benchmark FTSE 100 index was trading 0.01% higher, while the mid-cap focused FTSE 250 was up 0.38%. This comes as consumer confidence in the UK saw an uptick in July, possibly due to the government's cost-of-living payments, as per a survey by YouGov. The latest data comes as slight relief amid the cost-of-living crisis and the recession warning by the Bank of England.
Aviva PLC (LON: AV.) The shares of the insurer jumped over 11% after it announced a 14% growth in operating profit in the first six months of 2022. The company also hiked its dividend for ordinary shareholders by 40% to 10.30p per share, which will be paid in September this year.
Admiral Group (LON: ADM): Shares of another British insurance provider Admiral Group rallied over 12.73% even as its profits slumped by almost half in the first six months of 2022. The board also declared a dividend of 60.0p per share, including a regular dividend of 44.2p as well as a special dividend of 15.8p.
TUI AG (LON: TUI): Shares of the holiday group traded 0.77% higher even as it remained loss-making in the second quarter of the year. The company posted an underlying pre-tax loss of €27m amid the travel chaos that has led to delays and cancellations of flights.
US Markets: The US market is likely to get a negative start, as indicated by the futures indices. S&P 500 future was down by 17.59 points or 0.42% at 4,122.47, while the Dow Jones 30 future was down by 0.18% or 58.13 points at 32,774.41. The technology-heavy index Nasdaq Composite future was also down by 1.19% or 150.53 points, at 12,493.93. (At the time of writing – 9:17 AM ET).
US Market News:
Shares of restaurant chain Wendy's (WEN) slipped 1% in the premarket trading session after its revenue for the most recent quarter fell short of expectations. The business reported better-than-expected earnings even as shoppers spent more cautiously due to rising inflation.
Shares of cryptocurrency exchange operator Coinbase (COIN) dipped 5% in the premarket trading session after the business posted a higher-than-expected quarterly loss. The business was impacted by a fall in the prices of cryptocurrencies.
European Indices Performance (at the time of writing):
FTSE 100 Index One Year Performance (as on 10 August)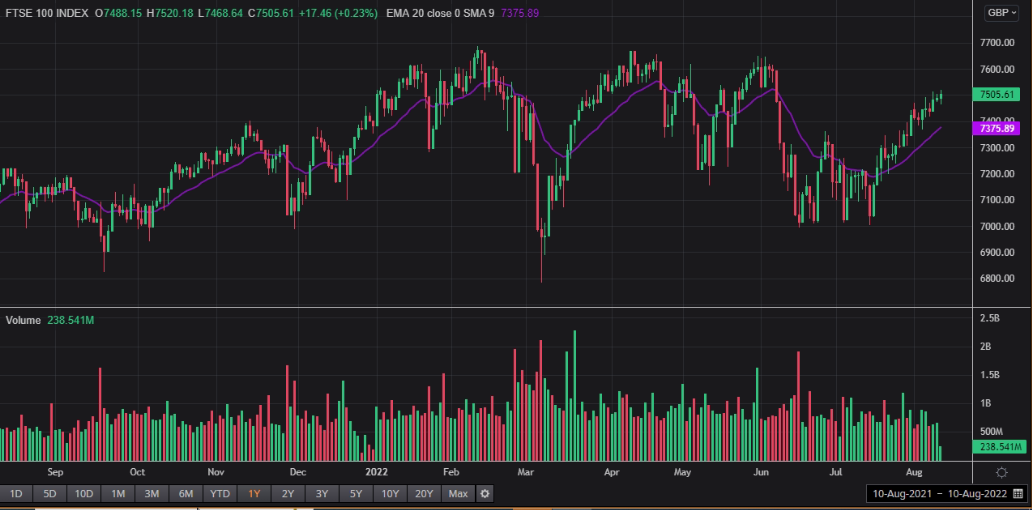 (Source: Refinitiv)
Top 3 Volume Stocks in FTSE 100*: Barclays plc (BARC), Glencore plc (GLEN), Lloyds Banking Group plc (LLOY)
Top 3 sectors traded in red*: Healthcare (-1.28%), Consumer Non-Cyclicals (-0.48%) Utilities (-1.23%)
Top 3 sectors traded in green*: Real Estate (2.36%), Consumer Cyclicals (2.14%), Basic Materials (1.21%)
London Stock Exchange: Stocks Performance (at the time of writing):
Crude Oil Future Prices*: Brent future crude oil (future) price and WTI crude oil (future) price were hovering at $96.02/barrel and $90.22/barrel, respectively.
Gold Price*: Gold price was quoting at US$ 1,811.55 per ounce, down by 0.04% against the prior day closing.
Currency Rates*: GBP to USD: 1.2219; EUR to USD: 1.0314.
Bond Yields*: US 10-Year Treasury yield: 2.763%; UK 10-Year Government Bond yield: 1.966%.
*At the time of writing