US Markets: Wall Street opened with a mixed-bag of emotions on Thursday, 21 October, even after the four-week moving average of people seeking the unemployment benefits slid to a fresh pandemic low of 319.75 thousand for the week ending 16 October. In the corresponding week itself, the number of Americans filing new unemployment claims dropped to 290,000, hitting the lowest level since March of 2020 as employers managed to retain the workers following the industry-wide limitedness of staff and persisting difficulties in filling up the vacant positions.
The tech leader Nasdaq Composite emerged as a clear winner on Thursday as the broader S&P 500 grappled to oscillate in the positive territory, while the NYSE-controlled Dow Industrials hovered in red. In the wee hours of trading, Nasdaq Composite rose as much as 62.84 points, or 0.42% to 15,184.52, S&P 500 added 0.02% to 4,537.43, whereas Dow Jones Industrial Average slipped 84.57 points, or 0.24% to 35,524.77.
US Market News: Among the major heavyweight components of Dow Industrials, the shares of IBM (down 7.43%), Dow (down 2%), Caterpillar (down 1.71%), American Express (down 0.97%), Cisco Systems (down 1.05%) and Procter & Gamble (down 1.03%) stood as the biggest losers, effectively providing considerable negative points to the index.
On the other hand, a sizable advancement in the share of Nike (up 1.48%), Walgreens Boots Alliance (up 1.38%), Goldman Sachs (0.65%), Travelers Companies (up 0.90%) Home Depot (up 0.49%), UnitedHealth (0.62%) and Microsoft (up 0.48%) emerged as the lead gainers that helped the index to offset partial losses.
UK Markets: UK shares traded in the negative region throughout the day on Thursday after opening a lower with the authorities reporting a fresh resurgence in the number of infections. Yesterday itself, Britain registered 49,139 new infections as the elongated course of pandemic continues to hurt the national economic growth. Along with a fresh spike in cases, there have been 179 fatalities.
The fresh trouble due to increasing Covid activity and suspected 'mini outbreaks' have unnerved the investors. The benchmark FTSE 100 slipped below 7,200 to 7,181.70 as it struggles to hold near the 52-week high attained last week.
FTSE 100 (1-year performance)
Source: REFINITIV
Market Snapshot
Top 3 volume leaders: Lloyds Banking Group, Vodafone Group and Glencore
Top 3 sectoral indices: Electronic & Electrical Equipment, Health Care and Related Services, Automotive
Bottom 3 sectoral indices: Household Goods, Industrial Metals, Precious Metals
Crude oil prices: Brent crude down 2.09% at $84.03/barrel; US WTI crude down 2.16% at $81.62/barrel
Gold prices: An ounce of gold traded at $1,780.35, up 0.26%
Exchange rate: GBP vs USD - 1.3819, down 0.04% | GBP vs EUR - 1.1866, up 0.03%
Bond yields: US 10-Year Treasury yield - 1.676% | UK 10-Year Government Bond yield - 1.2190%
Global Markets @ 16:04 BST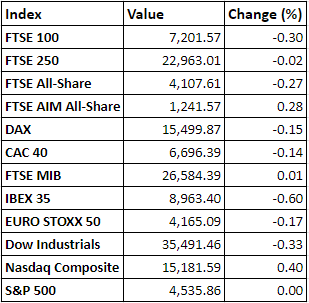 *All figures mentioned are recorded at the time of writing