Highlights

Z Energy announces its concerns and position about the COVID-19 impact.
The company offers guidance for EBITDAF and dividend.
Non-essential industries affected due to recent COVID-19 lockdowns.
Z Energy Limited (NZX:ZEL) gave out an update on Thursday in which it had disclosed the exact impact recent lockdowns have had on the business. . Factoring in all the impact, it released its EBITDAF guidance to be in the range of NZ$270 million-NZ$310 million, while the FY22 dividends are expected to be in the range of 19-23 cents for each share.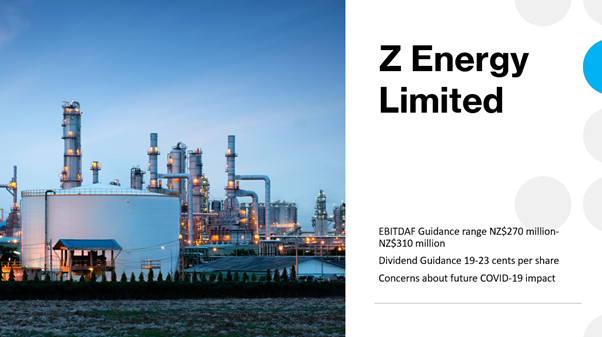 Image source: © 2021 Kalkine Media New Zealand Ltd
One of the largest fuel suppliers for various airlines, mines, huge trucking Companies and so on, the Company has its presence in other Companies such as Refining NZ (15.4%) and 25% in Loyalty New Zealand, which is responsible for Fly Buys. The Company further said that at that time, it was experiencing a reduction in demand for fuels due to the various levels of lockdowns that the country had been put under.
Don't miss: Which 5 stocks moved the most on the NZX
Concerns of non-essential industries
Several non-essential industries are under the same stress right now and asking the government to lay out clearer guidelines on how long lockdowns and levels of alert should last, and how much of a possible impact they would have on their particular businesses. While the energy industry had seen a lot of turmoil last year, it was taking steps towards stabilisation and recovery. It is to be seen now whether this new wave of the Delta variant and the corresponding lockdowns shall have a huge impact on the situation or not.
Read now: How is the YTD performance of 5 NZX stocks?
What does the CEO say?
Mike Bennetts, the CEO of the Company, was of the view that Z Energy had witnessed a strong Q1 FY22, which had only then been disturbed due to fluctuating earnings that the COVID-19-related uncertainties had brought about. Though declines in volumes being experienced lately are lesser than what was seen last year, supply chain disruptions are beginning to occur.
Currently, however, the Company remains on track with its dividend and earnings guidance. With the pro-active approach to minimise the risks by hedging the ETS position for Z Energy in FY22, which has seen benefit from the price increase recently.
Also read: Why these 5 NZX stocks traded the most on NZX
Bottom Line
Though the current situation seems under control and guidance under check, there is a need for combined effort to be made by the Company and the government to stabilise things in the near future.
On 16 September 2021, the Company traded at NZ$3.460, up by 0.29%, at the time of writing.