Highlights

The NZ Government has extended the MIAC scheme to support its aviation sector.
Air New Zealand reports interim loss, working towards its goal of being carbon neutral by 2050.
Auckland International Airport reports a decline in its revenue in HY22 results.
The New Zealand Government today announced the extension of critical support to the aviation sector till March 2023, which otherwise, was supposed to end on 31 March.
Through the MIAC scheme (Maintaining International Air Connectivity), the Government will provide additional funds worth NZ$250 million to support flights from 1 April 2022 to 31 March next year.
It is noted that the said support level will be rolled back once the numbers pertaining to the international flight and travellers are back to pre-COVID-19 levels.
NZ authorities are working with airlines to finalise routes and services under the MIAC extension, which soon will be revealed in the coming weeks.
With this backdrop, let us quickly explore the two NZX-listed aviation stocks that can be considered.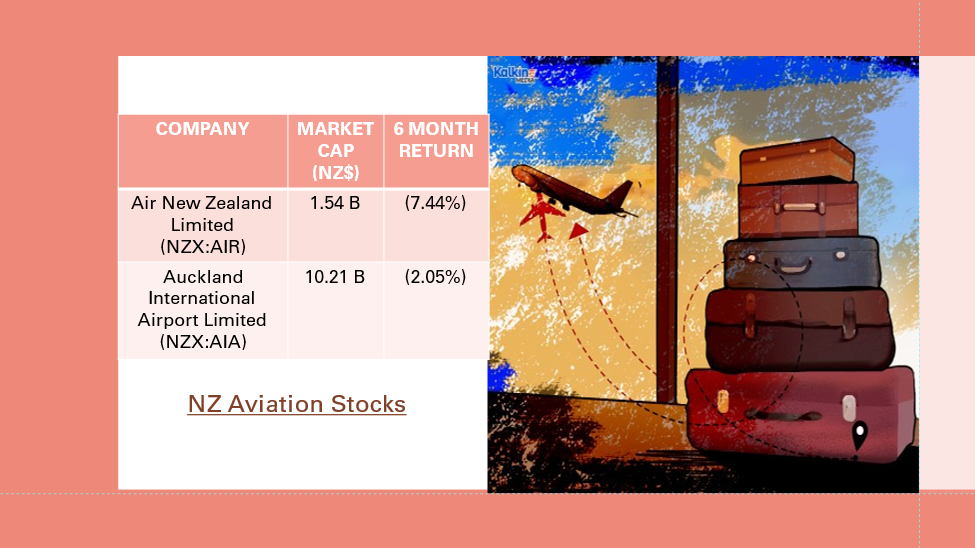 Source: © 2022 Kalkine Media® data source- Refinitiv
Air New Zealand Limited (NZX:AIR; ASX:AIZ)
Air New Zealand Limited announced a statutory loss before a taxation of NZ$376 million, owing to international travel constraints and an extended lockdown period across the Auckland region, for the period ended 31 December 2021.
Do Read: 3 NZX travel stocks on watch as US puts NZ on high-risk travel list
Further, its operating revenue slumped by 9% to NZ$1.1 billion during the said period.
Also, the airline will undertake a feasibility study of a local supply of sustainable aviation fuel and explore the use of hydrogen aircraft in NZ for achieving its goal of becoming carbon neutral by 2050-end.
Moreover, the aviation company plans to go in for an equity capital raise around March-end.
At the closing bell on 11 March, AIR declined by 1.4% at NZ$1.41.
Auckland International Airport Limited (NZX:AIA; ASX:AIA)
Auckland International Airport Limited has recently published its HY22 performance, wherein both its revenue and operating EBITDAFI were recorded at NZ$126 million and NZ$60 million, down by 4% and 31% on pcp, respectively.
The Company incurred NZ$11.5 million worth of net underlying loss after tax, mainly due to the challenging operating environment amid the Omicron outbreak and continued border restrictions.
Also Read: FRE & AIA: 2 transportation stocks to watch as petrol gets pricier
Nonetheless, AIA looks forward to border reopening, which marks the return of international tourists and, at the same time, expects the revival of domestic travel after the dampening of the virus outbreak.
At the closing bell on 11 March, AIA declined by 0.14% at NZ$7.14.
Bottom Line
NZ's aviation sector has suffered the maximum because of the monstrous pandemic, which resulted in border closures and grim domestic travel. The extension of Government support will provide a much-needed cushion as travel recovers in the coming months.