Highlights

Growth stocks offer investors significant returns in a short time.
Rakon expects an underlying EBITDA of $44 million to $49 million in FY22.
NZME announced that the procedural conditions for purchasing BusinessDesk had been fulfilled.
Growth stocks are firms that can increase their sales and earnings at a much quicker rate than other firms. These stocks have the potential of growing and delivering strong capital gains.
However, these stocks do not pay dividends as they invest back their cash flows into the business for growth.
On this note, let's have a look at the 4 fastest growing NZX stocks that can be explored next year.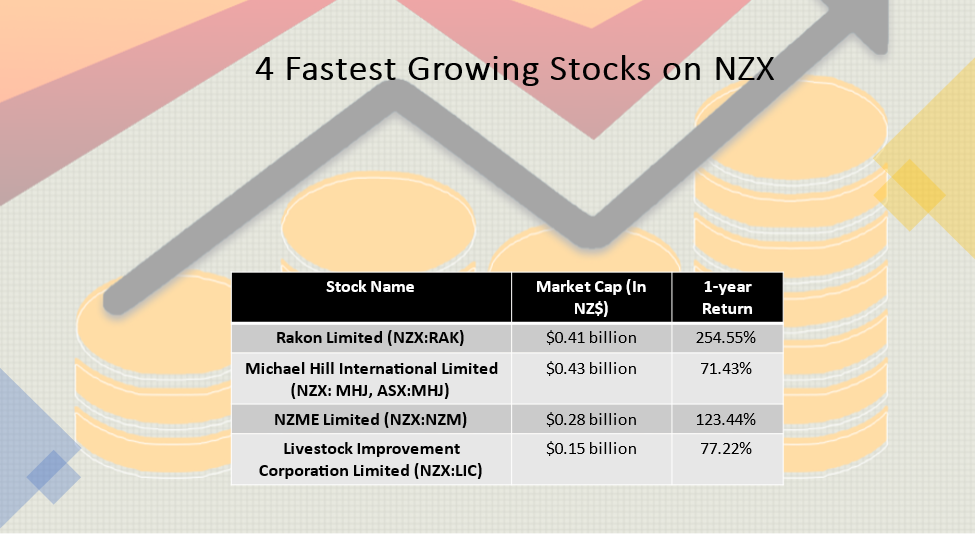 Image source: © 2021 Kalkine Media®, Data source- Refinitiv
Rakon Limited (NZX:RAK)
Rakon reported a 43% rise in revenue to $85.4 million and a 132% rise in underlying EBITDA for the 6 months ended 30 September 2021 due to strong demand globally for its frequency control and timing solutions.
The Company expects an underlying EBITDA of $44 million to $49 million in FY22.
The Group also announced this month that its COO Dr Sinan Altug would succeed Brent Robinson as CEO effective 1 April 2022.
RAK ended the day 2.09% in green to close at $1.95.
Michael Hill International Limited (NZX: MHJ, ASX:MHJ)
For the 13-week period ending 26 September 2021, Jewelery retailer Michael Hill reported good same store sales in all markets, a spike in digital sales, cost reduction, and increased margin improvement.
ALSO READ: Top 3 NZX retail stocks of 2021 to look at amid trade deficit
During the quarter, there were no new shop openings or closures, and the network still operates at 285 locations. MHJ paid a final dividend of A$3 cents per share, bringing the total distribution for FY21 to A$4.5 cents per share.
MHJ ended the day 1.69% in green to close at $1.2.
NZME Limited (NZX:NZM)
NZ-based media firm NZME announced this week that the procedural requirements for purchasing BusinessDesk had been fulfilled. Further, the transaction is likely to be completed in mid-January 2022.
DO READ: Which are 5 best NZX dividend stocks for 2022?
The Group had acquired a new website business, BusinessDesk, to boost digital growth and generate premier business offerings.
NZM ended the day 0.69% in red to close at $1.43.
Livestock Improvement Corporation Limited (NZX:LIC)
Agri-tech co-operative Livestock Improvement Corporation reported improved income, profit, and a healthy financial sheet in FY21 with no debt at year's end.
On 8 December, it also announced that it would issue a special dividend of 10cps to its shareholders. On 21 January 2022, a fully imputed dividend of $14.2 million will be paid.
DO READ: 5 NZX Agriculture stocks that can be good options ahead of 2022
LIC ended the day flat to close at $1.4.
Bottom Line
Investors must choose growth stocks carefully as they can be risky if the Company does not perform as good as anticipated.