Summary

Many ASX and NZX-listed mid-cap stocks have been paying dividends, defying pandemic-related obstacles.
Summerset Group Holdings reflected healthy six-month result, paving the way for a smooth FY21.
Infratil experienced an incredible FY20 period amid the coronavirus pandemic, wherein it successfully acquired shares in Qscan and Pacific Radiology.
Usually, a mid-cap stock aim towards growing into a large-cap and they keep multiplying their earnings during the process. They occupy the space between small-cap and large-cap stocks and are valued somewhere between $2 billion-$10 billion.
Moreover, NZX and the ASX-listed mid-cap stocks have been distributing steady dividend to their shareholders during unprecedented times due to their strong fundamentals and stable earnings as reflected in their annual and half-yearly results.
Some of the mid-cap dividend-paying stocks are as mentioned below.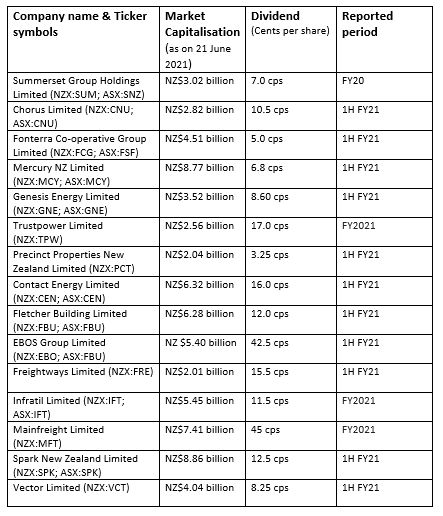 Source: Copyright © 2021 Kalkine Media, data source- NZX.com
Let us quickly scan through 10 NZX-listed mid-cap stocks and go through their latest updates.
Source: Copyright © 2021 Kalkine Media
Summerset Group Holdings Limited (NZX:SUM; ASX:SNZ)
Functioning for 23 years now, Summerset Group Holdings Limited has 33 retirement villages (constructed or under construction) and there are 10 more in the pipeline.
In April, the Company held its virtual annual meeting, wherein Summerset Group's Chairman highlighted that the Company performed very well in the latter half of the previous year, which laid the foundation for a better 2021.
Last year, the Company achieved NPAT standing at $231 million, which was up on pcp, while its operating cash was noted at $267 million.
On 21 June, Summerset Group last traded at NZ$13.25, decreasing by 1.27%.
Also read; What's Moving AIR, AFT, SUM, RAD Stocks on The NZX Today?
Chorus Limited (NZX:CNU; ASX:CNU)
Open access internet networks provider, Chorus Limited noted NPAT at $24 million and EBITDA at $323 million during the six-month results ended 31 December last year.
Last month, Commerce Commission published its draft decision on the Company's price quality determined for its initial regulatory period for fibre (RP1 2022 TO 2024).
JB Rousselot, Chorus' CEO would review the Commission's decision meticulously. The major emphasis in the submission would be on the expenses agreed upon by the Commission to aid the current rollout and process of the Company's world-class fibre network.
Chorus ended the trading session of 21 June at NZ$6.09, decreasing by 3.56%.
Must read; Is NZ's Telecom Sector All Set To Experience Growth? 5 Related Stocks- CNU, SPK, VTL, TLS, VCT
Mercury NZ Limited (NZX:MCY; ASX:MCY)
Generator of electricity from fully renewable sources Mercury NZ Limited made headlines on 21 June due to its announcement of inking binding agreement with Trustpower Limited (NZX:TPW) to purchase Trustpower's retail business for NZ$441 million.
However, the transaction is contingent on factors like Commerce Commission and stakeholders' approval.
In its half-year results for the period closed December last year, the Company's EBITDAF stood at $294 million, rising by $36 million on pcp. NPAT grew by $47 million at $130 MILLION.
Mercury NZ was at NZ$6.4, increasing by 1.59%, at the close of the market session on 21 June.
Recommended read; New Zealand's 6 stock market news one should not miss - NZL, ARV, MCY, VTL, SKC, ANZ
Genesis Energy Limited (NZX:GNE; ASX:GNE)
The biggest energy retailer with nearly 500K clients, Genesis Energy Limited, notified the market last month about utilising $35/tonne FPO (Fixed Priced Option) to fulfill its CY 2020 carbon obligations as per the New Zealand Emissions Trading Scheme.
This would lead to the Company's carbon expenditure to increase by $27 million in FY21 because of high-priced FPO compared to the weighted average cost of the Company's carbon stockpile of $24/tonne.
During 1HFY21, Genesis' Net Profit was up by $44 million on pcp at $53 million. The underlying earnings stood at $60 million, up by $44 million.
On 21 June, Genesis Energy wound up the market session at NZ$3.34, marginally down by 0.60%.
A quick read; Why These 4 NZX Stocks Are Drawing Investors' Attention Today- GNE, WBC, RBD, MFB
Precinct Properties New Zealand Limited (NZX:PCT)
Investor of superior-quality assets Precinct Properties New Zealand Limited has concluded $220 million placement out of $250 million equity raise as notified on 18 June.
The Company's CEO Scott Pritchard stated that proceeds from the equity raise would be utilised in the acquisition of two re-development prospects in Wellington. The proceeds would also be spent to support the re-advancement of Bowen House.
In the half-yearly report for the period closed 31 December 2020, Precinct Properties noted a solid portfolio revaluation gain of $148.5 million from $66.3 million noted in pcp. Precinct Properties retained a strong balance sheet with gearing of 29.9%.
Precinct Properties ended the day's trading session at NZ$1.55, decreasing by 2.52%.
Related read; 6 Popular Stocks Worth Watching On NZX- PCT, NZK, SML, WHS, MFT, IFT
Contact Energy Limited (NZX:CEN; ASX:CEN)
With a portfolio of electricity generation assets, Contact Energy Limited is the owner and operator of 11 power stations.
The Company would be publishing its full-year report for the period closed 30 June in August 2021.
Earlier in February 2021, Contact Energy announced its six-month results for the cycle closed December last year. Profit Before Tax in the six-month results stood at $110 million from $85 million in pcp.
On 21 June, Contact Energy was marginally lower by 0.25%, after the market close at NZ$8.08.
Don't miss reading; 5 Hot Penny Stocks Trading At Less Than 50 Cents On NZX
Fletcher Building Limited (NZX:FBU; ASX:FBU)
Having started functioning in initial years of the 1900s, and one of the oldest companies in New Zealand, Fletcher Building Limited, has been on an expansion mode through various acquisitions. The Company basically runs a building supply chain business.
In the six-month report, Fletcher Building's revenue slightly grew by 1% at $3,987 million on pcp. Further, NPAT was recorded at $121 million, rising by 48% in pcp.
Fletcher Building ended the trading session on 21 June, shrinking by 1.82% at NZ$7.56.
Did you read; Are These 6 Biggest Stock Movers On The NZX Today? FBU, BLT, ZEL, FCG, NWF, SVR
Infratil Limited (NZX:IFT, ASX:IFT)
New Zealand-domiciled Infratil Limited invests in businesses related to energy, transport, and social infrastructure.
In the annual results released last month ended March 2021, Infratil noted an incredible year amid the coronavirus pandemic, wherein it acquired 56.25% in Qscan.
It also signed a deal to acquire 53.5% to 58.5% of Pacific Radiology. Further, the Company divested 65.5% interest in Tilt Renewables Limited (NZX:TLT) for $2.002.2 million.
On 21 June, Infratil closed the day's trading session at NZ$7.545, up by 0.33%.
Did you miss reading; 5 Interesting NZX stocks garnering investors' attention - HMY, PPH, GTK, CGF, IFT
Mainfreight Limited (NZX:MFT)
An international supply chain entity, Mainfreight Limited, noted an increase in the revenue at $3,544 billion, rising by 14.5% in its annual results for the period ended March 2021.
In the annual results, Profit Before Tax was noted at NZ$262.41 million, up by 27.2%.
On 21 June, Mainfreight's shares declined by 0.14% and last traded at NZ$73.35.
An interesting read; Why are these 6 NZX stocks creating a buzz today? TWR, AMP, KFL, BRM, MFT, SKC
Spark New Zealand Limited (NZX:SPK; ASX:SPK)
New Zealand-bred telco behemoth, Spark New Zealand Limited, recently notified the market that its 100%-owned subsidiary Spark Finance Limited had extended the duration of its NZ$200-million committed standby revolving credit facility by another year, which will mature by 30 April 2024.
In the half-yearly report closed 31 December, Spark New Zealand noted a surge in cloud and service management revenue by 4.6% at $229 million. EBITDAI rose by 0.4% to $502 million.
On 21 June, Spark New Zealand concluded the market session at NZ$4.735, slipping by 0.11%.
Two-minute read; Is NZ's Telecom Sector All Set To Experience Growth? 5 Related Stocks- CNU, SPK, VTL, TLS, VCT
Are mid-cap stocks a good investment?
After looking at the performance of some Australasian mid-cap companies, it can be concluded that they have the potential to outshine. These stocks often experience growth in their earnings per share and in terms of cashflow.
Stocks falling in this category are of middle size, capable of producing greater profit in the long term and apt for investors with a high-risk appetite.