Highlights

Fonterra announces annual results, strategy and outlook discussed.
New shareholding structure proposed by Fonterra.
The Company declared 15 cps as a final dividend amount to be paid in October.
Fonterra Co-operative Group Limited (NZX:FCG) (ASX:FSF) has lately announced the annual results for the period ended July 2021.
It also gave a new format for shareholding structure, which is said to be beneficial for the Company and farmers.
The revised structure shall soon be discussed with farmers before casting shareholder votes on the same. An extension of the consultation process laid out in May 2021, the Flexible Shareholding kind of structure has amendments in areas such as expert advice and farmer feedback.
What does the new structure propose?
According to the proposed structure, there will be a minimum requirement of 33% milk supply, which would be about 1 share for every 3 kgMS, as compared to the current 1 share for 1kgMS. This is to ensure flexibility for the ones who require it while maintaining capital-backed supply for farmers.
The aim of the new move is to promote ownership and control towards farmers and being able to offer sustainable business in these ever-changing times by building long-term strategies that benefit all parties.
Related article: Look at the 5 popular NZX-listed dairy stocks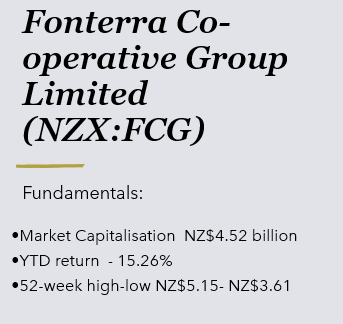 Image source: © 2021 Kalkine Media New Zealand Lt; data source: Refinitiv
The Chairman's word
Peter McBride, the Chairman of Fonterra, was of the view that the initiative could be the first step towards creating a sustainable business where dynamic situations wouldn't affect smooth functioning.
Based on the predictions made by the Company, if nothing is done in the matter, there shall be a 12-20% decline witnessed in milk supply in the country, minimalising and managing that decline is of paramount importance.
A farmer vote in the Annual Meeting is also under discussion on this matter, which would have certain prerequisites for approval.
Don't miss: Why these NZX consumer shares are worth following
Details of Fonterra's annual results
In its annual results released by the Company, the revenue from continuing operations earned in the 12 months up to 31 July 2021 was NZ$20 million, reflecting a 1% change on pcp.
The normalised profit after tax was recorded to be NZ$588 million, while the total Group's normalised EBIT saw a growth of NZ$73 million, standing at NZ$952 million.
A final dividend of 15 cents per share was announced by the Company on 23 September 2021 to be paid on 15 October 2021.
What lies ahead
In terms of outlook, the Company is focused on sustainable business development, and milk supply in New Zealand, besides aiming to become the leader in their trade.
By 2030, the Company aims to achieve NZ$6.50-NZ$7.50 per kgMS as an average Farmgate Milk Price range. It further aims at an operating profit increase of about 40-50% when compared to FY21 and a 9-10% Group Return on Capital, which rose from 6.6% noted in FY21.
Related article: Fonterra (NZX:FCG): Is it an NZ company? Why is it a Co-operative?
On 23 September 2021, the Company was trading at NZ$3.200, up by 3.23%, at the time of writing.
Bottom Line
In several announcements made by the Company of late, the focus remains on sustainable business, which is beneficial to the shareholders and farmers in the long run.