Summary

Wellington International Airport has launched a retail bond offer, seeking to raise up to NZ$100 million through six-year unsecured bonds. The offer closes on 7 August 2020 and bids are due by noon.
The airport operator has secured commitments from shareholders for preferred capital and also increased banking facilities. The next maturity for the operator is due in May 2021 of NZ$75 million Retail Bonds.
S&P had earlier downgraded issuer rating of WIAL to BBB (with a negative outlook) from BBB+ in the wake of COVID-19 and associated deterioration in air travel.
Wellington International Airport Limited (WIA) is co-owned by Infratil Limited (NZX:IFT) and Wellington City Council. The group, on 3 August, initiated a bond offering to retail and institutional investors, seeking NZ$75 million with an option to allow a further NZ$25 million.
The fixed-rate, unsubordinated, unsecured bonds will mature on 14 August 2026, i.e. six years, and the interest rate would be a base rate plus issue margin, which is indicative within 2.2% - 2.45% and not less than 2.5%.
The bonds would be quoted on the NZX Debt Market, and the offer closes on 7 August 2020; bids are due by noon. The issue date is 14 August, and WIA expects the bonds to be quoted on 17 August 2020. The first coupon payment is due on 14 February 2021 (Sunday) but would be paid the next day.
FY20 and the pandemic
The Board believe that long term business fundamentals remain strong, but they also acknowledged the state of the aviation sector globally. At the peak of lockdown in April, the passenger numbers were down almost 99% against the same month last year.
It was understood that domestic passengers have returned after entering Level 2 in May. However, international travel restrictions continue to remain in place. They also think long term effects of the pandemic remain uncertain and continue to evolve.
WIA has resized its business with reduced staff and working days, salary reductions and lowered operating expenses. It also optimised passenger related costs, and capital expenditure is limited to necessary expenses.
The airport also increased its banking facilities to NZ$170 million from NZ$100 million and obtained waivers for covenant testing in September 2020, March 2021, and September 2021. Management was expecting temporary covenant waivers on USPP debt for same test dates.
WIA has secured support from shareholders for around NZ$75 million in redeemable preference shares. In the year ended 31 March 2020, WIA reported revenue of NZ$146.4 million and after-tax profit of NZ$28.9 million.
It paid NZ$44.3 million in subvention payments to entities of Infratil and NZ$13.9 million dividend payment to Wellington City Council. During the year, WIA increased its retained earnings by NZ$15 million to NZ$137.4 million.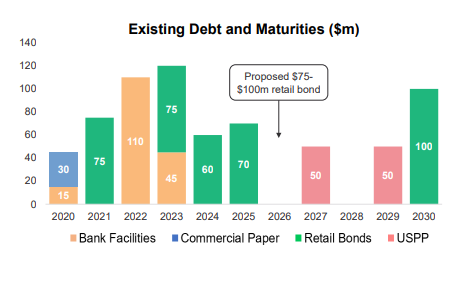 Source: WIA Presentation
Debt mix of business includes Bank Facilities, Wholesale Bonds, Retail Bonds and USPP Notes. Bank Facilities of NZ$155 million were extended to May 2022/23, and NZ$15 million is being finalised. The next maturity of NZ$75 million Retail Bonds is scheduled in May 2021.

Source: WIA Presentation
As per the March 2020 covenant testing, the airport had NZ$250 million headroom for 60% in leverage ratio at 40.6%, and interest-bearing debt/TTA was 41.8% with NZ$390 million headroom at 70%.
Management noted that the airport in the capital city has 85% domestic traffic with low exposure to long hauls. Based on pre-Level 1, they conservatively forecast FY21 passengers to be 40% of FY20 level.
S&P downgraded the issuer rating
In June, the rating agency downgraded WIA to BBB (outlook negative) from BBB+. Although this has maintained investment-grade rating, the next rating downgrade should take the issuer to non-investment grade.
Management said that they had secured liquidity from banks and shareholders are supportive of preferred capital. It was understood that negative outlook comes from global uncertainty in international travel. However, they believe that the airport is mainly domestic and better placed for a rebound in air travel.
They also said that move to Level 1 has shown encouraging results with capacity in July back to 50% of pre-COVID-19 levels.
DO READ: Is there another leap for NZ Travel Sector?
Business model and long-term plans
As an airport majority of the revenue is delivered from Aeronautical business. The activity at the airport was majorly in domestic travel and trans-Tasman travel. It also operates commercial businesses, which includes hotel, property, car parking, transport, and retail advertising.
The airport has a four-star 134-room hotel and restaurant in the airport terminal, which was only closed under Level 4 restrictions. It offers parking, transport hub, electric vehicle charging and receives concessions from vehicles.
It also generates revenue from concession and advertising from duty-free and retail outlets at the airport, where most of the stores are now open, albeit no meaningful international traffic.
In December 2019, WIA floated its 2040 Masterplan, which depicts the long-term ambitions of the business. Under the plan, it intends to undertake several developments at the airport, including terminal extension, runway extension, new bagged handling system, golf course acquisition, Apron expansion.
Source: WIA Presentation