Summary

COVID-19 outbreak has led to liquidity challenges, persuading companies to raise additional equity and debt funding to strengthen their balance sheet.
TrueScreen, Vista, & Comvita became few of the fortunate companies to raise capital amid such difficult market scenario.
The coronavirus pandemic opened Pandora's box of problems, unleashing illness, fear, and turmoil globally. It resulted in businesses and the economic activities to come to a standstill due to lockdown and government restriction on travel, social distancing, and social gathering even led to the closure of many corporations.
However, the ones surviving has been facing liquidity issues and requires an urgent need of finding ways to strengthen their balance sheet.
In this article, we would look at the recent attempt of capital raising by three NZX listed company.
Truscreen Limited (NZX:TRU)
Truscreen Limited (NZX:TRU) provides an easy, accurate, affordable, and real time screening solutions for Cervical cancer. The company is perfect for LMICs (lowest screening rates, highest incidence and mortality rates). TRU wants to ensure the women of any age, no matter where and who they are must gain access to quality screening.
The Company on 18 May 2020 announced a capital raise through Share Purchase Plan (SPP) and Share Placement to implement its business strategy. TRU raised a total of NZD 3.743 million (NZD 3.128 million via SPP and NZD 0.615 million via share placement) through the issue of 74.8 million new shares at NZD 0.05 price per share. Although SPP was oversubscribed by NZD 1.128 million, the company decided not to scale the issue instead place the access amount under NZD listing rule 4.5.1. The company directors such as Chris Horn, Messrs. Chris Lawrence, and Tony Ho participated in the transaction, which took place under CM Partners advisory.
TRU also announced of accepting subscriptions from new and existing investors for another NZD 1.5 million the same day. The Company shall receive NZD 1 million as priority funding by issuing 20,000,000 shares at NZD 0.05 price per share to NZX market participant, and NZD 0.5 million will be raised as a public pool transaction, having same issue price, from both NZ wholesale and retail investors.
On 4 June 2020, the company announced the closure of priority allocation.
A Glance at TRU's strategies:
Cervical cancer is a significant health issue affecting women. Every year, there are 570,000 new cases and 311,000 deaths. Women who are in the low and middle income countries (LMICs) are the ones who are most impacted by this disease.
The company is targeting more than 1 Billion women of screening age in LMICs.
World Health Organization has kept 2030 as the target to eliminate Cervical cancer, and this comes as a great opportunity taking company's future for next decade.
Key Markets:
TRU's key markets include China, Mexico, Russia, India, Zimbabwe and Vietnam. Amongst all these countries, China is Truscreen's largest market with 57% of sales. It is the world's largest cervical cancer market.
Financial Highlights:
Revenue adversely impacted by COVID-19.
Chinese business is recovering gradually after COVID-19 outbreak. Improvement expected from Q2 2020.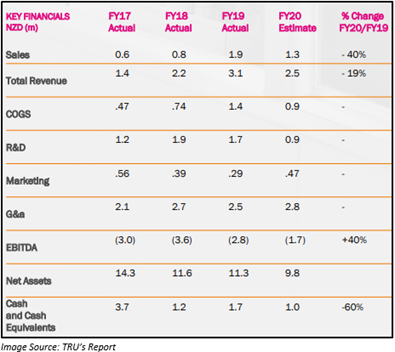 Truscreen Expansion in China:
Recently on 6 May 2020, TRU announced the rollout of its devices after the lifting of COVID-19 restriction. Four additional hospitals were included in Shanghai and Sichuan Province in April 2020. TRU also noted an 18% increase in the hospital coverage in April and May 2020.
Stock performance:
TRU share closed at NZD 0.057 per share on 9 June 2020.
Vista Group International Limited (NZX:VGL)
Vista Group International Limited (NZX:VGL) is a leading NZ company offering services to film industry. It helps global film industry with software & technology solutions.
Capital Raising
On 17 April 2020, Vista group announced the completion of an equity raise transaction for NZD 25 million and the opening of fully underwritten institutional entitlement offer.
The Company on 8 May 2020 announced the issue of 1 share for every 4.37 shares held on record date under pro-rata non-renounceable retail entitlement offer of the accelerated entitlement offer (announced on 17 April 2020) for gross proceeds of NZD 13.7 million at an issue price of NZD 1.05 per share. Eligible retail shareholders supported the transaction.
The proceeds from the equity raised along with the cash in hand and existing available and undrawn debt facilities would provide Vista with total Pro Forma adjusted liquidity of ~ NZD 125 million. Equity raising would help the company with additional liquidity, flexibility to capital spending, and to meet cash flow obligations.
A Glance at the Capital Structure: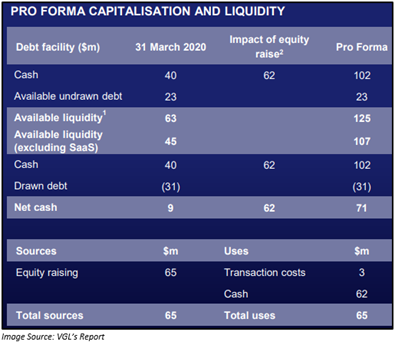 Impact of COVID-19 on VGL's Business:
VGL has been a profitable business and has reported a growth in the revenue each year since it got listed on NZX and ASX. Because of coronavirus occurrence, the impact on the film industry globally was substantial and is anticipated to be visible on the operational as well as the financial performance of VGL.
Cinemas in most countries are closed presently and will open with many new rules and regulations. Most of VGL's workforce continues to work from home, and only a few employees have returned to work at the New Zealand head office.
Stock performance:
VGL share closed at NZD 1.91 on 9 June 2020.
Comvita Limited (NZX:CVT)
Founded in 1974, Comvita Limited (NZX:CVT), is a natural health and skin care products company. Its merchandise includes manuka honey, cider vinegar, bee pollen etc. to name few.
Capital raising
On 28 May 2020, Comvita Limited announced the intension to raise NZD 50 million, NZD 20 million through placement and remaining NZD 30 million through non-renounceable entitlement offer. The offer price for both transactions is NZD 2.5 per share. As on the record date, 29 May 2020, institutional entitlement offer would lead to the issue of 1 share for every 4.15 shares held by the shareholders.
Independent directors, as well as CEO of the company, who will invest NZD 0.5 million, along with others, will participate in the transaction.
As the market has started stabilising, the company Board felt it a wise decision to undertake the equity raising as highlighted earlier this year to reset the capital structure, build greater resilience in the balance sheet and allow the business under new the CEO, David Banfield to concentrate on profitable growth.
The honey yield in 2020 has improved by more than 60% YoY, with above 95% of the extraction done. Further, the quality of the crop enhanced by more than 150%.
Stock performance
CVT share closed at NZD 3.12 on 9 June 2020.