Highlights

Sphere Finance (SPHERE) is a protocol created to revolutionize the decentralized finance (DeFi) space with an Auto-staking mechanism.
Sphere Finance is powered by Polygon.
The token is up 670% to US$0.04687 at 10:51 am ET on Thursday from its all-time low on March 21, 2022.
Sphere Finance (SPHERE) token surged over 32% to around US$0.04687, while its volume increased by 48.22% to US$3.58 million in the trailing 24 hours to 10:51 am ET on Thursday.
The token is up 670% from its all-time low on March 21, 2022. This sharp rise and fall of digital assets reflect the volatility of the crypto market.
Sphere plans to launch several games in the second quarter of 2022, including a deflationary, positive-sum lottery where no one loses, and there will be 10 winners every three days.
On Thursday, it announced the 10 winners from its second pool. According to Sphere, it also deposited US$410.98 in its charity wallet.
What is Sphere Finance (SPHERE)?
Sphere Finance is a protocol created to revolutionize the decentralized finance (DeFi) space with an auto-staking mechanism. Its protocol, an auto-staking instrument, aims to make staking as simple as a transaction. The Sphere Finance is powered by Polygon.
The SPHERE token is automatically staked on Sphere protocol, which offers compounding capabilities and an attractive market-fixed annual percentage yield (APY) of 99,900%. Its whitepaper further states that the token gives a daily return on investment (RoI) of 1.910%.
Also Read: Will FTX (FTT) stake in IEX herald a major change in crypto market?
The protocol seeks to make governance acquisitions easy for investors. The user can get exposure to a diversified portfolio of projects across different chains with just one token.
Its partially anonymous core team makes most of its decisions. However, the project intends to turn the protocol into a community-driven model.
Also Read: Why is Dogecoin (DOGE) gaining attention?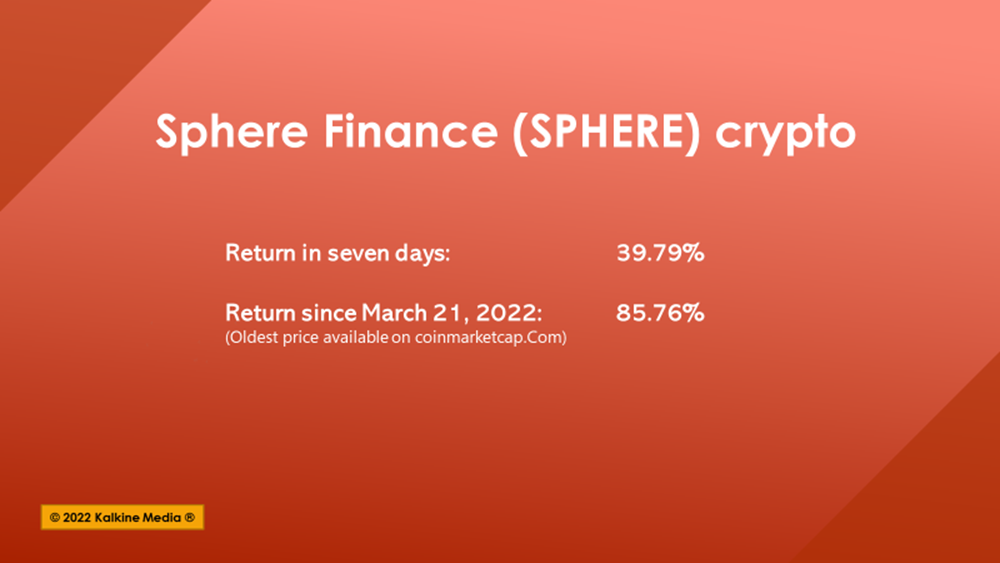 Data Source: coinmarketcap.com
Also Read: Why Chain (XCN) crypto jumped over 70% in 30 days?
How it works
The token holders benefit from governance on different protocols by having just one SPHERE token. The protocol turns the SPHERE token holders into governance holders of other protocols as Sphere Finance seeks to blackhole governance tokens into the treasury.
With its high APY and steady investments, Sphere Finance wants to transform the auto-staking protocol into a one-of-a-kind index fund like the S&P 500 index in the stock market. It wants to establish itself as an S&P 500 of crypto in the DeFi space.
Also Read: Why Web3 Project (WEB3) crypto skyrocketed 128% in one week?
The token has a market capitalization of US$100 million and a treasury balance of US$10.25 million, as per its website. Sphere Finance has a total of 17,377 wallets. SPHERE's total supply is 5.23 billion. The token can be purchased from the QuickSwap crypto exchange.
Also Read: What is EarthFund (1EARTH) crypto and why is gaining attention?
Bottom line:
Given the volatile nature of crypto assets, investors must exercise due diligence before investing in digital assets.
Risk Disclosure: Trading in cryptocurrencies involves high risks including the risk of losing some, or all, of your investment amount, and may not be suitable for all investors. Prices of cryptocurrencies are extremely volatile and may be affected by external factors such as financial, regulatory, or political events. The laws that apply to crypto products (and how a particular crypto product is regulated) may change. Before deciding to trade in financial instrument or cryptocurrencies you should be fully informed of the risks and costs associated with trading in the financial markets, carefully consider your investment objectives, level of experience, and risk appetite, and seek professional advice where needed. Kalkine Media cannot and does not represent or guarantee that any of the information/data available here is accurate, reliable, current, complete or appropriate for your needs. Kalkine Media will not accept liability for any loss or damage as a result of your trading or your reliance on the information shared on this website.