Highlights

Bitcoin has gained almost 20 per cent in three months, while the YTD return is nearly 40 per cent
Compass Mining provides mining rigs to individual investors that can be installed at home
This can bring back individual miners back into the game currently led by industrial setups
Did you know how much Bitcoin rose in 2020? That was the year when the entire world was under the unexpected pandemic shock. But Bitcoin's rally was nothing less than a spectacle.
It wasn't until 2017 that Bitcoin gained real prominence. This year, price of one Bitcoin grew from nearly US$770 to a whopping US$19,500. But the sustainability element has continued to elude the crypto market.
In March 2020, the world's most popular crypto was priced at just US$5,000. And this is when the real and near-sustainable rally in Bitcoin came about. By the end of 2020, the price of one Bitcoin was nearly US$30,000. This meant a nearly 300 per cent rise in a matter of just one year.
What more?
The so-called 'digital gold' outperformed even gold by a factor of 10. In 2021, news that the battery-driven car maker Tesla has invested in Bitcoin soared its value. In April, Bitcoin touched a high of nearly US$65,000.
Mining Bitcoin at home
The developments are enough to convince enthusiasts that Bitcoin mining is lucrative. But is it possible to mine Bitcoin at home? We know that industrial setups are in place in many parts of the world to mine the cryptocurrency with the largest market cap.
Also read: Can Bitcoin be termed as the 'asset of the century'?
But this was not how it started. Individual miners in the initial days were at the heart of the process. As mining became more complex with multiple individuals competing with one another, big players brought in the sophisticated machinery for mining. But the ball is out yet-again in the court of individual miners. And this change owes to Compass Mining.
The company has the tagline 'Now everyone can mine Bitcoin', which is certainly creating a buzz.
How will Bitcoin mining work?
It promises to let individual enthusiasts procure and install hardware required for Bitcoin mining. In this scene, the individual can participate in the process of compiling transactions on the network and earn new Bitcoins. Bitcoins are given as rewards to miners to provide services on the blockchain network.
The retail package of the company comes with application-specific integrated circuit (ASIC). MicroBT and Bitmain mining rigs can be bought and installed at home at a starting price is almost US$8,000. Both these rigs are said to have very high hashrate, besides being energy efficient. The latter can shape buying decision in light of continued criticism of Bitcoin mining that eats up a lot of power.
Help to individual Bitcoin miners
Compass Mining provides an option to buyers of mining rigs to become a part of a pool. By doing this, the individual buyer's rig will be connected with a large mining pool. Bitcoins that are collectively mined are then distributed among the participants. Miners are rewarded in proportion to the hashrate that they add.
Also read: How is crypto taxed in Canada?
The rigs can be loud when they operate. They also release a lot of heat to carry out the mining process. A buyer in a colder region may cope with the emitted heat. The loud sound is said to resemble the noise of a vacuum cleaner. Before making a buy decision, the individual must know if there are any restrictions in place by the local or federal government on Bitcoin mining.
Bitcoin's YTD and 3-month return
Over the past few months, Bitcoin has had a rough ride. Criticism over high power consumption and the crackdown by China resulted in Bitcoin losing almost 50 per cent of its value after the April high. In the latest development, China has intensified its rivalry with cryptocurrencies with its central bank saying that all activities in cryptos are illegal.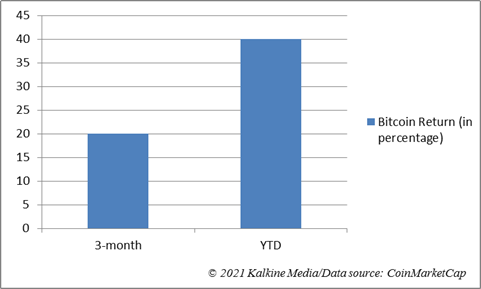 Also read: What are the top cryptocurrencies by market cap?
Despite the negative environment, Bitcoin and its biggest competitor Ether have been gaining recently. At the time of writing, one Bitcoin is priced at nearly US$42,000. Ether's price is almost US$2,900. The year-to-date (YTD) return of Bitcoin is a whopping 40 per cent, and three-month return is almost 20 per cent.
Bottom line
Bitcoin mining is possible at home, at least the mining rigs of Compass Mining so promise. The rig can be connected with the bigger pool of miners and the rewards can later be divided among the participants. The company is said to be providing buy as well as installation support to interested individuals. Bitcoin has gained enough value after March 2020. The momentum has endured many hiccups and the crypto is up almost 40 per cent on YTD basis.