Summary

Copper or the red metal has wide applicability ranging from industrial uses to human health.
The copper prices reached an all-time high of US$4.90 per pound in May 2021.
Chile accounts for the largest copper production.
CODELCO is the world's largest copper producing company.
Copper is a reddish metal that is atomic number 29 on the periodic table. It is one of the first metals extracted and used by humans. Since the beginning of civilisation, the metal has made key contributions to sustaining and improving society.
Initially, the use of copper was limited to coins and ornaments. Later, its use widened to tools. Now, copper is a major industrial metal, given its high malleability, ductility, and electrical and thermal conductivity.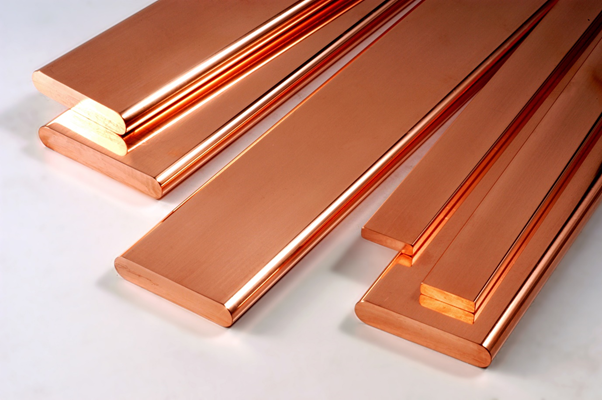 Source: © Gana123 | Megapixl.com
Besides, copper is an essential nutrient for human health. It helps in maintaining healthy bones, blood vessels, nerves, and immune function.
Meanwhile, several studies have shown that coronavirus, which can survive for several days on the plastic and steel surfaces, dies within few hours on the copper surface. It is an effective agent against a wide variety of disease-causing organisms. Hence, copper has been used as a medicine for thousands of years.
What are the major uses of copper?
Majorly of the copper produced globally is used for the construction of buildings, electrical and transportation equipment, electronic segments, industrial machinery, and consumer products.
Some of the most commonly used building materials are copper wire, tubing, and piping in the plumbing and electrical industries.
As per data for 2019, the United States used 43% of copper in building construction, 20% in electrical and electronic goods, 20% in transportation equipment, 10% in consumer products and 7% in the manufacturing of machinery.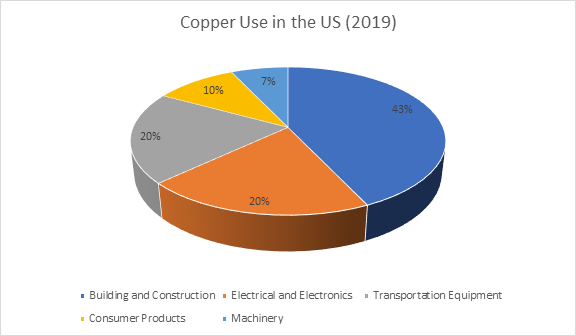 Source: Copyright © 2021 Kalkine Media | Data Source: United States Geological Survey Mineral Commodity Summary for 2020
To manufacture semiconductors, many players have started using copper in silicon chips, which enables microprocessors to operate fast and be more energy efficient.
Interesting Read: Who is winning the 'safe haven' race: Copper, Gold or Bitcoin?
The demand for copper is also increasing due to its wide applicability as a low-carbon energy transition metal. The red metal plays an important role in renewable energy solutions like wind, solar, tidal, hydro and biomass by improving their overall performance.
The surging demand for electric vehicles (EVs) has also cranked up the demand for copper. It is a crucial metal for the manufacturing of EV batteries, charging infrastructure and control systems.
Copper market overview
The demand for copper has increased drastically in the last few decades. As COVID-19-induced challenges led to a decline in copper production, the demand and supply of copper is considered in deficit.
Must Read: Copper gallops towards 10-year highs amid robust demands
The role of copper in the clean energy transition is also expected to grow. As per the International Energy Agency (EIA) data released in May 2021, the demand for copper is anticipated to rise to 1.7Mt in the electric vehicle and energy storage sectors by 2030 under a sustainable development scenario compared to 0.1Mt in 2020. The demand for the metal in electricity network is expected to rise from 5.0Mt to 7.3Mt and low carbon energy generation from 0.6Mt to 1.7Mt in 2030.
In 2020, global copper refinery operations were up due to growth in refinery capacity in Peru, Chile, Russia, Zambia, and Kinshasa.
The global demand for the red metal is expected to grow further, owing to surging demand for electronics, renewables and EVs. Given the robust increase in demand and limited supply of the red metal, the copper prices reached an all-time high of US$4.90 per pound in May 2021.
Which are the leading copper-producing nations?
Globally, copper supply is considered to be less risky because its production is not limited to a single country or region. Copper is one of the most widely distributed metals found across the globe.
Also Read: ASX Copper Stocks Slide On China's Commodity Price Capping Move
As per the USGS Mineral Commodity Summaries (2020) data, Chile is the leading producer of copper in the world. South America holds the world's major unexplored copper resources.
The second largest copper-producing nation is Peru, which accounts for nearly 2,400Mt of copper production.
The detailed country-wise production data has been illustrated below: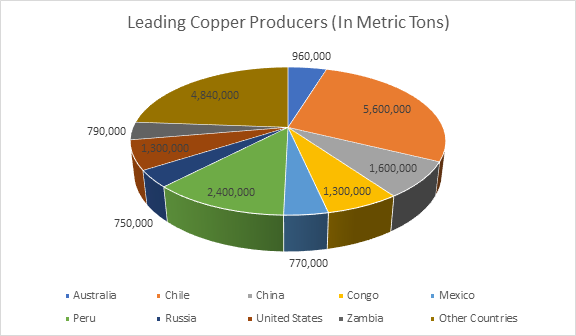 Source: Copyright © 2021 Kalkine Media | Data Source: United States Geological Survey Mineral Commodity Summary for 2020
Which are the world's largest copper players?
Based on the production figures in 2020, the list of few leading copper producers includes the following:
Must Read: BHP Group (ASX:BHP) churns out robust production numbers, ups copper guidance